U15's Terrific Display to lift the Cup in the Div 2 Final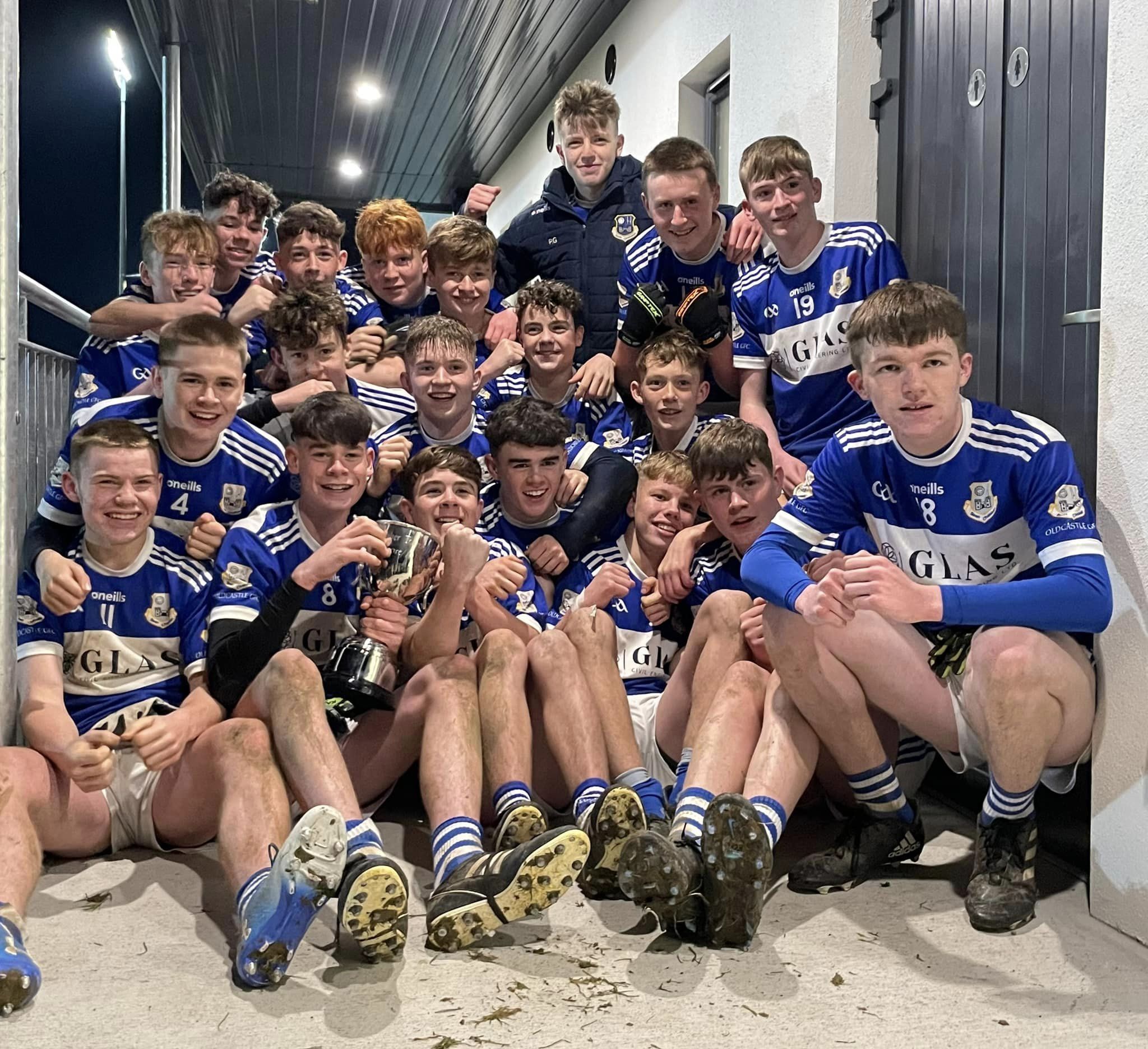 Oldcastle 2-09 Walterstown 1-08
A cold but clear, still evening (25/11/2022) in Ballinlough was the setting for this O'Reilly & Co Solicitors U15 League Div. 2 Final, with referee Peter Skelly in charge of the whistle. Oldcastle were first on the scoreboard, Cillian Fanning's kickout finding Mikey Timmins, on to Pat Crawley who found Ryan Halpin who put her between the posts. A Pat Crawley free was next on the board, followed by a lovely point from the same boot.
Walterstown took their first point soon after, followed by another three without reply, to see them go one ahead. Oldcastle came again: a perfect catch from the super Simas Abraitis, upfield by way of Ryan Halpin, Thomas Sheridan, on to Cormac Guirke and Conor Russell, and in to the speedy Shane Boylan who sailed her over the bar to level it. Walterstown attacked again, but good pressure from Riain Burke and Simas saw the ball go instead to Pat Crawley who fired her over to take the lead again. Walterstown attacked once more with a great period of play where they were denied a certain goal by Cillian Fanning, the ball back to Walterstown again and straight away goal-bound again: once more a super save from Cillian denied them: this time they were happy to put her over the bar, taking the next point also to go ahead again. Good play from both sides but no score for the next five minutes, before a Walterstown attack was interrupted by a great Sean Garrigan intercept, on to Shane Boylan on a run, back to Sean: fouled: Pat Crawley converted. And with the next play, a Ryan Halpin ball to the same Pat Crawley, travelling at speed, saw him close-in on the Walterstown goalie and blast the ball to the back of the net for the first goal of the game, and a three point cushion for Oldcastle.
On a roll now, a superb high intercept from midfielder Jack Smith got the ball on to Ivan Smyth, who did great work to get her to the waiting Pat Crawley for another point. Walterstown came again, but came up against Thomas Sheridan who sent the ball back in the right direction, to Cormac Guirke then Shane Boylan who put her between the posts. With that, the half-time whistle blew, on a score of Oldcastle 1-08 Walterstown 0-06.
Walterstown started the second half in the worst possible way: with a missed free. It was Oldcastle who took the first score, and what a score: a perfect Thomas Sheridan intercept, passed to Cormac and straight back to Thomas who was now in position to blast her to the back of the net! Walterstown were awarded another free but once again it went wide.
Great work from Jack Smith was awarded a free, Pat Crawley stepped up to take it, for once it went wide, but the resulting kickout was took down by none other than Pat Crawley who sailed her straight back over the bar! Walterstown came at Oldcastle then with attack after attack: Padraig Lynch and Eoin Sheridan doing great work in defence. Another attack: this time the pressure was from Ollie Hjert and Rhys Walsh kept them out. With their next effort they got a free and converted, doing the same again a minute later. But it was too little too late: Oldcastle's dominance in the first half paid off, and the final whistle blew on a score of Oldcastle 2-09, Walterstown 1-08.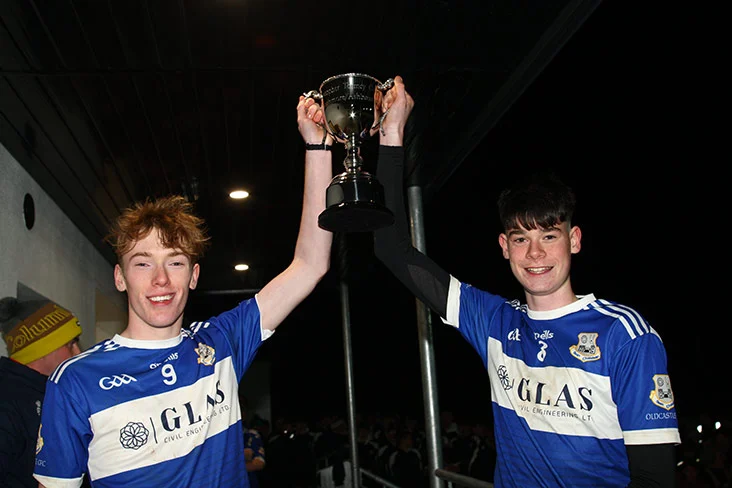 Huge congratulation to this super panel of players who put everything into it this year, and to coaches Paddy Gilsenan, John Caffrey, Mattie Cadden and Aengus Fanning. What a super way to end the season, the final Oldcastle GFC match of the year! Well done lads!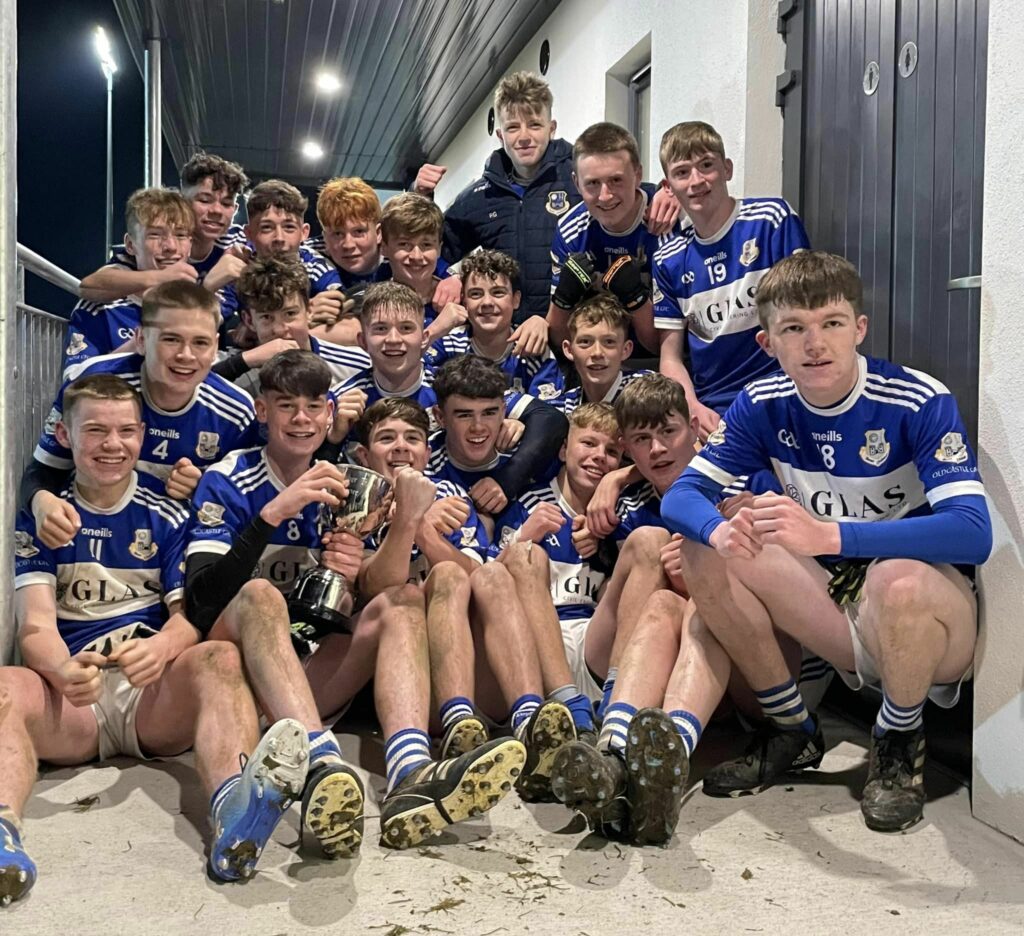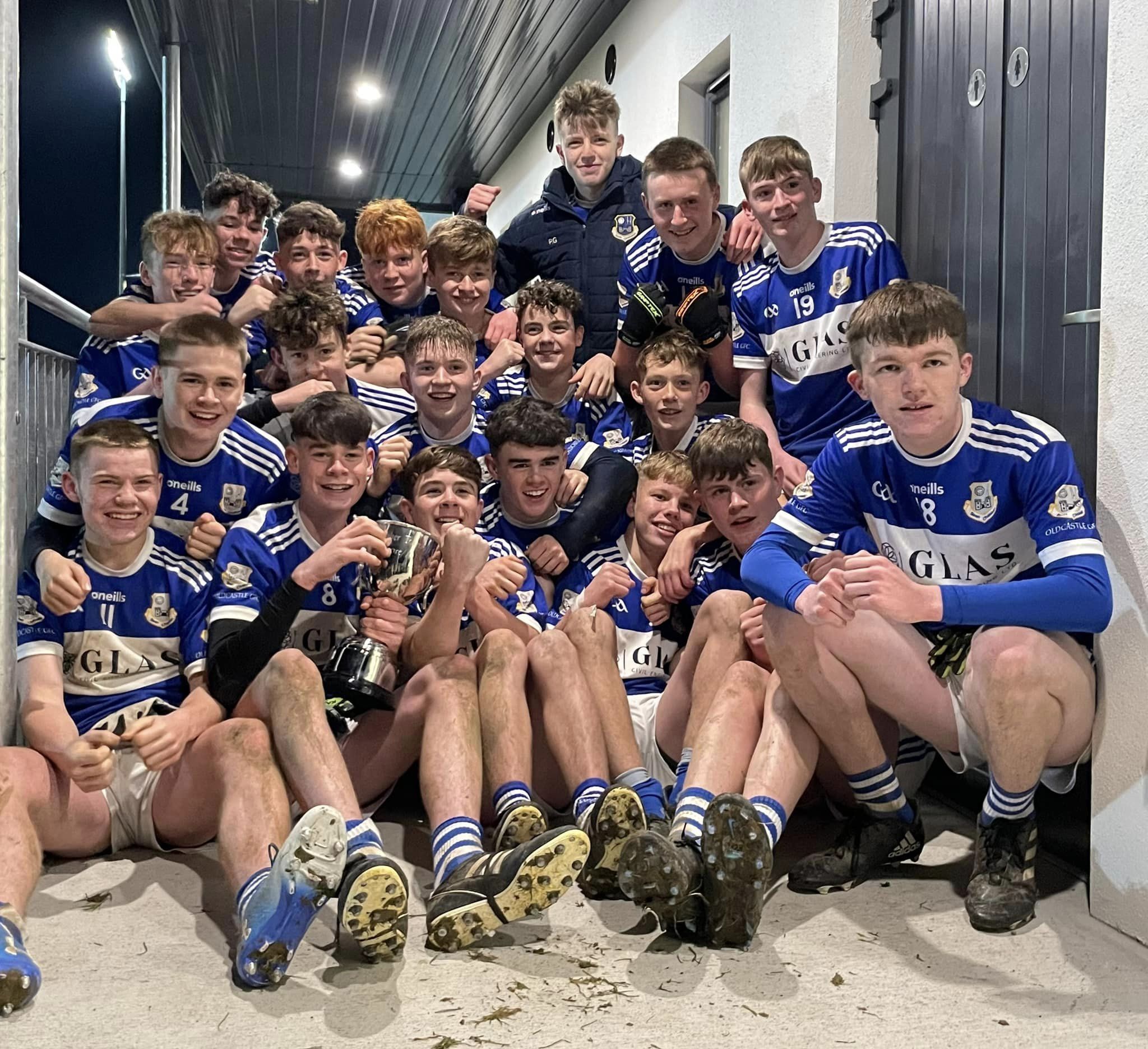 Minor County Secretary Brian Kelly presented the Cup to Joint Captains Ryan Halpin and Jack Smith, to great celebrations from all the team! Well done to you all, and a speedy recovery to Ivan Smyth. You left nothing behind ye on that pitch tonight lads!

Oldcastle: Cillian Fanning, Padraig Lynch, Simas Abraitis, Riain Burke, Eoin Sheridan, Thomas Sheridan (1-00), Sean Garrigan, Ryan Halpin (0-01), Jack Smith, Shane Boylan (0-02), Pat Crawley (1-06), Ivan Smyth, Mikey Timmins, Cormac Guirke, Conor Russell. Subs: Tiernan Murphy, Rhys Walsh, Alex Lynch, Ollie Hjert, Michael O'Dowd.