U-15's victorious in the final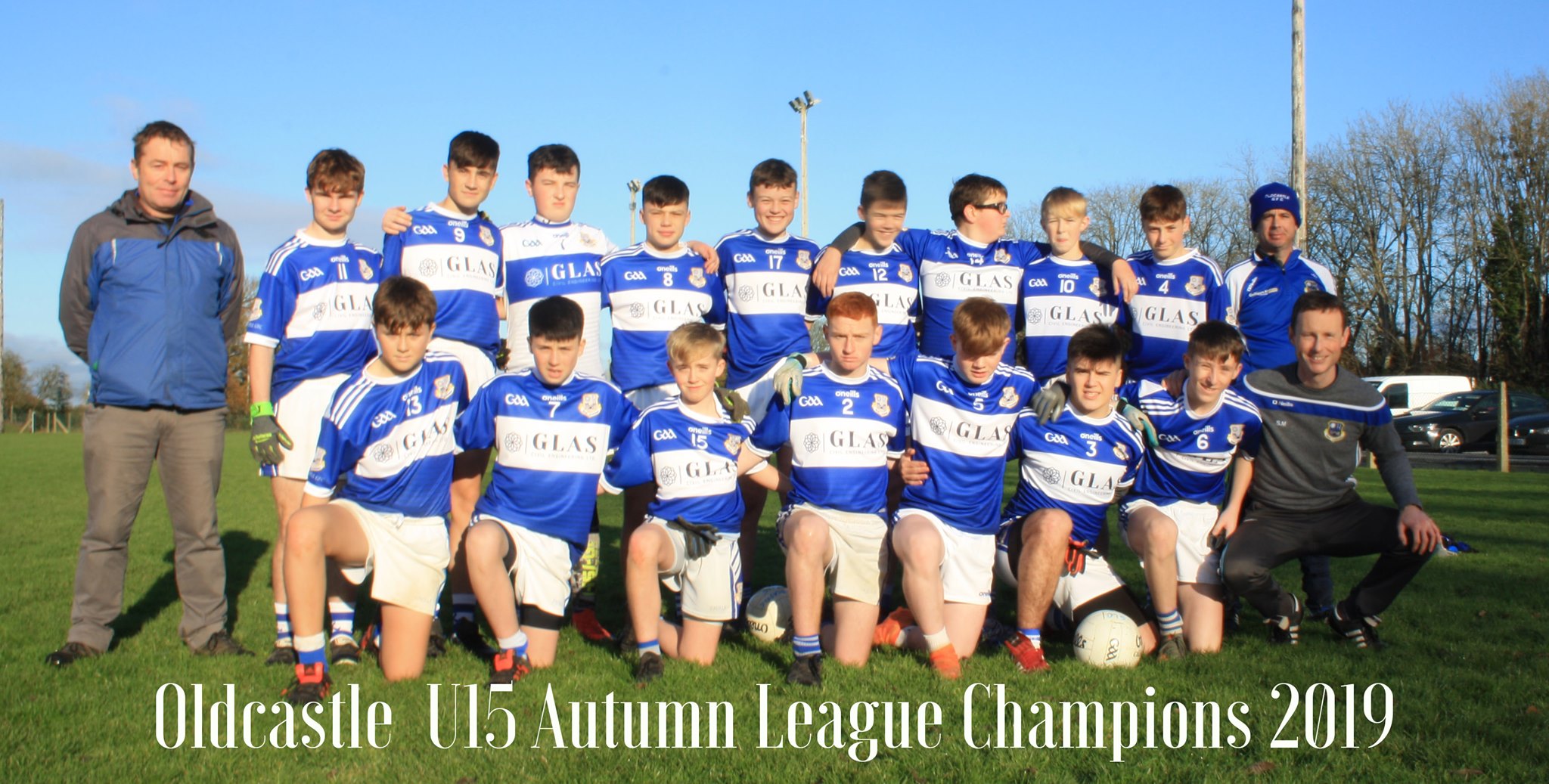 Oldcastle 4-13 Kilmainhamwood 2-9
It was a perfect day for the U15 FL Div 6 Final in Kilmainham, albeit a bit nippy (Sunday, 17 Nov.2019). Oldcastle had won all their matches throughout the league, except for their match against Kilmainhamwood, who they faced today in the final.
However, the feeling on the previous match was that we left it behind us, so all was to play for today. For many of the lads it was their second or even third match of the weekend:
Paul Hennessy helped St. Oliver's PP to win their Meath 2nd Year final on Friday and his hurling team to a league victory yesterday, and was going for three-in-a-row.
An energetic start saw Oldcastle kick two wides, the low sun behind the goals not helping matters. Kilmainhamwood were first on the scoreboard, with a fine point at six minutes in. Eoin Smith replied with one of his own immediately, with Ryan Kevin adding on a free soon after.
A great block by Rory Crawley saw him move the ball upfield via Fionn McCabe, on to Ryan Kevin, to Kane Cullen who was travelling up the wing at speed, on to Paul Hennessy and back to Kane, and finally to Ciaran Connell, Eoin Smith and Tom Lynch who sailed it over for a lovely point.
Kilmainhamwood got on a roll and clocked up a goal and three points in a matter of minutes, leaving them four points ahead. Eoin Smith added on another for Oldcastle with Kane Cullen nabbing another just before the break, to leave it Oldcastle 0-05, Kilmainhamwood 1-04 at the break.

The opposition took the first point of the second half, but with the kick-out Eoin Muldoon found Eoin Smith, who passed on to Cormac O'Connell, he got the ball forward to J.P. Purcell, to Tom Lynch and finally to Rory Crawley who sliced through the Kilmainhamwood defence like a knife through butter, and smashed it to the back of the net. Paul Hennessy then added on a point, to leave Oldcastle one ahead. However Kilmainhamwood struck back: a converted free followed by an opportunistic shot in the direction of the goals which just dropped in behind the goalie to gift them a goal. They followed that with a great run all the way upfield and finished with a lovely point, to leave them four ahead once again.
Oldcastle weren't giving up however, and with every player giving it their all, and some great tackling on display, the fightback began again. A good clearance from Tom Lynch found Paul Hennessy then Rian Mulvanny, on to Kane Cullen and then to Rory Crawley, who once again tested the Kilmainhamwood defence and won, adding another goal to his tally. Lloyd Colleran, Alan Gilsenan and James Gibney were solid in defence and causing problems for their Kilmainhamwood counterparts.
Some great work by Ciaran Connell got the kickout on to Ryan Kevin, then J.P. and to Brian Hetherton who was fouled. Ryan Kevin converted, and brought the teams level once more. A great clearance from Cormac O'Connell got the next ball to Eoin Smith who made a great run all the way upfield and shot at goal, the goalie saved it first time but the rebound was nabbed by J.P. Purcell and was planted in the back of the net.
More points followed from Ryan, Eoin and J.P., before the hard-working Kane Cullen nabbed a goal of his own. With the lads now eleven points ahead, the supporters on the sidelines were finally starting to think that we could do this! The excitement was building as Paul Hennessy fired over another lovely point:
Kilmainhamwood added on two of their own but once again Oldcastle came back with another point from Paul, referee Eamonn Barry was looking at the watch and when he finally blew that whistle it unleashed huge celebrations and a release from years of agony for this team and supporters!
As this particular age group, the team have been in six finals since they were U-12 and won none of them, and as part of other age groups they have been in 13 finals, and only won once.
Today's win was like the lifting of a jinx, and is just reward for this great group of players, who never give up. After every disappointment over the years they have regrouped, gone again and given their all, and today's win is just reward for all the countless hours of hard work.
Well done also to coaches Shane Maguire, John Caffrey and Packie Purcell, and thanks to Ollie Burns for the great photos.
Oldcastle: Eoin Muldoon, Ciaran Connell, Lloyd Colleran, Alan Gilsenan, Rory Crawley (2-00), Cormac O'Connell, Fionn McCabe, Brian Hetherton, Ryan Kevin (0-04), Kane Cullen (1-01), Eoin Smith (0-03), Tom Lynch (0-01), Paul Hennessy (0-03), Rian Mulvanny, J.P. Purcell (Captain, 1-01), James Gibney.
Report later