Terrific display by the Gilson School in winning the Cup
Gilson School 3-08 Kentstown NS 1-10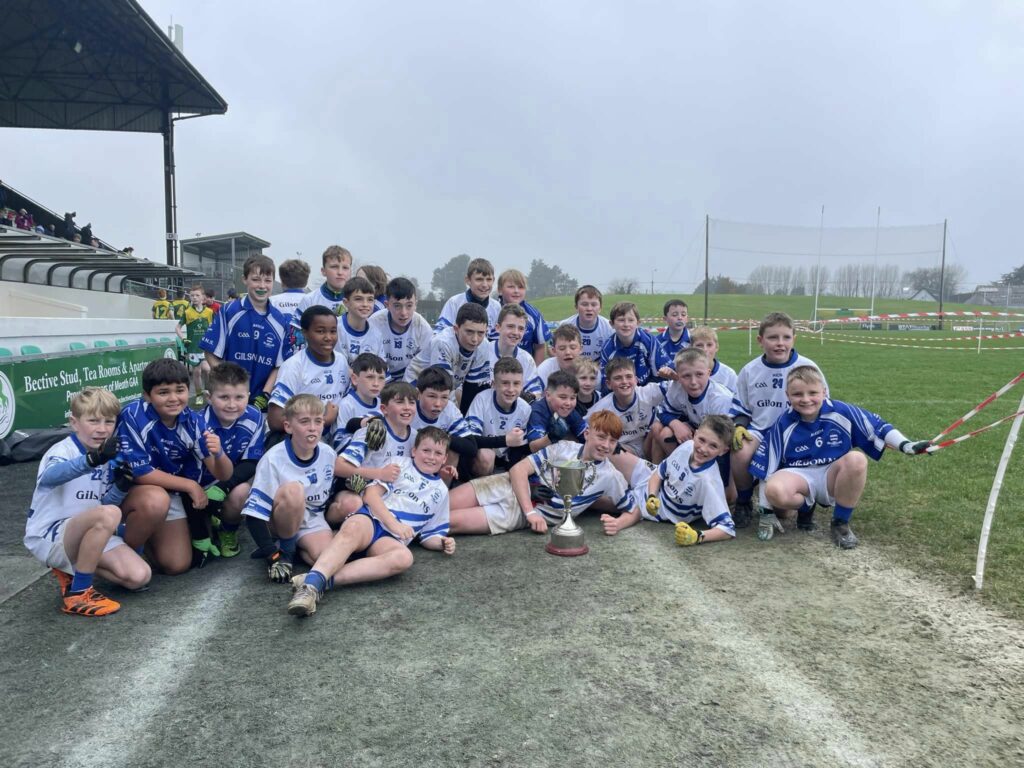 Cumann na nBunscoil finals are hard won, as every team and coach know. The Gilson NS have only won the competition three times before today: in 1989, 1995 and 2019. To get to today's finals in Pairc Tailteann (19/11/2023) the lads had beaten Wilkinstown, Slane, Kentstown, and St. Annes in the group stages, and overcame Bohermeen in the Semi-Final. The excitement levels were sky-high and the pressure these young lads were putting on themselves before the throw-in was huge: this was Christmas come-early and do or die!
Oldcastle couldn't have asked for a better start, with the powerhouse that is Charlie Crawley putting a goal to the back of the net within twelve seconds and before most people even realised the match had started! Tómas Cahill got the next ball onwards to Tadhg Sheridan and in to Ronan Fitzpatrick who took a lovely shot but was unlucky to see it come back off the post. Kentstown won the next ball and scored a nice point, adding another soon after. It was Kentstown again moments later, and this time they put the ball in the back of the net. Lots of good work from Oldcastle but also missed chances that didn't make it onto the scoreboard, and it was Kentstown who added on the next two points to go four up. Tómas, Tadhg and Ronan worked well together getting the ball upfield before Ronan was fouled, Charlie converted.
Kentstown came back and applied lots of pressure, but Rory Kavanagh, Logan Skelly and Peter Smith worked well in defence and kept them scoreless. A Kentstown '45 went wide, and it was Charlie Crawley who added the next point. He was unlucky with the next play straight after: a Tómas Cahill intercept moved onwards via Ronan Fitzpatrick, to Charlie, to Tadhg, to Jake Monaghan, to Oliver Monaghan and back to Charlie, but this one came back off the post. Luke Farrelly and Neitanas Majauskas were working well together at midfield and winning great balls. For all the hard work, it was Kentstown who added the next point. Tómas Cahill got the next ball upfield via Max Nulty, back to Tomas and in to Charlie who was fouled and converted. Bradley Kelleghan made a super save in goals, and with that the half-time whistle blew on a score of Oldcastle 1-03, Kentstown 1-05.
The second half started well for Oldcastle, Luke Farrelly (whose dad Ronan captained the 1989 team and uncle Terry captained the 1995 team) kicking a fine point from midfield! Kentstown converted a free to keep the gap at two. Neitanas was doing great work winning balls. Tadhg got a lovely shot on to Tómas who passed to brother Dara, he was at a bad angle but made great work to kick it out to Philip Purcell, who kicked at speed and was gutted to see what looked like a goal come off the post. Oldcastle frees were going wide and Kentstown were awarded another free to go three up: but Oldcastle never gave up! The lads regrouped: Luke Farrelly and Fionn Rahill battling hard and Rowan Smith seemingly everywhere: Ronan Fitzpatrick made great work to win the ball back, onwards to Tadhg who was swung round but won his free, Charlie converted, and added on a point from play straight after! Speedy little Dara Cahill came flying with the next ball, a super pass to the waiting Tadhg Sheridan who fired her to the back of the net! Oldcastle were back in front, and the crowd erupted! But there was plenty of time left, and Kentstown weren't giving up! A free reduced the Oldcastle point to just one, and they came again, another free, another score! Level match! Kentstown put on serious pressure in the next five minutes, but the Oldcastle defence were rock solid, nothing was getting past these lads!
A Charlie Crawley intercept made it's way right through the Kentstown defence and to the back of their net for Oldcastle's next score, another goal, and this one killed off the Kentstown challenge. Jonathan White brought new energy to the team, and Tadhg Sheridan capped off a super performance with a lovely point, while plucky little Dara Cahill sailed one over too! Kentstown added on a final score, but time was up and when the referee blew his whistle it was on a final score of Oldcastle 3-08, Kentstown 1-10!
What a brilliant performance from all the team! Huge congratulations on a super year, and to each and every lad on the panel, who all contributed to todays' win! Well done to the coaching dream-team of Seanie Geraghty, Tom Harten and our own Niall Fitzpatrick! And huge well done to everyone who came out to support the team today: Oldcastle was well represented in Pairc Tailteann, with siblings, cousins, aunts and uncles and grandparents all there to cheer the lads on!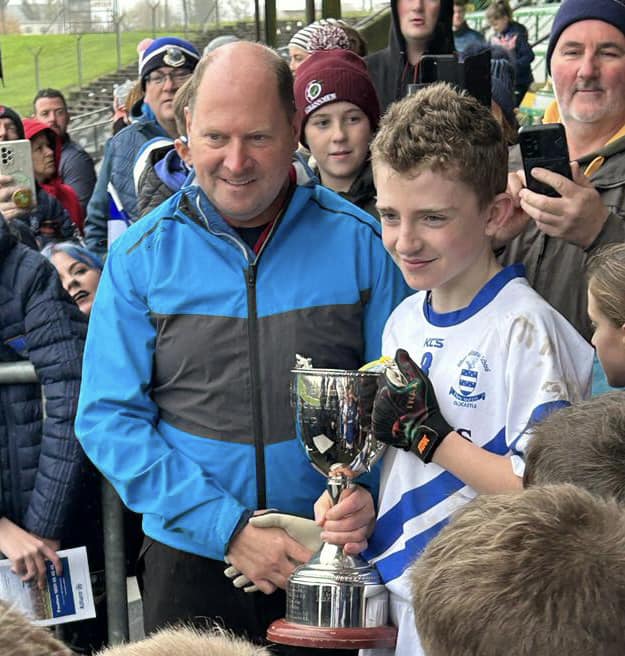 Captain Peter Smith climbed the steps to accept the cup, and lead three cheers for Kentstown, who really did put up a great performance today. It was heartbreaking to see the pain and loss for their players today, but no doubt they will win many cups in the future. Thanks to Kentstown for a great match and a super final.
Charlie Crawley was awarded the Man of the Match award, justly deserved for a powerhouse of a player! Huge performance from him today, and from so many other of the lads, well done to you all!
A very loud journey home over the mountain with the Cup, on McNamee's big bus and in to Caffreys for chicken and chips and tales of victory capped off a perfect win!

Gilson School:: Bradley Kelleghan, Rory Kavanagh, Peter Smith (Captain), Logan Skelly, Rowan Smith, Luke Farrelly (0-01), Max Nulty, Neitanas Majuskas, Ronan Fitzpatrick, Philip Purcell, Tomás Cahill, Tadhg Sheridan (1-01), Jake Monaghan, Charlie Crawley (2-05), Oliver Monaghan. Subs: Dara Cahill (0-01),Fionn Rahill, Jonathan White. Panel: Leighton Cullen, Danielius Simkus, Jayden Akande, Majus Bendaravicius, Felikss Karlsons, Jack Fitzpatrick, Daragh Masterson, Harvey Daly, Charlie McGovern, Domhnall Smith, Maddox Tuite, Nathan Reilly, Rory Martin, Tom Smith, Tarak El Seidy.