Premier Div 4 final: Late O'Reilly point seals dramatic win for Oldcastle
Oldcastle 0-09 Blackhall Gaels 1-05
This afternoon's (02/07/2023) Premier FC Final had the worst possible start for Oldcastle, with Blackhall Gaels getting a goal within a minute. Despite that, as the game played on, Oldcastle looked the stronger. Garrett O'Reilly was first on the scoreboard with a point in the eighth minute, followed soon after by a super point from Keith Connell, way out on the sideline. The Blackhall Gaels kick-out was brought down by Garrett, passed to Keith and sent straight back over the bar again to level the score. Oldcastle looked the stronger but were wasting chances, with frees and shots going astray, but Blackhall Gaels were doing the same, but even worse, missing a free chance that even I would have put over. After a lull, Oldcastle got going again thanks to good work from Mattie Cadden and Darren Hawdon, getting the ball in to the phenomenal Lee Healy who sent her over from way out. It was a Lee Healy intercept straight after that got the ball on to Darren, to Cillian Connell, on to James Cooke, to Garrett, back to Lee, on to Mossy Flood, forward via the speedy Ben Grey, and back to James Cooke who put her between the posts. A BHGs free soon after fell short and was cleared by Rian Mulvanny. BHG went on the attack but a super intercept by Brian Hetherton dispossessed them, the ball fed on to CJ Healy, who sailed her over. The opposition kept coming however, and were rewarded with another point just before the half-time whistle, to leave it Oldcastle 0-06, Blackhall Gaels 1-01 at the break.

Oldcastle knew they should have had a bigger margin between the teams as the ball was thrown in again, but it was Blackhall Gaels who came out fighting, with two points immediately to level the match, then adding on another to go ahead. That finally woke up the lads: Darren Hawdon winning the ball back, on to Ben Grey, to Conor Delaney, back to Ben and Darren, on to Mossy Flood who made a good run upfield, on to Louis Colleran who fed her in to Garrett for an Oldcastle score; match level again. Birthday boy Louis Colleran was making a super attack when fouled: CJ converted, a point ahead once more. Blackhall Gaels then missed a free and a scoring opportunity. The newly married Stephen Tierney took to the field to great applause: the next few minutes could make or marr the start of his honeymoon! Oldcastle kept applying the pressure, but with no reward, and it was the Blackhall Gaels who took the next point on the 25th minute, to level the match once more. More wides from BHGs before they took a quick free: too quick though, albeit the score was recorded on the scoreboard before the matter was resolved, and it was deleted again, still a drawn match, with only a minute of playing time left. It was do or die, and they did!

A Ciaran Healy clearance found Mossy Flood, on to Ross Cadden, to Lee Healy, back to Brian Hetherton, on to James Cooke, to Conor Delaney, back to Keith Connell, don't lose it lads, on to Darren Hawdon, back in to Conor Delaney, to the honeymooning Stephen Tierney, to Conor Delaney, and finally, out of the mass of bodies, to Garrett, head down and running as only Garrett does, he caught the ball and kicked: everyone held their breath as it curled and sailed between the posts for what proved to be the WINNING POINT! Blackhall Gaels had a final chance with a free, it went wide and the whistle blew on an Oldcastle victory! We always knew it was the good Castlerahan influx in Oldcastle that lifts the town up, and Garrett proved that today, although mammy Sandra contends that it's the Brunton blood! Whatever it is, the win was Oldcastle's and Joint Captains Lee Healy and Keith Connell stepped up the raise the Cup! A lovely speech from Keith, who should have been sunning himself in Spain, he changed his flights, and made it worth it! Enjoy the Sangrias this evening!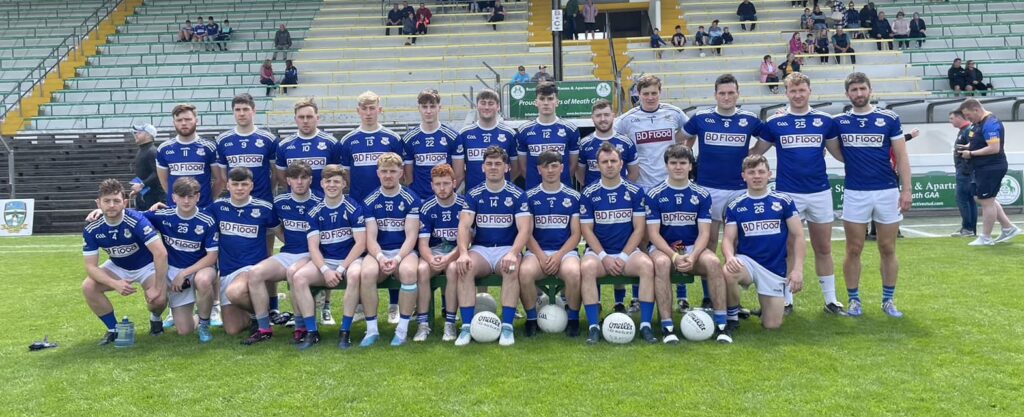 Oldcastle: Rian Mulvanny, Lee Healy (0-01), James Cooke (0-01), Mattie Cadden, Cillian Connell, Mossy Flood, Brian Hetherton, Ross Cadden, Conor Delaney, Garrett O'Reilly (0-03), Keith Connell (0-02), Louis Colleran, Ben Grey, CJ Healy (0-02), Darren Hawdon. Subs: Paddy Rahill, Ciaran Healy, Stephen Tierney, Lloyd Colleran