Points shared in Millbrook
Oldcastle 0-11 Dunderry 1-08
Oldcastle and Dunderry played out a hard-fought match in the AFL at Millbrook this cold afternoon (8/4/2023), with the splitting of the points on offer probably a fair finish up. Dunderry got off to the perfect start, with an opportunistic goal in the first play of the game. Robbie Farrelly and Pearse Sheridan took points, before Dunderry added on three of their own. A good dispossession by Oran Mulvanny won the ball back for Oldcastle, on via Darren Hawdon and Conor Delaney, to Ben Grey and Ross Cadden, back to Ben Grey on a good run, to Darren again, Conor Delaney and finally to Eoin Smith who took a nice point. Three points the gap again, Conor Delaney fired the next point over, followed by a converted free from Robbie Farrelly. Dunderry took another, before a Dunderry kick-out was taken down by Pearse Sheridan, on to Keith Connell and in to James Cooke who sailed her over. An Oran Mulvanny ball on to Oran O'Reilly then found Lee Healy, to Conor Delaney and back to Lee again, he put her between the posts for the last score of the first half, leaving it Oldcastle 0-07, Dunderry 1-05 at the break.

A foul on James Cooke upon the resumption saw Robbie convert the free and leave it all level a minute in, with point from CJ soon after seeing Oldcastle go ahead for the first time. Keith Connell took the next, but Dunderry came back with a point of their own, then added on a free to level it up again. Dunderry had a great chance to take the win with a super shot on goal but a fantastic save from Rian Mulvanny kept Oldcastle in it. A free was awarded to them however, and over she went: Dunderry ahead again. In possession again but they handled the ball on the ground and it came back to Oldcastle, all the way upfield to Robbie Farrelly who was lamped out of it. Awarded a free, he dusted himself off and put her between the posts to level the match once more. For the final five minutes both sides had chances: Dunderry putting a relatively simple free wide, and Oldcastle also squandering a few chances, so that when referee Joseph Curran blew the final whistle it was on a drawn score of Oldcastle 0-11, Dunderry 1-08.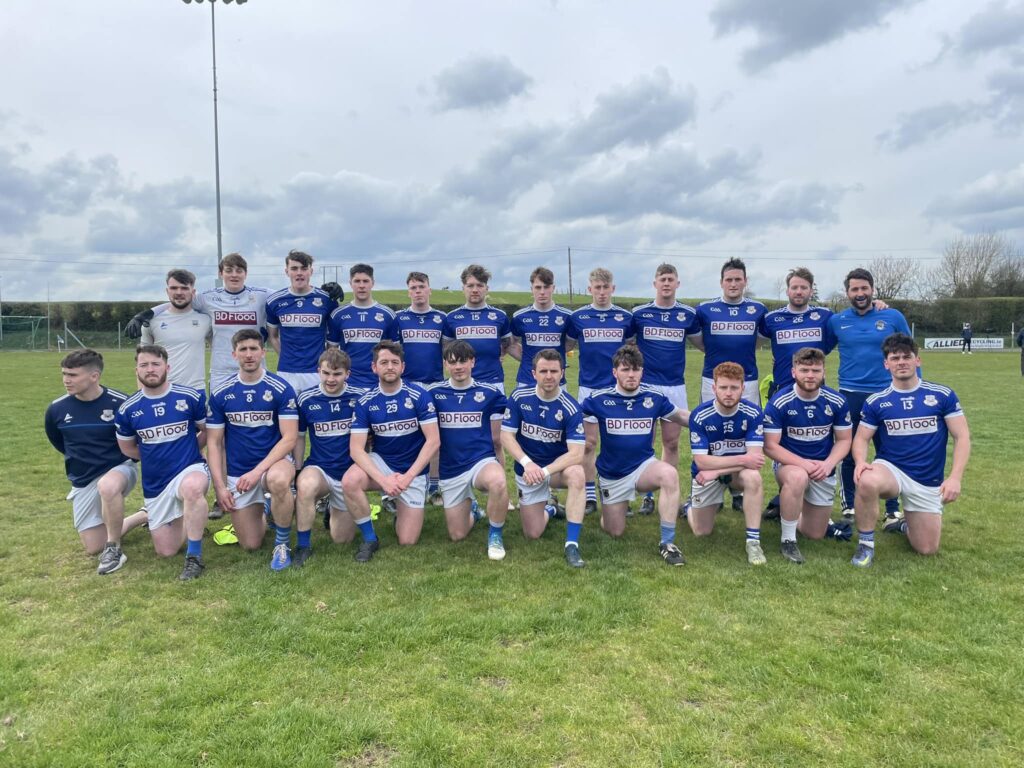 Oldcastle: Rian Mulvanny, Cillian Connell, Oran O'Reilly, Darren Hawdon, Ben Grey, Keith Connell (0-01), Lee Healy (0-01), James Cooke (0-01), Oran Mulvanny, Ross Cadden, Conor Delaney (0-01), Pearse Sheridan (0-01), CJ Healy (0-01), Eoin Smith (0-01), Robbie Farrelly (0-04). Subs: Paddy Rahill, Paddy Gilsenan, Mossy Flood, Alan Gilsenan.