Oldcastle U13s are Div. 3 FL Champs on home turf!
Oldcastle 3-15 Dunderry 3-08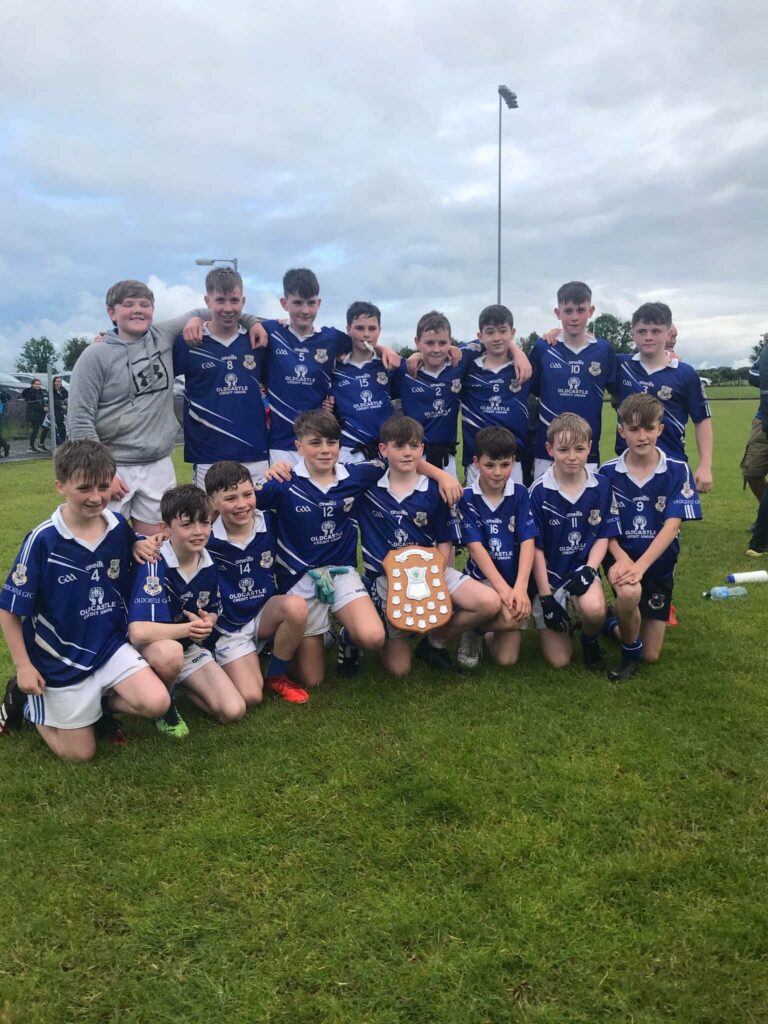 The Oldcastle U13s may have been favourites coming into this Division 3 Football League Final played in Millbrook on Friday evening (1 July 2022), but they knew from past encounters that this was a resilient Dunderry team, and so it proved.
The first half started off with Eoin Smith gaining possession, on to Zach Smyth, to Callum Keatinge and in to Mark Halpin who put it straight between the posts for Oldcastle's first point. Eoin Burns was fouled soon after and converted, with Dunderry then unlucky to just miss a goal chance, but taking their first point. Eoin Smith, Mark Halpin, Zach Smyth added on more points, with Alex Smith adding on a free. Oldcastle were dominant all over the pitch at this stage: Hayden Cullen unflappable in goals, and Paul Lynch and John Smith well in control at the back. Dunderry's woes were compounded by a super goal from Captain Callum Keatinge just before the break, to leave the halftime score Oldcastle 1-09, Dunderry 0-03.
The resumption saw the introduction of Eimhin Kellett, who fired over a lovely point with his first touch of the ball. Dunderry attacked straight after, and took a great goal, closing the gap to seven points and giving them renewed vigour. They pushed on, taking the next point. Oldcastle fought back, a lovely Lee Garrigan ball finding Eoin Smith, to Eimhin Kellett, on to Jack Pakenham and over the bar. Dunderry took the next, Callum Keating then pointing for Oldcastle.
With the gap now only four points the momentum seemed to be going Dunderry's way, when they took their third goal of the match to leave it a one pointer, the next play saw them awarded a free which they duly pointed to leave it all level! Everything was up for grabs now, the stand erupting with spectators from both sides cheering on their lads, and those lads serving up a super game. That was the fright Oldcastle needed, Jack Hand taking possession of the ball and getting it on to Rian Healy Fannin, to Mark Halpin, to Alex Smith, Finan Tuite, back to Mark, on to Eimhim who was fouled, with Mark pointing the free. Ahead once more! The kickout found a Dunderry player but Jack Pakenham dispossessed him, the ball making its' way upfield via TJ Masterson and finding Callum Keating, who smashed her to the back of the net for his second goal of the match!
Dunderry came again however, wave after wave of attack, the Oldcastle backs working overtime to keep them out, eventually they fired over a fine point to bring it back to a three point game again. That was as close as it would get this time however, a Mark Halpin volley hitting the back of the net and making sure of the win, followed by a few insurance points. Dunderry literally never gave up, every player still giving their all, and it was a Dunderry free that was the final score of the match, a match that displayed all the skills of the game, great workrate and skill from both sides, clean and entertaining. Everything you want in a final! And ultimately, Oldcastle the winners on a scoreline of Oldcastle 3-15, Dunderry 3-08.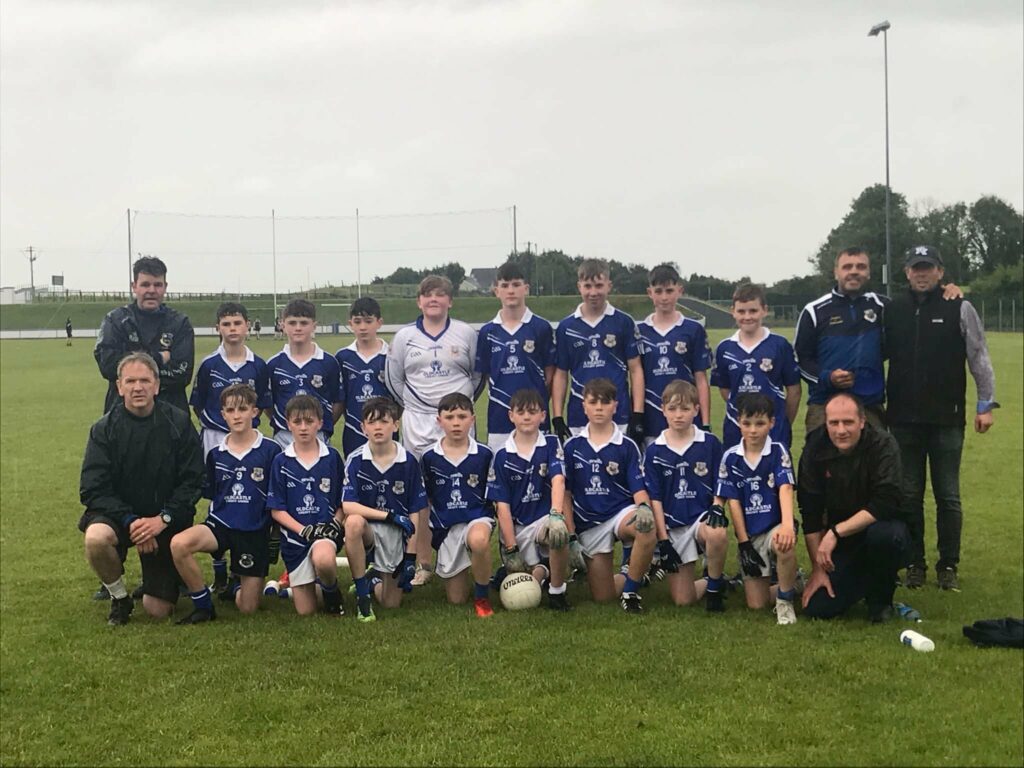 Oldcastle: Hayden Cullen, John Smith, Paul Lynch, Lee Garrigan, Jack Pakenham (0-01), Jack Hand, Callum Keatinge (2-02), Eoin Smith (0-02), TJ Masterson, Mark Halpin (1-05), Zach Smyth (0-01), Alex Smith (0-02), Eoin Burns (0-01), Rian Healy Fannin, Finan Tuite, Eimhin Kellett (0-01)