Oldcastle U-14's into Summer League final after thriller!
Oldcastle 3-15 Skryne 3-10
After two months of rest, Lazarus was busy in the Park this evening, with both teams making comebacks, but Oldcastle the worthy victors! Skryne were top of the group going into this match and had the best start, putting three points on the board, but Oldcastle had the perfect response with a rocket of a goal from Eoin Smith. Skryne went ahead again however, with another four unanswered points, before a Ryan Halpin free and Paul Hennessy goal levelled things up again.
Oldcastle now nudged ahead: a lovely point from Paul Hennessy was followed by the Skryne kick-out which landed in the waiting arms of Eoin Smith and sailed straight back over for another, the kick-out from that came to Tomas Kizelis who was fouled, Rory Crawley converted the free.
Paul took another point before Skryne regained possession and made a great run all the way upfield, heading for what looked like a certain goal but for a super save from goalie Padraig Brady, who was on top form this evening.
Skryne added two points, before some great work from Fionn McCabe regained possession, and it was a good ball from him in to Rory which was the last point of the first-half, with the score: Oldcastle 2-06, Skryne 0-09.
The second-half started quietly, with Oldcastle missing shots, but Skryne also unable to score, great defence from Thomas Sheridan, James Gibney and Alan Gilsenan keeping them out, and Padraig pulling off another fantastic save.
Pat Crawley was also in overdrive, going in hard for every ball. Rory upped the ante, taking three points in a row, the third kick-out caught by Tom Lynch and fired back over for another to Oldcastle. A foul on Eoin Smith gave Oldcastle another pointed free, and a nice cushion of eight points.
The biblical lad switched sides then however, with Skryne blasting in two goals within a minute, followed by a point! With the lead reduced to a solitary point the sidelines went into overdrive, and there will be Strepsils needed tonight in certain Oldcastle households. A Ciaran Connell free fed onto Cormac O'Connell found the waiting Paul Hennessy and sailed over for Oldcastle.
But like the baddie in the horror film who won't die, Skryne came back again: a great run slicing right through the Oldcastle defence and resulting in a goal, and putting them back ahead by a point. A hard-won ball from Fionn McCabe found Rory and brought it level again, Oldcastle 2-13 to Skryne 3-10.
The Oldcastle sideline were having a collective fit as Cormac O'Connell kicked a lovely free in to the waiting Rory who sailed it over for the certain winner!
While all waited on the final whistle, referee Seamus O'Connor seemed in no rush at all, and play went on…and on…leading to a Fionn McCabe free, brought upfield by Tom Lynch, and on to Rory who was fouled.
Cormac stepped up to take the free, way outfield, going for what all thought would be a nice ball dropped into the box, but which sailed over the keeper and lodged in the back of the net!
And still play went on, but it was a Rory free that was the final score of the match, leaving hearts racing.
That result sees the lads into the final against the winner from group A, which takes place next Thursday 25th at 7pm, venue to be confirmed.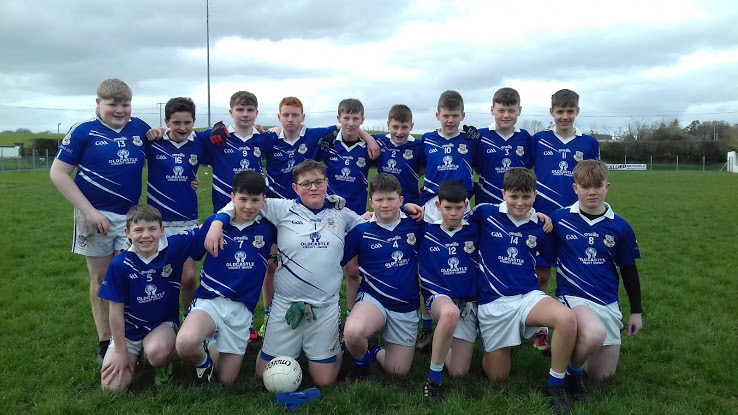 Oldcastle: Padraig Brady, Thomas Sheridan, James Gibney, Alan Gilsenan, Pat Crawley, Cormac O'Connell (1-00), Fionn McCabe, Eoin Smith (1-01), Tom Lynch (0-01), Ciaran Connell, Rory Crawley (0-09), Tomas Kizelis, Ryan Halpin (0-01), Paul Hennessy (1-03), Jamie Pakenham.