Oldcastle left themselves with too much to do in the 2nd half of Rd.1 of the IFC
Walterstown 0-17 Oldcastle 3-06
Oldcastle's Intermediate campaign 2022 began this evening (06/8/2022), with Walterstown providing the opposition in Kells. A dignified minutes' silence for Dillon Quirke preceded the throw-in by referee Andrew Smith. The Oldcastle lads were asleep at the start, with Walterstown getting three fine points and a free on the scoreboard before they got going. Walterstown were unlucky not to add a goal to their tally, the ball back off the crossbar and out to Paddy Rahill, on to Colin Hawdon and then Oran Mulvanny, he was involved in a body smash with another player and got an awful land. A throw-up followed, Paddy Rahill claiming the ball, on to Oran, to Garrett O'Reilly and Pearse Sheridan, back to Colin Hawdon, to Oran again, Paddy Rahill, Garrett and on to CJ Healy, to Conor Delaney, back to Pearse, in to Jason Scully and finally back to Colin Hawdon who sailed her over the bar for Oldcastle's first point. Walterstown came back with another super point from way out, before Conor Delaney added on the second for Oldcastle. That was Oldcastle's tally for the first half however, Walterstown adding on three more frees and a point to leave it Oldcastle 0-02, Walterstown 0-09 at the break.
Oran Mulvanny brought down the ball from the throw-in, getting her on to Colin Hawdon and Jason Scully, who was cynically pulled down in the box. Penalty awarded: Pearse Sheridan stepped up and sent her to the back of the net, to great celebration from the Oldcastle sidelines. The next kickout was brought down by a nice Ronan Maguire mark, on to Garrett O'Reilly who found Colin Hawdon, and passed to a running Jason Scully, he blasted for goal, only the crossbar denying him: but over she went for a point. With the next kickout, Oldcastle once again won possession, and a lovely Conor Delaney pass to Jason near goals was this time smashed to the back of the net to eliminate the seven point deficit in as many minutes: level game: game on!
Walterstown finally got their second-half tally started with a pointed free to once more go ahead, adding on two more within two minutes to build a three point lead once more. That galvanised the Oldcastle lads again, Conor Delaney getting a pass to Colin Hawdon who was denied by the post, but came back out to the waiting Garrett O'Reilly who shot her to the back of the net once more: all level again! It was Garrett who got possession back with the next play, the ball getting all the way upfield to Jason Scully for a point, and putting Oldcastle ahead for the first time in the match! The kickout was taken down superbly by Oran Mulvanny, sent in to the goalmouth and Jason Scully, he passed to CJ who was in a great position but blocked, he passed to James Cooke who was right at the goal post: but not to be, a matter of inches denying Oldcastle another goal. Yet another foul on Jason Scully soon after resulted in another free: CJ converted to put Oldcastle two ahead. With just ten minutes left, supporters were starting to believe this comeback could succeed, but like your one in Fatal Attraction, Walterstown just wouldn't die: they fired over three points in a row to go one ahead again. Jason Scully may as well have had a target on his back: once more he was fouled in possession: CJ converted. Level again, and only a minute or so left! But here come Walterstown with another point, all to do again. Oldcastle never gave up and put serious pressure on the opposition: but just couldn't break through for the equaliser this time: it was Walterstown who took another point. A goal was needed now: Jason Scully on a good run was once more brought down, he lobbed the free in to Garrett in the goalmouth, but the opposition had every man standing back in defence and no way through. The ball headed outwards again, and the final whistle blew on a score of Oldcastle 3-06, Walterstown 0-17.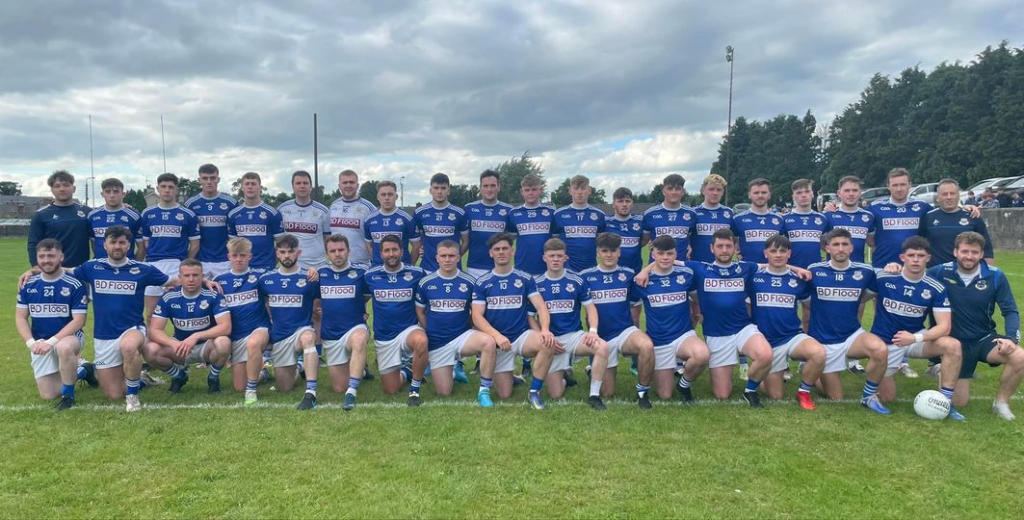 Oldcastle: Conor McHugh, Oran O'Reilly, Cian McPartland, Steven Lawless, Dylan Garrigan, Darren Hawdon, Ronan Maguire, Colin Hawdon (0-01), Oran Mulvanny, CJ Healy (0-02), Pearse Sheridan (1-00), Paddy Rahill, Garrett O'Reilly (1-00), Jason Scully (1-02), Conor Delaney (0-01). Subs: Ben Grey, James Cooke, Louis Colleran, Paddy Gilsenan, Stephen Tierney.