Oldcastle Ladies Div 1 Champs!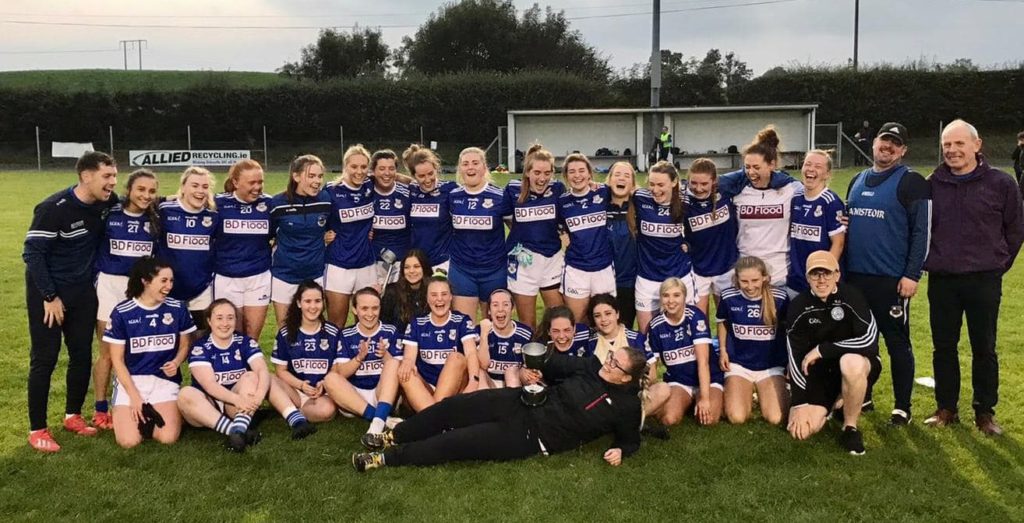 Congratulations to Oldcastle Ladies GFC on their victory in the Div 1 County League Final that was held this evening (15/08/2021) in Millbrook.
Final Score
Oldcastle 2-11
Simonstown 1-05
It was also a historic weekend for Oldcastle Ladies as they overcome a strong Simonstown team in the Division 1 league final in Millbrook.
Oldcastle 2-11 Simonstown 1-5
On a weekend of excitement for all GAA fans with Mayo's win over Dublin on Saturday and Meath ladies win over Cork early Sunday, Oldcastle and Simonstown were both hoping to join in on the celebrations. Oldcastle got off to a great start with quick pace in the forwards resulting in an early goal from Sinead Coyle. Great link work in the halfback line between Nadine Wade and Gabriele Krivinskaite and young midfielder, Ciara Gilsenan who had an outstanding game throughout, helped get points from Lisa Mullen and Gemma Galligan putting Oldcastle ahead 1-04 to no score at the first water break. Super defending in the backs from Oldcastle's Orla Smith covering areas all over the pitch kept the pressure on the Simonstown forwards with their first score only coming on the 25th minute of the first half, followed by another point shortly after. A second goal from Coyle and a point from the speedy Nicole Smith led to a half time score of 2-06 to 0-02.
Simonstown started to come to life in the second half. Super sub Tara Berigan for Simonstown scored a fine goal for her side, but there was never any doubt that the home team would stay on top. There was great battling between Elaine Plunkett and Jackie Shiels, two work colleagues, with Plunkett coming out on top in this match helping Oldcastle stay the dominant team throughout the game. With hard work from the midfielders, solid work by all defenders and some great saves and kick-outs from goalie Jane Browne, Oldcastle made it very hard for Simonstown to get scores on the board. Oldcastle pulled away in the last quarter with substitutes being made on both sides, Joanna Byrne replacing Smith and scoring a tremendous point in the closing stages of the game to finish off the victory for Oldcastle. Unfortunately, towards the end of the match Niamh Cassidy of Simonstown picked up an injury and we would like to wish her a speedy recovery.
Oldcastle would also like to congratulate their teammate Bridgetta Lynch and the Meath Ladies team on their incredible win against Cork in the All-Ireland semi-final and wish them all the luck in the final!
Oldcastle team: Jane Brown, Lisa Brennan, Elaine Plunkett, Eimear Hetherton, Gabriele Krivinskaite, Orla Smith, Nadine Wade, Ciara Brown (captain), Ciara Gilsenan, Florence Smith, Nicole Smith (0-2), Gemma Galligan (0-1), Áine Bennett, Lisa Mullen (0-5), Sinead Coyle (2-1). Subs: Chloe McNamee (0-1) for Coyle, Joanna Byrne (0-1) for Smith, Ciara Delaney for Galligan, Ruth McDonnell for Wade, Aobhin Timmins for Mullen,
Emma Healy, Aisling O'Connell, Eimer Delaney, Rachel Halpin, Karen Cadden, Niamh McKenna and Emily McCann.
Referee: Yvonne Brady