Oldcastle book their place in the Corn na Boinne Semi-Final
Oldcastle 1-14 Drumbaragh Emmets 1-05
With both sides unbeaten in their first two matches, tonights' encounter (17/02/2023) would decide the team progressing to the Corn na Boinne Semi-Finals. Oran Mulvanny was first on the scoreboard for Oldcastle, a fine point at a tight angle. Drumbaragh levelled, but that was to be for the last time: Robbie Farrelly converting a free soon after to take the lead again. The Drumbaragh kickout was brought down by Keith Connell, he passed her on to Paddy Rahill who passed her back to the same Keith Connell now travelling at speed, another good catch and kick and she went over the bar.

Oldcastle were getting a nice rhythm going now, and the next play saw Keith get the ball on to Oran Mulvanny, upfield via Dylan Garrigan, back to Oran, to the hardworking Ross Cadden, back to Dylan, to Oran, over to Stephen Tierney, back to Keith and finally to CJ who blasted her to the back of the net. That was followed straight away by another point from Keith Connell, Drumbaragh then adding two of their own. The kickout found James Cooke who was having a super game, on via CJ, Darren Hawdon, to Dylan, travelling at speed as always, to Ross Cadden, on to Ciaran Connell who found the waiting Garrett O'Reilly who put her between the posts for another point. There was a Castlerahan support in the stand for the Drumbaragh Emmets manager Fiachra Sweeney, so plenty of mad interclub connections all over the place. Keith Connell had a 45 to take soon after: tipped on to Dylan Garrigan who sailed her over the bar. Stephen Tierney was involved in a lot of play, and took a lovely score of this own, Drumbaragh adding a free to their tally. The last play of the half saw a CJ free on to Steven Lawless, he found Ross, back to Steven, to Oran, to Paddy Rahill, a great ball at an angle from him in to Stephen Tierney, Tierney fouled, Robbie converted, to leave the score at half-time Oldcastle 1-08, Drumbaragh Emmets 0-04.
The second half got underway with the gentle sideways rain turning into aggressive waves of wetness: but that didn't bother CJ who converted a free, followed by another from Robbie Farrelly, who was obviously a marked man and took some battering tonight, tackles coming at him from every direction that would kill a horse, but like the warhorse he is he seemed to shrug them off and just keep going. A lovely catch from Ciaran Connell made its' way to Stephen Tierney, he got her in to the waiting Oran Mulvanny who took a lovely point. Steven Lawless took the next, Drumbaragh adding one, but Cillian Connell getting the ball in to James Cooke and on to Robbie Farrelly for the next for Oldcastle. It's always the scorers who get the namechecks, but the Oldcastle defence were great throughout, starters and subs alike working hard and denying chances over and over. Drumbaragh kept pushing for scores and it eventually paid off with a goal in the dying minutes, but with that, the honour of the final score of the match went to veteran Paddy Rahill, with a final scoreline of Oldcastle 1-14, Drumbaragh 1-05, sealing Oldcastle's Corn na Boinne group win and progression to the Semi-Final against St Patrick's in Stamullen.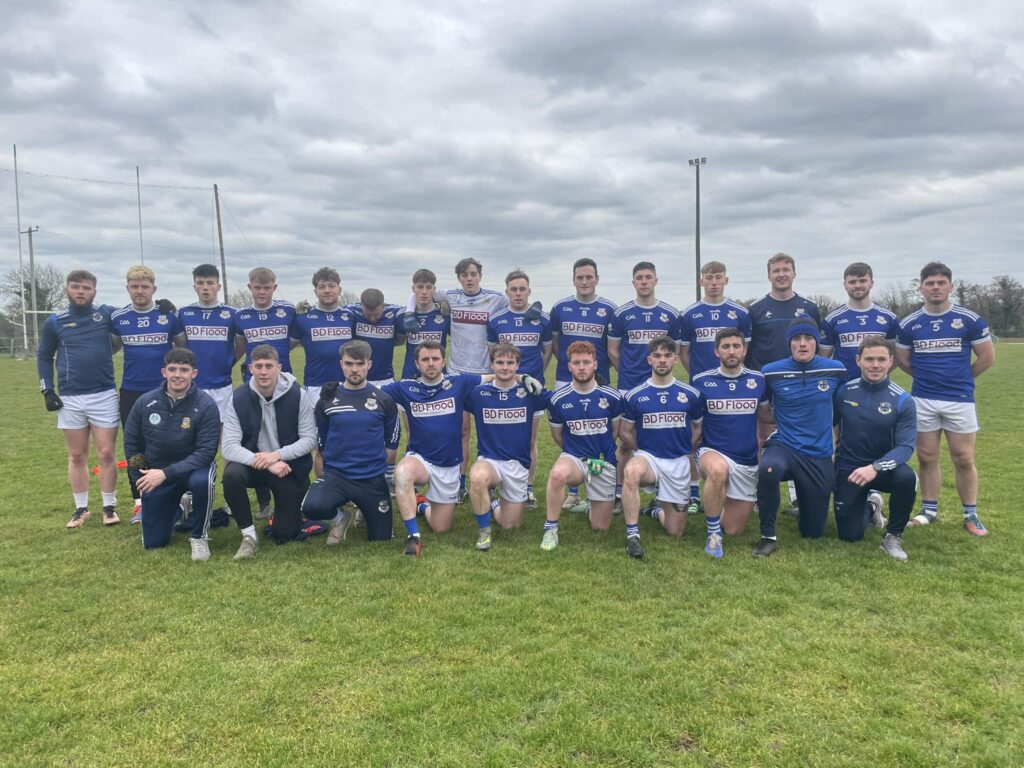 Oldcastle: Rian Mulvanny, Eoin Smith, Steven Lawless (0-01), Darren Hawdon, C.J. Healy (1-01), Dylan Garrigan (0-01), Keith Connell (0-02), James Cooke, Ross Cadden, Ciaran Connell, Oran Mulvanny (0-02), Robbie Farrelly (0-04), Garrett O'Reilly (0-01) Paddy Rahill (0-01), Stephen Tierney (0-01). Subs: Lee Healy, Lloyd Colleran, Fionn McCabe, D.J. Monaghan, Cillian Connell, Brian Hetherton, Lloyd Colleran, Alan Gilsenan, Conor Hetherton.