Oldcastle and the 1916 Senior Football Championship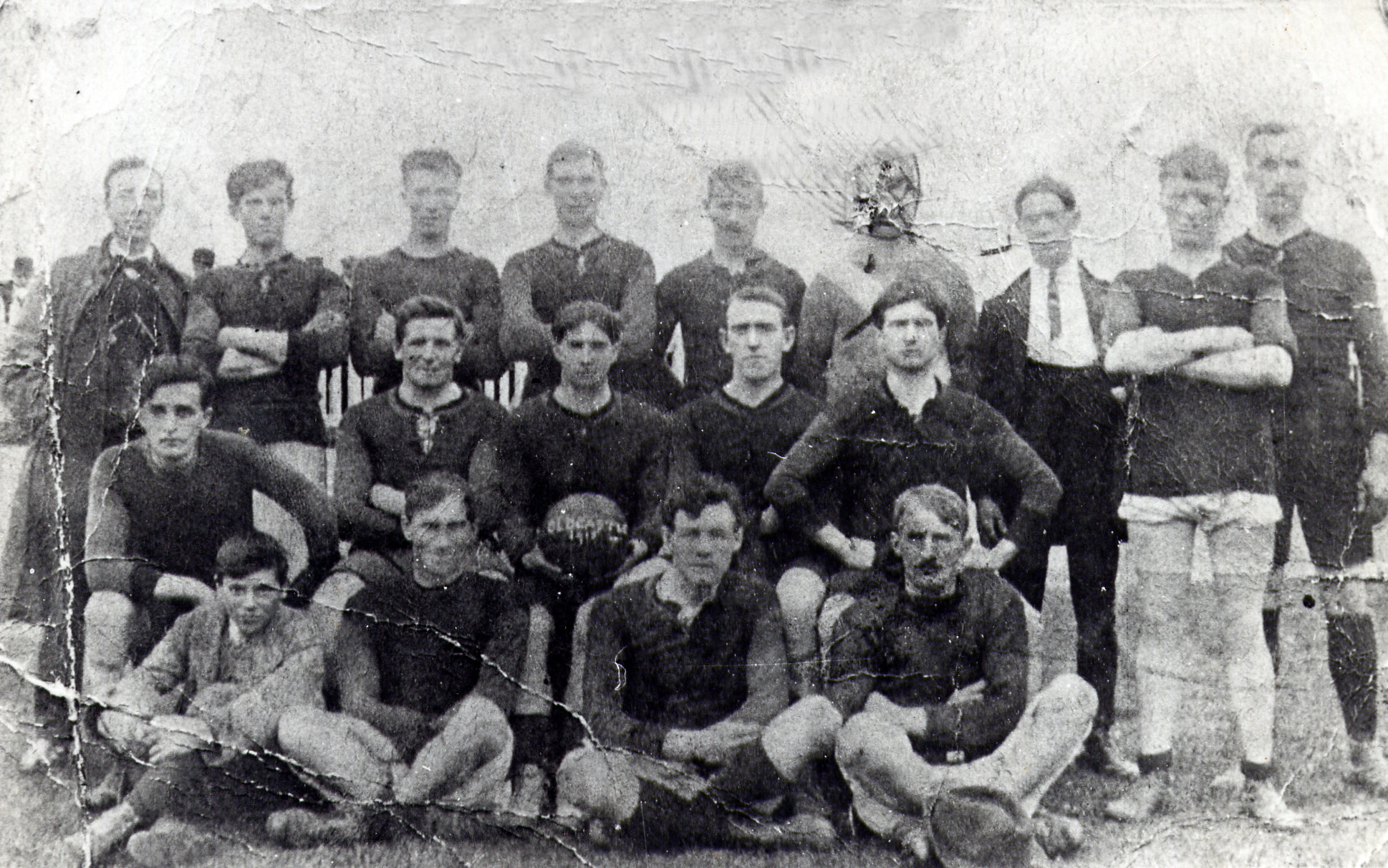 Back: Joe Carroll, Jimmy Kiernan, Paddy Morris, George Chatten, ……………, 'Snip' Callan, 'Red' Callan, Mick McGinn
(Unclear who is who as nine in photo, only seven identified)
Middle: Willie Tuite, Ned Tuite, Lordy Kearney (Capt), Joe Kiernan, Busty Kearney
Front:   ……… Chatten, Jimmy Tuite, Peter Tuite, Mick Timmons
The 1916 Meath Football Championship was one of the most controversial of all time!
Only 4 teams took part in the Senior Football Competition. Bohermeen Geraldines, who won six in a row from 1909 to 1914, a record that still stands, Navan Harps, the 1915 winners when Bohermeen did not take part due to the death of Mick Newman, Martry Clan na nGael, the Junior Champiosns of 1915 and Oldcastle, the narrow losers to Navan Harps the previous year (Photo – Oldcastle team 1915) . It made for a compact, competitive but controversial event. Curraha was listed in the draw, having won the Middle League in 1914, but no record of a game can be found.
Trouble flared at the Bohermeen v Navan Harps game in the Show Grounds (now Pairc Tailteann) in July when a Bohermeen player kicked George Cudden of Navan Harps on the ground and he was removed to hospital. The Harps refused to continue and the referee, Joe Boylan of Dunboyne, declared Bohermeen the winners.  Bohermeen's delegate, John Newman, who would later chair the County Board from 1921 to 1937, was highly critical of Harps, suggesting they exaggerated the injury and claimed that Cudden wanted to play on.. Oldcastle's Peter and Edward Tuite declared the club would not play any future fixture involving Bohermeen unless the culprit was suspended and proposed that Bohermeen withdraw from the championship.. The delegates split evenly for and against the proposal, and the Chairman, Seaghan Mac Namidhe, declined to vote.
It was late October when the issue was finally resolved with the County Committee displaying the wisdom of Solomon or the timidity of a mouse depending on your point of view, by declining to begin the championship again without imposing any suspensions!
Oldcastle were drawn against Navan Harps. but the defending champions declined to play due to the County Committee's failure to impose any sanction for the injuries to Cudden.  Bohermeen defeated neighbours, Martry in the other tie and the final was fixed for Mach 25th 1917.
However, Oldcastle carried out their threat and refused to play Bohermeen. leaving the latter champions.
Excerpt from 'Laochra na Mí'  (Meath the Rising and the GAA) – Supplement to the Meath Senior Football Championship Final Programme 2016
Research and Text compiled by John Gilligan (Dunshaughlin GAA and Mick O'Brie (Walterstown GAA)