Meath's second half comeback secured victory over Kildare
Meath 3-12 Kildare 3-11
Meath's first team had to overcome a 2 goals half time deficit in claiming victory over Kildare in the Gerry Reilly U16 Cup match played in sunny Millbrook, Oldcastle on Saturday afternoon (07/05/2022). Meath got the opening scores with points by John Harkin and Michael McIvor. But then Kildare took control and 2 Evan Dooge goals had them in the driving seat to lead at the break by 2-5 to 0-5.

Kildare went on to lead on a score of 2-7 to 0-6 before Aaron O'Rourke's goal brought Meath back into the game. Meath then added 3 points to their tally to Kildare's 2 points. A terrific run by Cian Commons ended with a goal to have the sides at 2-9 a piece. A pass from John Harkin to Billy Smyth was finished to the net for Meath's third goal. Meath's lead was extended to 5 points, but Kildare never gave up and had 2 goal attempts with one resulting in a point. A Paddy Martin free left just 3 points between the sides as time was expiring. A Cian Commons point for Meath seemed to steady things, but Kildare were not giving up. Another Paddy Martin free well into injury time was finished to the Meath net by Daragh Mullahy to leave the minimum between the sides as time expired.
We were treated with great football from both teams and enjoyed by the large crowd present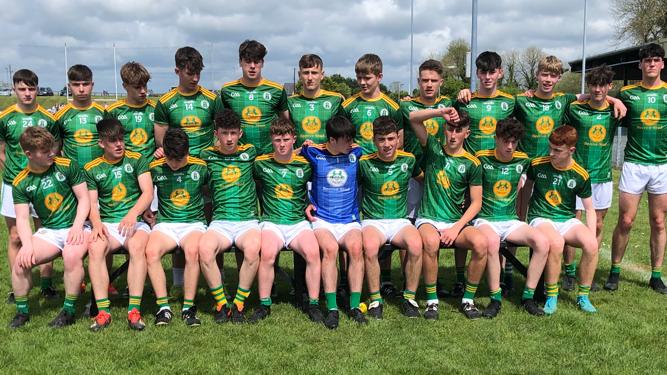 Meath Panel: Jamie McCormack Dunboyne, Naoise Maguire St Colmcille's, Padraig Walsh Trim, Cormac Liggan Dunderry, Billy Smyth Skryne (1-1), John Gormley Gaeil Colmcille, Ciaran O'Hare Rathkenny, Cian Commons Sensechalstown (1-2), Oisin Yore Carnaross, David Donnelly Bective, John Harkin Dunboyne (0-3), Charlie Murphy Carnaross, Aaron O'Rourke Trim (1-1), Michael McIvor St Vincent's (0-2), Oisin Corcoran St. Colmcille's, Tiernan Anderson Gaeil Colmcille, Jack Lafford O'Mahony's, Ollie Maloney Walterstown, Ben Corkery Clann na nGael, Liam Jennings Blackhall Gaels (0-2), Tom Lenehan Skryne (0-1), Rory Crawlwy Oldcastle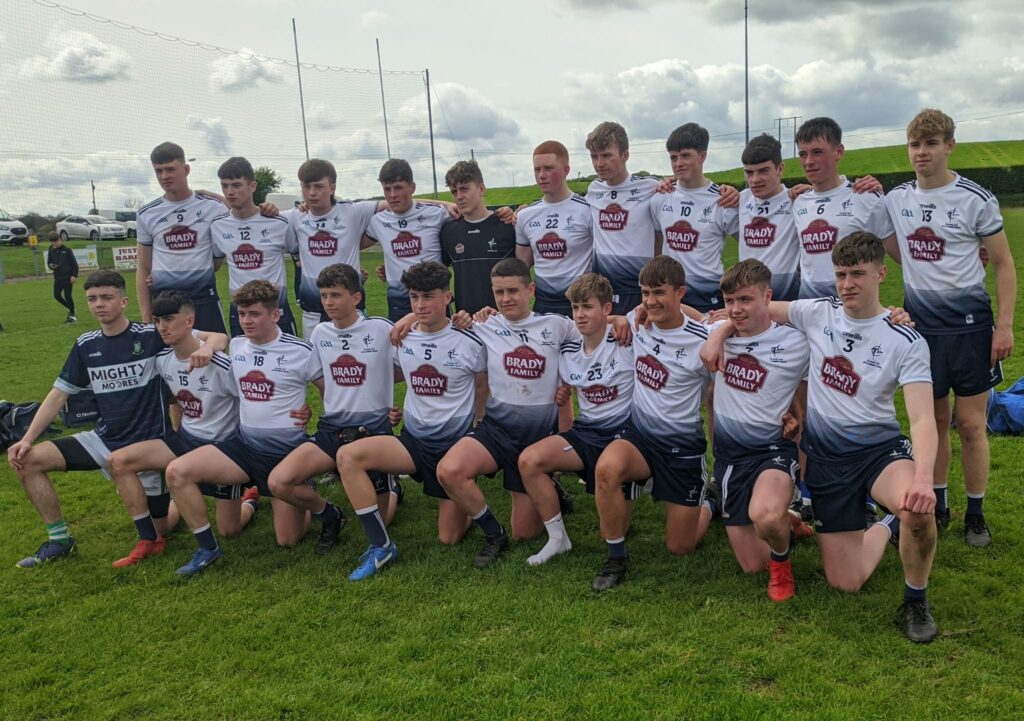 Kildare Panel: Charlie White Ballykelly, Liam Kelly Milltown, Liam Byrne Athy, Elias Dlhos Naas, James Donnelly St Laurances, Rob Murray Naas, James O'Donoghue Clane, Eoghan Dunne Athgarvan, Daragh Mullahy Clane (1-1), Liam O'Connor Naas, Jack McCabe Castlemitchell, Jack Butler Moorefield (0-4), Tadhg O'Donoghue Clane (0-1), Evan Dooge Castelmitchell (2-1), Nathan Hannify Doyle Moorefield, Ronan Collins Moorefield, Liam Haughton-Keavney Castlemitchell, Paul O'Dea Maynooth, Callum Murphy Eadestown, Calum O'Reilly Aylmer Geals, Michael Chambers Maynooth (0-3), Paddy Martin Kill (0-1), Ross Kenny Sarsfields
———————————————————————————
Earlier Meath's second team were no match for a strong North Kerry team in the Tedd Webb U16 Cup also played in Millbrook.
Kerry led by 3-8 to 0-5 at the break and went on to win on a scoreline of 5-20 to 1-7.