Meath win out in thrilling Gerry Reilly Leinster U16 FT Cup Final
Meath 2-14 Cavan 1-13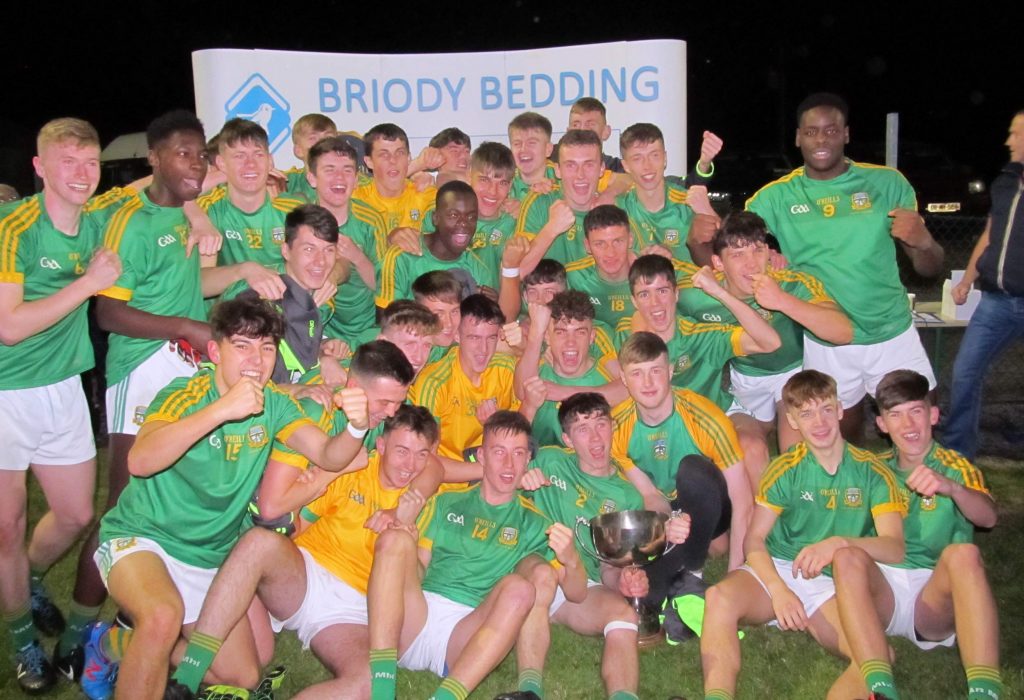 What a game the large and enthusiastic crowd were treated to in the Gerry Reilly Leinster U16 FT Cup Final played in Millbrook, Oldcastle on Sunday evening. The stage was set for a thrilling final and that's what we got.
Cavan's Daryl McGurren got the opening score with a lovely point. Meath's Cillian Hegarty pointed for Meath and Niall Finnerty and Barry Thompson followed up with pointed frees to put Meath ahead. Meath had the advantage of the wind, but Cavan were putting a lot of pressure on the Meath backs. Points from Daryl McGurren and Finntan O'Reilly (f) had the sides level again at 0-3 each.
In the 18th minute Niall Finnerty pointed from a free to put Meath up again. Meath were creating goal chances, but were thwarted by great saves from Cavan's 'keeper, Brian O'Rourke' The crucial score of the half was Evan Corrigan's goal that stretched Meath's lead, which helped them lead by 6 points at the break.
H/T: Meath 1-7 Cavan 0-4
A super goal to the Meath net by Finntan O'Reilly brought Cavan right back into it. It was nip and tuck between the sides with movements from one end of the field to the other at terrific pace.
It was Evan Corrigan's second goal to give Meath the lead at 2-9 to 1-7 that gave Meath the initiative at this stage.  Cavan never gave up and were putting a lot of pressure on the Meath backs. They did get the last 4 points to close the gap, but failed to get a needed goal to increase the pressure on Meath.
The game was a tribute to both sides and played at a hectic pace and great commitment and skill on display.
Congratulations to all the participants from Meath & Cavan that took part in the Half Time Mini Games with U7's and U8's games. It was marvellous to see the delight and joy of all the players. I'm sure that they will be in Croke Park playing in the future! Well done to their parents, mentors and organisers of the games
Leinster Chairperson, Jim Bolger, congratulated everybody involved on a very successful tournament. He paid tribute to the teams, mentors and the organisers of the tournament including the County Boards, Alan Mulhall (Leinster GAA Provincial games Manager), Meath GAA and Jamie Queeney
Meath's Captain, Josh Carolan was also presented with the Gerry Reilly Cup  by Claire Reilly (Gerry's mother), Members of the Reilly Family, Martin Briody (Briody Bedding Limited – Sponsor), Jim Bolger (Chairperson – Leinster GAA),and  Peter O'Halloran (Chairperson – Meath GAA), Alan Mulhall (Leinster GAA Provincial Manager)

Meath's Evan Corrigan was presented with the 'Man of the match' award by Martin Briody (Briody Bedding Limited – Sponsor) & Jim Bolger (Chairperson – Leinster GAA)
Scorers for Meath: Evan Corrigan (2-1), Niall Finnerty (0-6,3f), David Bell (0-3,3f), Barry Thompson (0-2,1f), Cillian Hegarty and Shane Smyth (0-1) each
Scorers for Cavan: Finntan O'Reilly (1-2,2f), Daryl McGurren(0-5,2f), Caoimhin McGovern (0-4,1f), Jack Mooney and Cian Farrelly (0-1) each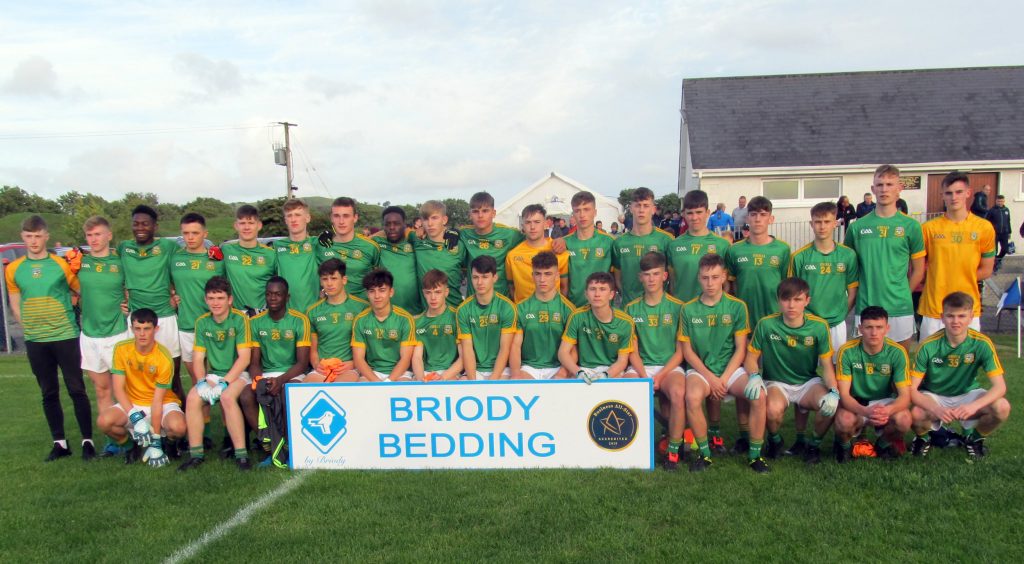 Meath: Dean Pluck (Ballinabrackey), Marc Donnelly (Ratoath), James McGovern (Drumbaragh), Harry Corscadden (Meath Hill), Harry Ryan (Ballinlough), Cillian Hegarty (Donaghamore/Ashbourne), Brian Cassidy (Kilmainhamwood), Josh Carolan (Simonstown)-(Capt), Endy Ehichoya (St Colmcilles), Evan Corrigan (Wolfe Tones), Pearse Sheridan (Oldcastle), Shane Smyth (Skryne), Niall Finnerty (Skryne), Barry Thompson (Ballinabrackey), Aaron Chinchilla (Simonstown)
Subs: David Bell (St Colmcille's) for Donnelly, Marc Donnelly for Smyth, Aitzol King (St Patrick's), Darren Connell (Oldcastle), Evan Quinn (Donaghamore/Ashbourne) for Donnelly. Cian O'Farrell (Ratoath), Rodney Jones (Donaghamore/Ashbourne), Cian McGlynn (Carnaross), Jamie O'Shea (Summerhill), Jamie Browne (Donaghamore/Ashbourne), Oisin Miland (Duleek Bellewstown), Lee Walsh (Dunderry), Shane Carpenter (Syddan), Abdul Olaosebikan (St Patrick's), Ciaran McCarrick (Dunshaughlin), Peter Brennan (Trim), Cian Flynn (St Colmcille's),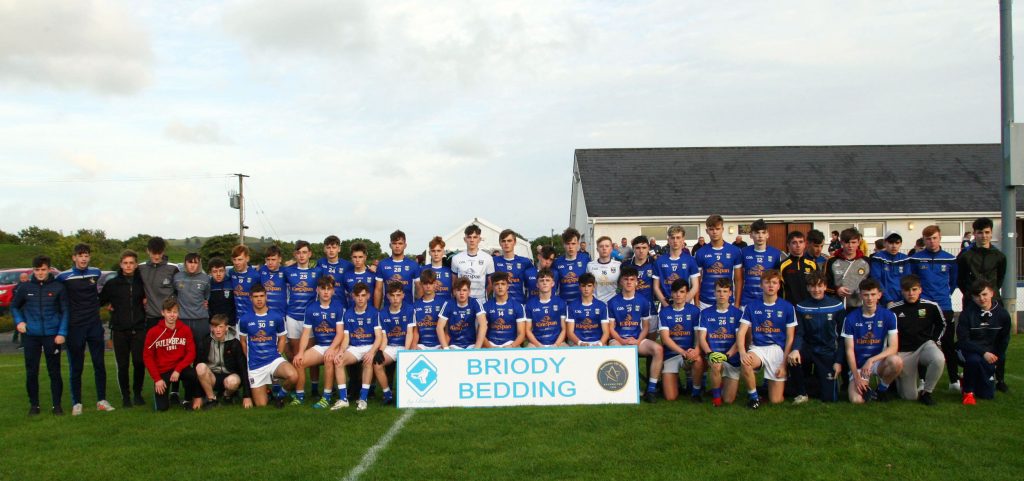 Cavan: Brían O'Rourke (Ballyhaise), Cian Reilly (Killygarry), Paul McCabe (Killygarry), Eoin Galligan (Cavan Gaels), Owen Gibson (Mountnugent), James McCahill (Drumlane), Ross O'Gorman (Ballyhaise), Evan Kelly (Laragh), Matthew McGahern (Mullahoran), Colin McKiernan, (Ballyhaise), Jack Mooney, (Killygarry),
Caoimhin McGovern (Shannon Gaels), Daryl McGurren (Drumlane), Finntán O'Reilly (Butlersbridge), Tiarnan Madden (Gowna)
Subs: Luke Crosson (Killinkere) for Galligan, Nikodim McKiernan (Templeport) for Mooney, Cian Farrelly (Cootehill) for Gibson, Ben Mooney (Killygarry), Sean McEvoy (Ramor Utd) for McGurren, Jack Tully (Cavan Gaels) for McGahern, Peter Smith (Lavey) for O'Gorman, Niall Carolan (Cuchulainns) for McGahill, Alan Murray (Knockbride), Andrew Farrelly (Bailieborough), Colm O'Rourke (Laragh), Conor Maguire (Butlersbridge), Diarmuid Boylan (Gowna), Liam Corr (Mullahoran), Ned Brunton (Mountnugent), Cian Donohoe (Cuchulainns) Cian Hartin (Gowna), Conor Galligan (Templeport), Conor McCabe (Killygarry), Cormac Lynch (Killygarry), Cormac Smith (Ballyhaise), Daniel Ward (Drumgoon) Jamie Smith (Ballyhaise), Kevin McPhilips (Butlersbridge), Leon McGinnell (Denn), Liam Bannon (Templeport), Luke Donohoe (Templeport), Ronan Kiernan (Drumlane), Ryan Kellet (Ramor Utd), Ryan O'Reilly (Drung), Sean Óg Flynn (Dumlane) Shea Smith (Lavey), Tom Harten (Mullahoran) Adam Charters (Crosserlough) Conrad Cooney (Bailieborough), Ryan Stuart (Crosserlough) Paddy Matthews (Munterconnaught)
Referee: Noel Hand (Louth)