Gerry Reilly U-16 FT – Rd.3 Reports – Wins for Cavan, Westmeath & Louth
Cavan 5-9 Meath 3-14
Cavan withstood a late Meath fightback to claim victory over Meath in the Gerry Reilly U-16 FT played in Millbrook, Oldcastle on Sunday evening. Cavan had the wind in the first half, but it was Meath to score first with a point by Eoin Martin after a great Meath move. Eoin Martin was there again to finish to the Cavan net. Meath added 2 points to their tally by the 9th minute. Meath failed to score again in the half. Cavan got the upper hand from then and opened their account with a Sean Martin point. Cavan's shot on goal was blocked out for a 45, but they responded with a Seanie Keoghan point. On the 18th minute Cavan were right back in it with a fisted goal by Kevin Curtis to leave just a point between the sides. Meath's Nathan Dunne had his goal attempt blocked out for a 45, which Meath failed to convert. A converted free by Sean Martin had the sides level for the first time. Cavan went on to dominate the last 10 minutes by adding 4 unanswered point, and at the same time having 4 wides.
H/T: Cavan 1-7 Meath 1-3
On the restart Jordan Morris got Meath's second goal to bring them back into the game, but Cavan responded with a Sean Martin point and the first of Seanie Keoghan's goals. Meath's goal attempt went wide of the post before Nathan Dunne reduced the gap to 4 points between the sides. Another Meath attempt on goal was saved by the 'keeper and out for a 45. 2 more Meath points had the margin down to 2 points. Eoin Martin's goal attempt hit off the post which could have had Meath in the lead if converted. Meath scoredd 2 further points to have the sides level for the second time.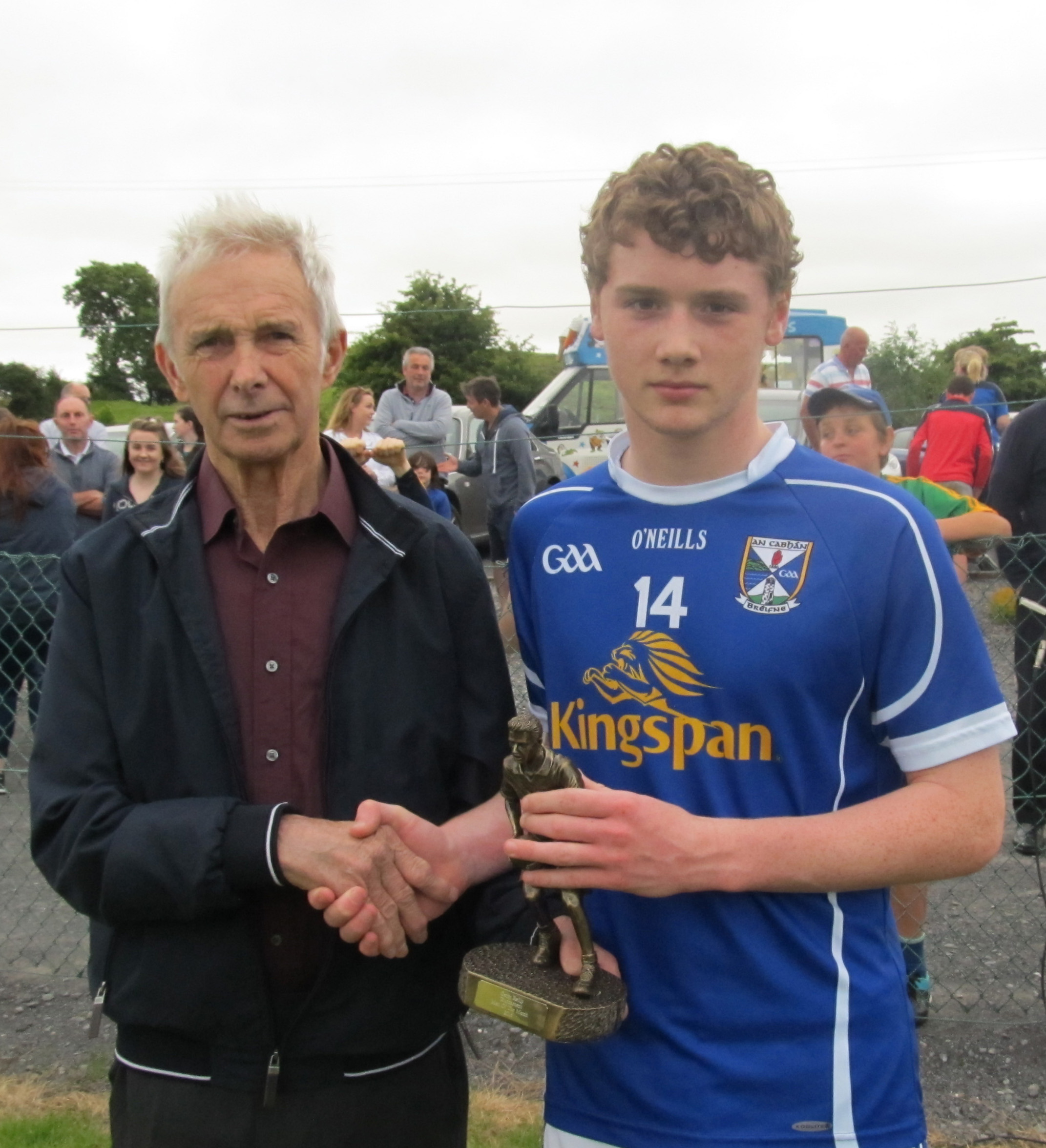 Cavan's, Seanie Keoghan put them in the driving seat with 2 goals on the trot. Patrick Lynch folllowed up with a point to put Cavan up by 7 points in the 50th minute. Points from Patrick Mathews and Jordan Morris (f) helped to reduce the gap, but Cavan caught Meath out and Sean Martin scored Cavan's 5th goal.
Meath put all the pressure on Cavan in the closing minutes and added 3 unanswered points before Jordan Morris's goal had the gap down to just 2 points. Well into injury time Barry O'Connell got the final score to have the minimum between the sides.
Cavan were able to hold out for a deserved win on the night. It was a great game to watch and both teams will have learned a lot from the game played at a hectic pace.
Cavan's Seanie Keoghan received the 'man of the match' award from John Farrelly (Odcastle GFC)
Cavan: Cameron Smart, DJ Cassidy, Fionn Reilly, Keelan Smyth, Dylan O'Brien, Killian Brady, Patrick Lynch (0-1), Gavin Donoghue, Kevin Curtis (1-1), Gavin Brady (0-1, 1f), Sean Martin (1-3), Kent Fadjo, Cian McGovern (0-1), Seanie Keoghan (3-1), Dylan Molloy
Subs: Rhys Hudson for Curtis, Aoghon Halton for McGovern, Philip Nulty for O'Brien, Shane Hanly (0-1) for Molloy
Meath: Keith Hennessy, Dylan Garrigan, Eimhin Power, Liam Byrne, Sean Bannon, Adam Muldoon, Conal Courtney, Colm Doherty, Fergal Waters, Patrick Matthews (0-1), Shane Walsh (0-3), 2f), Paddy McDermott, Nathan Dunne, (0-2,1f) Jordan Morris (2-3, 2f), Eoin Martin (1-1)
Subs: Craig Munnelly (0-1) for McDermott, Ronan O'Leary for Garrigan, Barry O'Connell (0-1) for Doherty, Con Gordon (0-1) for Bannon, Stephen Davies for Dunne, Aaron Lynch (0-1) for Mathews
Ref: Ger Carberry (Longford)
——————-
Westmeath 1-16 Monaghan 0-10
Monaghan certainly took advantage of the strong wind in the opening period of their game against Westmeath in the Gerry Reilly U-16 Ft played in Oldcastle on Saturday afternoon, They had 4 fine points on the board from 4 seperate scorers before Westmeath's Sam Maxwell point. Padraig Hughes added 2 points to Monaghan's tally before Shane Coughlan found the Monaghan net after a great move by John Tumelty. 2 more Westmeath points gave them the lead for the first time. Points were exchanged twice to give Westmeath the lead at the break.
H/T: Westmeath 1-6 Monaghan 0-8
John Tumelty pointed on the restart, but 2 converted frees by Ryan O'Neill had the sides level again. However they turned out to be Monaghan's last and only scores of the half. Westmeath added 5 unanswered points to go 5 up and were making much better use of wind advantage. Monaghan had 2 great opportunities of a goal foiled by a great Westmeath 'keper and defence, which turned out to have a major bearing on the result.
Westmeath went on to add 4 more points before the final whistle for a deserved victory..
It was a terrific game, played at a hectic pace and full committment from both teams. We were treated to a great game of football from both sides.
Westmeath's, Conal McKiernan received the 'Man of the match' award
Scorers for Westmeath: Sean Coughlan (1-5), Conan O'Hara (0-5), John Beaumount and John Tumelty (0-2) each, Sean Maxwell and Shane Allen (0-1) each
Scorers for Monaghan: Ryan O'Neill and Padraig Hughes (0-3) eachSean Finn (0-2),Kieran Treanor and Sean Treanor (0-1) each
Ref: Colm McManus (Meath)
————————
Louth 2-12 Wicklow 2-4
Louth's dominance in the last quarter saw them with a comfortable victory over Wicklow in the Gerry Reilly U-16 FT played in Oldcastle on Saturday afternoon. There was little between the sides for much of the game, but Wicklow did not take advantage of the strong blustery wind in the first half. On 24 minutes Louth were leading by 0-3 to 0-1 Jack Dune's goal for Wicklow gave them the lead for the first time. They were creating the scoring chances, but were off target on 7 occasions (including a goal chance). Louth's Thomas Clarke pointed to have the sides level at the break.
H/T: Louth 0-4 Wicklow 1-1
Thewind was more straight down the field at the start of the second half and Shane Mathews was on target for 2 points on the trot. Wicklow were unlucky with a shot wide off the post before they regained the lead with a Daniel Ging point and a Jack Manley goal. A Jack Dune converted free had them up by 3 points at this stage.
When Daniel Morgan got Louth's first goal, it seemed to help raise their game. They were able to tag on 5 unanswered points before Tristan Knowles got their second goal. There was no way back for Wicklow, though they never gave up.
Before the game, a minute's silence was observed for the memory of David Deanes (R.I.P.). David's brother, Jordan, is a member of this year's Wicklow U-16 Panel
Louth's Neul Onianwa was awarded the 'Man of the match' award
Scorers for Louth: Tristan Knowles (1-2), Daniel Morgan (1-0), Ciaran McMahon, Shane Meade and Shane Mathews (0-2) each, Thomas Clarke, Gavin Gregory, Ciaran Keenan and Darren Geoghegan (0-1) each
Scorers for Wicklow: Jack Dune (1-1), Jack Manley (1-0), Daniel Ging, Oisin Mcgraynor and Jack Manley (0-1) each
Louth: Brendan O'Hagan, Conor Garland, Eoin McKenna, Neul Onianwa, Emmet King, Ciaran McGlynn, Conor Neary, Joe Mullholland, Alan Connor, Craig Englishby, Ciaran McMahon, Daniel Morgan, Thomas Clarke, Ciaran Reilly, Gavin Gregory
Subs: Shane Matthews for Reilly, Ciaran Meenan for McMahon, Tristan Knowles for Englishby, Andrew Bingham for Neary, Trevor Mathews for Morgan and Jason Cullen for Clarke
Wicklow: William Rodgers, Stephen Flynn, Kevin Mullhall, Shane O'Rourke, Patrick O'Kane, Mark Reid, Jack Manley, Pierce Lawlor, Oisin Mcgraynor, Cormac Doyle, Jack Dune, Henry Healy, James Hedderman, Pauric Murray, Daniel Ging
Subs: Rossa Marron for Garland, Liam Fisher for Doyle, James Synott for O'Rourke, Stephen Flynn for Healy.
Ref: Padraig Coyle (Meath)