Fantastic display by Louth in winning the Gerry Reilly Cup
Louth 5-11 Meath 1-12
A terrific crowd were treated to some incredible football in the Gerry Reilly U16 FT Cup Final played on Sunday evening which saw Louth winning in style the Gerry Reilly Cup for the first time.
The threatened thunderstorms stayed away and the game was played in ideal conditions, but it was Louth who provided the thunder in the second half powering to a well deserved victory.
Meath started brightly with the 2 opening scores with points from Billy Smyth & John Harkin (f). Louth's Sean Flynn got a point before Meath's John Harkin converted a penalty to lead by 1-2 to 0-1 at this stage. But then Louth began to take over on the scoreboard with 4 unanswered points and a Pearse Grimes Murrphy goal to lead by 3 points. Meath reduced the arrears to a single point before 'Man of the match', Adam Gillespie got Louth's second goal.
Louth led at the break by 2-7 to 1-6.
Louth's 3rd goal came after a terrific move by Adam Gillespie and finished to the Meath net by Jack Healy This was quickly followed by their 4th by Dylan Shevlin. There was no way back for Meath, but they never gave up. Louth were still creating more chances and star player, Adam Gillespie, was instrumental in getting their 5th Goal as time was expiring.
A great game of football with some outstanding performances and certainly we'll see many going on to play at the highest level for their respective counties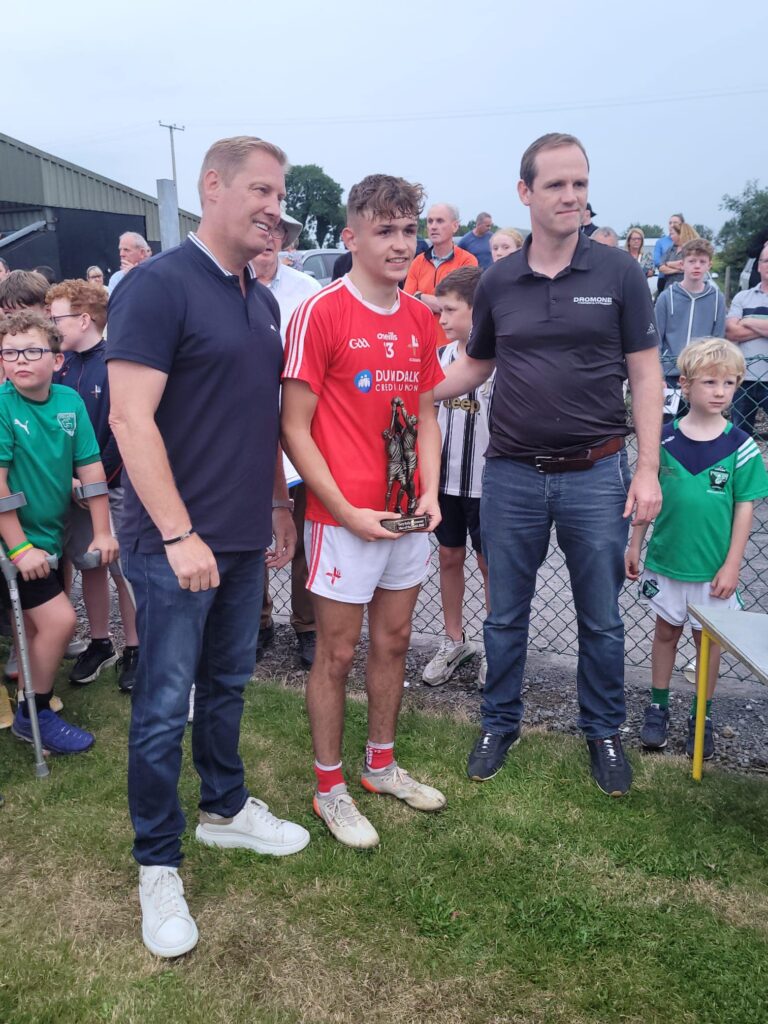 Adam Gillespie was presented with the 'Man of the match' award by Padraig McCormack (representing sponsors of the Cup Final – Dromone Engineering) and Graham Geraghty.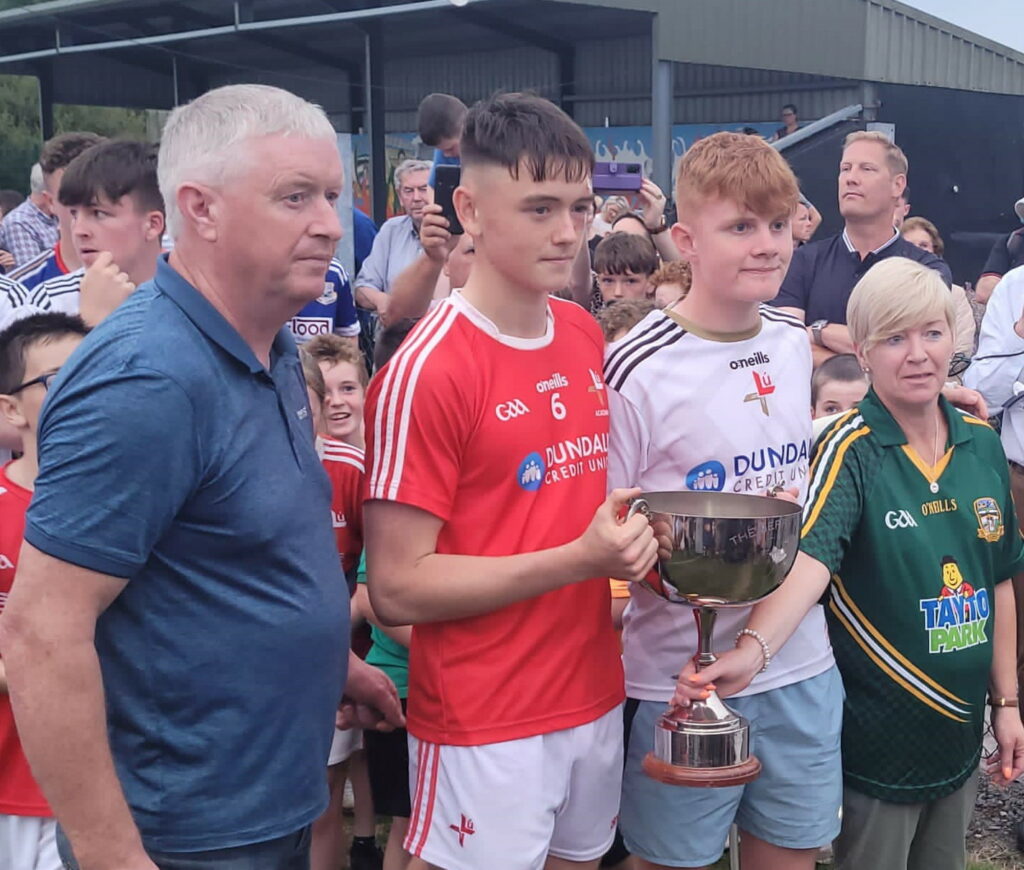 The Gerry Reilly Cup was presented to Louth's joint Captain's by Martin & Andre Reilly (brother & sister Of Gerry)
Scorers for Louth: Dylan Shevlin (2-2), Jack Healy, Pearse Murphy Grimes & Adam Gillespie (1-2 each), Cormac McKeown, Shane Lennon & Sean Flynn (0-1 each)
Scorers for Meath: John Harkin (1-3, 2f & pen), Billy Smyth (0-4,3f), Cian Commons 0-3
Tom Lenihan & Michael McIvor (0-1 each)
Louth: Cian O'Donoghue; Caoimhin Prout, Ciaran McGinty, Keelan Martin; Cormac McKeown; Michael Reid, Shayne Soraghan; Conor McGinty, Paul Galvin; Dylan Shevlin, Jack Healy, Pearse Grimes Murphy; Adam Gillespie, Sean Flynn, Shane Lennon.
Subs that played: James Corcoran, Conor Browne, Paddy McHugh, Andy Murphy.
Meath: Jamie McCormack; Oliver Maloney, Paddy White, Cormac Liggan; Tom Lenehan, John Gormley, Ciaran O'Hare; Cian Commons, David Donnelly; Billy Smyth, John Harkin, Michael McIvor; Aaron O'Rourke, Liam Jennings, Kyle Ennis.
Subs: Naoise Maguire for O'Hare 27 mins, Hugh Kehoe for Donnelly, Oisin Yore for Jennings both 38m, Rory Crawley for O'Rourke 41m, Andrew Gormley for Harkin 47m, Tiernan Anderson for Maguire 54m.
Referee: Conor Dourneen (Cavan)