Exciting climax to the 'Round Robin' section of the Gerry Reilly U-16 FT
Dublin 2-12 Monaghan 1-15
What a terrific game of football that all present were treated to in the last of the 'round robin' games in the Gerry Reilly U-16 FT played on Sunday evening in Oldcastle. A draw between Monaghan and Dublin was a fitting result, though it was Monaghan that had more chances of claiming victory. Dublin had the advantage of the wind in the first half and were off target on their first 2 scoring chances. Monaghan too, had a shot wide before Tiernan Duffy got the opening point of the game in the 6th minute and he followed up quickly with another point.
Andrew McCaul went on a terrific run before finishing to the Monaghan net to give Dublin the lead.
A Sean Treanor point in the 12th minute had the sides level followed up by a Tiernan Duffy point to regain the lead for Monaghan. Eanna McCarney pointed for Dublin  to level the sides again.
A terrific Monaghan move saw Tadgh Kirk O'Callaghan finish to the Dublin net. 3 successive points from Dublin had the sides level yet again. Dublin had a great goal attempt saved by the Monaghan 'keeper before Sam Jones's point had Dublin ahead again.
Monaghan had chances with Ryan O'Neill's point attempt off the post and then had two others into the goalie's hands, which might have been scores.
Monaghan were on target for 3 successive points (Pauric O'Brien, Tadgh Kirk O'Callaghan and Tiernan Duffy) for a 2 point lead. Stephen Braiden O'Byrne pointed for Dublin just before the break to leave the minimum between the sides.
H/T: Monaghan 1-7 Dublin 1-6
On the resumption Monaghan stretched their lead with 3 unanswered poits by Tiernan Duffy. Substitute, Aidan Kearney was making his presence felt and pointed for Dublin. Dublin had a shot blocked out for a 45 and Lennon Bracken pointed from the resultant free kick. Monaghan powered back to add 3 more points to give them a 5 point lead,
Dublin fought back and when Conor Kinsella got Dublin's second goal they were really fired up. They went on to score 4 points without reply to take a 2 point lead. Monaghan did have a great chance, but their attempt was into the goalie's hands again.
The game was intense with both sides giving their all, but it was Monaghan who got the last scores from Tiernan Duffy (1f) to have the sides level. Monaghan went all out for a winner, but the Dublin defence held strong.
It was a great game and a credit to both sides with great movement and tackling. A lot of players were in contention for the 'Man of the match' award, such was the standard.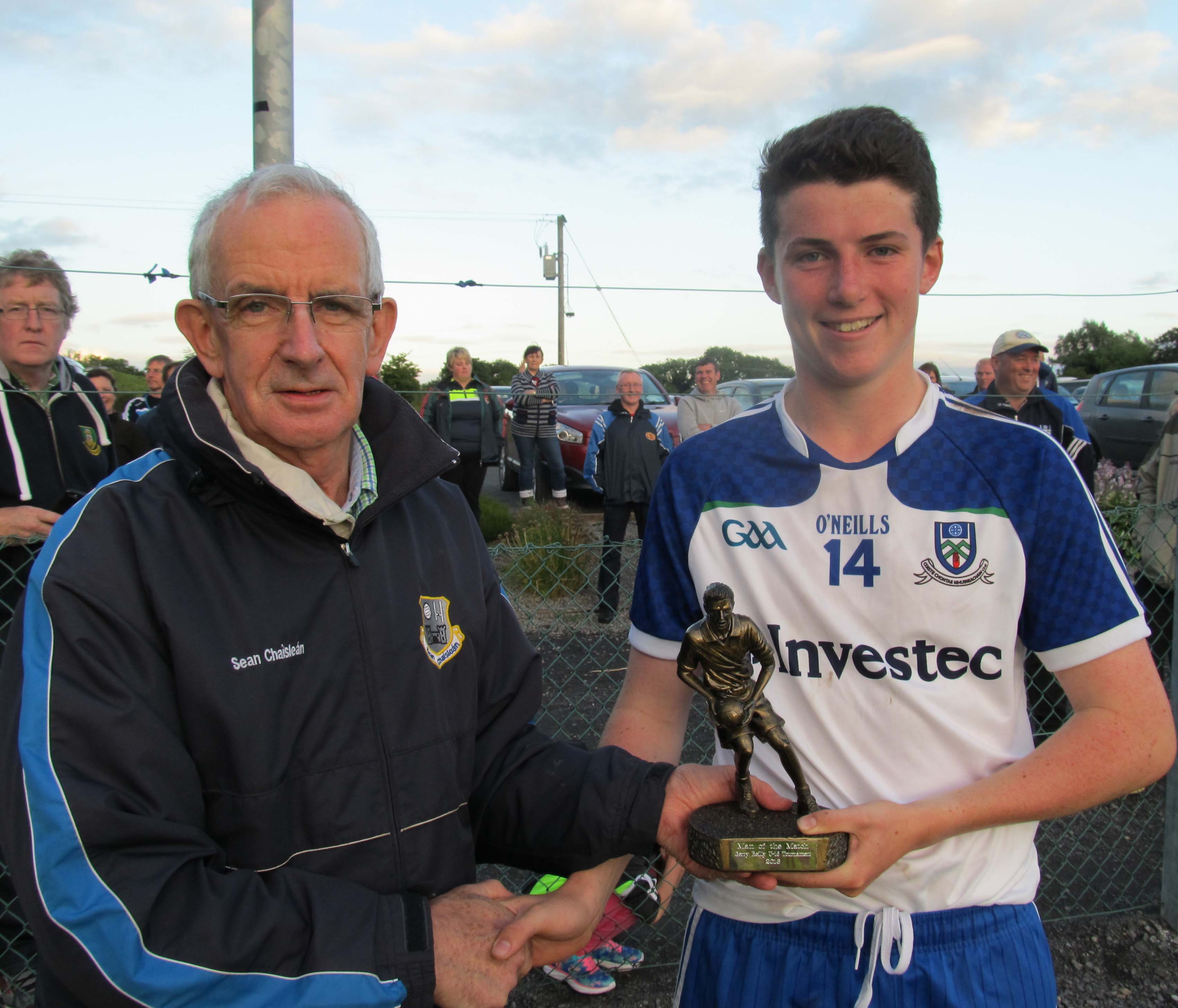 Monaghan's Tiernan Duffy was presented with the 'Man of the match' award by Eddie O'Reilly (Oldcastle GFC)
Dublin now play Cavan in the Gerry Reilly Cup Final on Sunday next, 31 July in Millbrook, Oldcastle @ 7.30 pm.
Meath play Westmeath in the Plate Final on Friday, 29 July in Millbrook, Oldcastle @ 7.30 pm.
Longford play Louth in the Shield Final on Saturday, 30 July in Millbrook, Oldcastle @ 12 noon  
Scorers for Dublin: Stephen Braiden O'Byrne (0-4), Andrew McCaul and Conor Kinsella (1-0) each, Anthony Quinn (0-3), Lennon Bracken (0-2), Ryan Dunne, Sam Jones and Aidan Kearney (0-1) each
Scorers for Monaghan: Tiernan Duffy (0-9), Tadgh Kirk O'Callaghan (1-1), Pauric O'Brien (0-3), Sean Treanor (0-2)
Dublin: Steven James, Michael Conroy, Eoghan Lyons, Daniel Bailey, Sean Farrelly, Eanna Torsey, Lee Gannon Whitehall, Luke Grady, Ciaran Murphy Whitehall, Sam Jones, Stephen Braiden O'Byrne, Andrew McCaul, Anthony Quinn, Conor Kinsella, Ryan Dunne
Subs: Jack Kinsella for James, Aidan Kearney for Torsey, Lennon Bracken for Dunne, Adam Kelly for Bailey, Fionan O'Sullivan for Lyons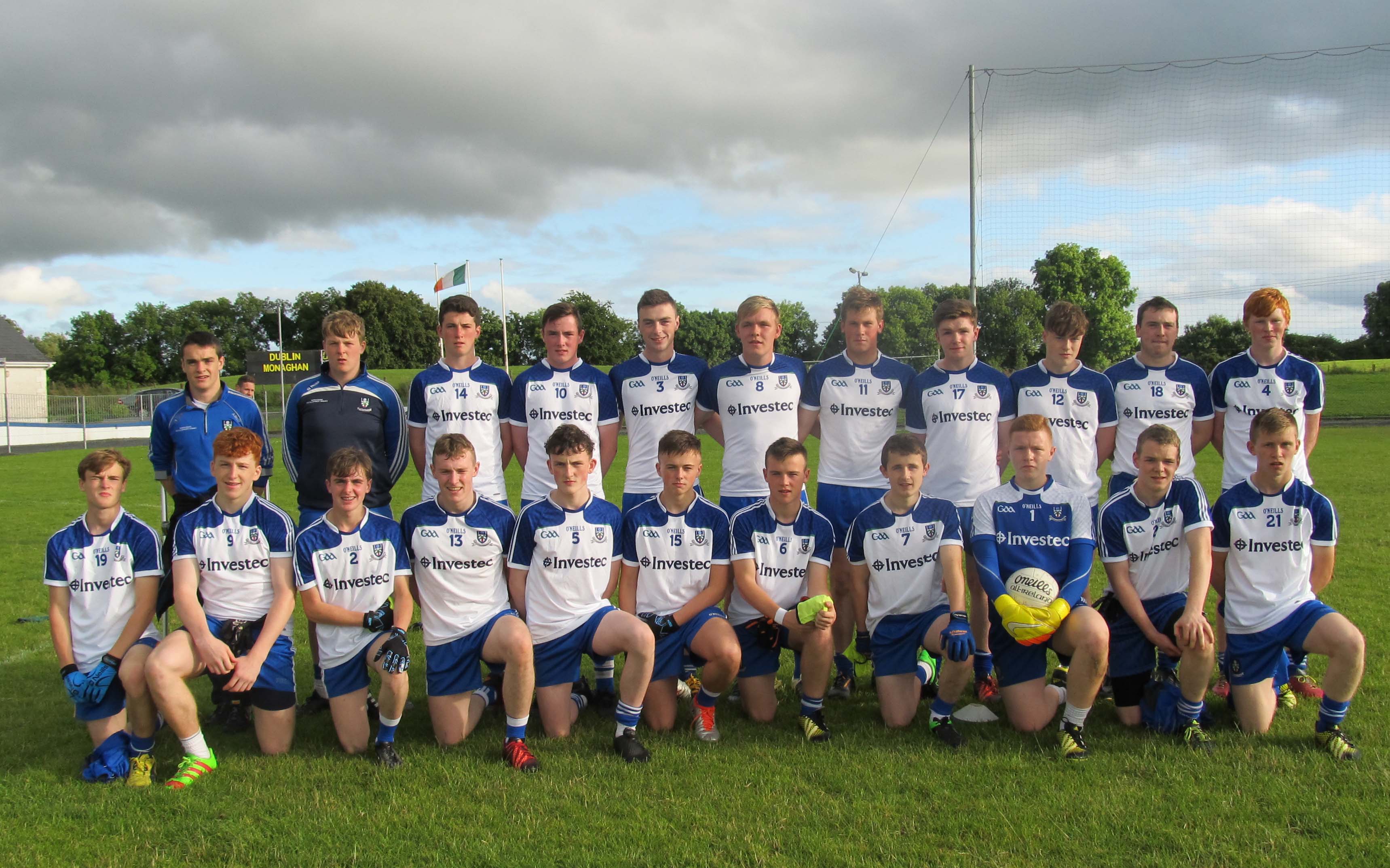 Monaghan: Kian O'Connor, Alan Curley, Kieran Duffy, Ryan O'Toole, Tiarnan McSkeane, Craig Callan, Kieran Marron, Liam Og Murray, Ryan O'Neill,Sean Treanor, Andrew Woods, Eanna McCarney, Pauric O'Brien, Tiernan Duffy, Tadgh Kirk O'Callaghan
Subs: Charlie Counihan for O'Toole, Tiarnan McCourt for Treanor, Conor McKeown for McSkearne, Shane Forde for McCarney
Ref: Conor Dourneen (Cavan)