Drawn game in the Reserve Cup
Oldcastle 0-13 Bective 2-07
Bective came to Millbrook to take on Oldcastle in the Reserve Cup this morning (11/2/2023), with our lads looking the better of the two in the first half: the opening point from DJ Monaghan followed by a free from Kyle Kavanagh and a fine point from Conor Hetherton. More frees came from Kyle and Ben Grey before Bective finally got on the scoreboard. Ben Grey was getting long balls in to Stephen Tierney, and this partnership now brought about a lovely point. The same MO was used again with the next ball in: Stephen was fouled and converted, with two more points from the pair of lads before the half-time whistle blew on a score of Oldcastle 0-09, Bective 0-02.
A nice lead going into the second half, and the lads extended it even further, with another lovely point from Stephen Tierney and Kyle converting, to go nine points ahead. Bective made some changes and got more into the match then however: a lucky goal giving them a great boost, followed by a quick point. Another from Kyle and a point from Ben Grey kept Oldcastle ticking, but Bective then fired over three in quick succession to narrow the gap to four. A frustrating period for Oldcastle followed: plenty of chances but just no scores, and it was Bective who finally took the next score from a free. Now it was dangerous territory, the gap down to three and the minutes ticking away: Bective threw caution to the wind and went for every chance, and it paid off when they were awarded a penalty in the dying minute of the game. The ball went to the back of the net and ref Seamus O'Connor blew the whistle on a score of Oldastle 0-13, Bective 2-07, drawn game.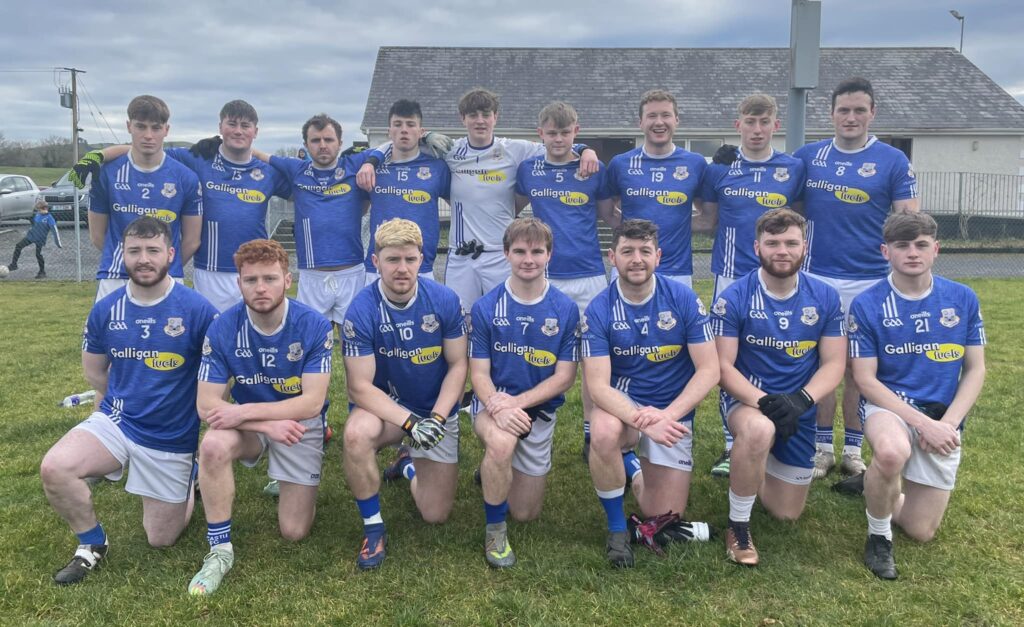 Oldcastle: Rian Mulvanny, Alan Gilsenan, Mossy Flood, Mattie Cadden, Conor Hetherton (0-01), Darren Hawdon, Eoin Smith, Ross Cadden, Keith Connell, Kyle Kavanagh (0-04), Ben Grey (0-03), Ciaran Connell, DJ Monaghan (0-01), Stephen Tierney (0-04), Fionn McCabe. Subs: Paul Wade, Paddy Rahill.