Dramatic finish to the Gerry Reilly Leinster U16 Plate Final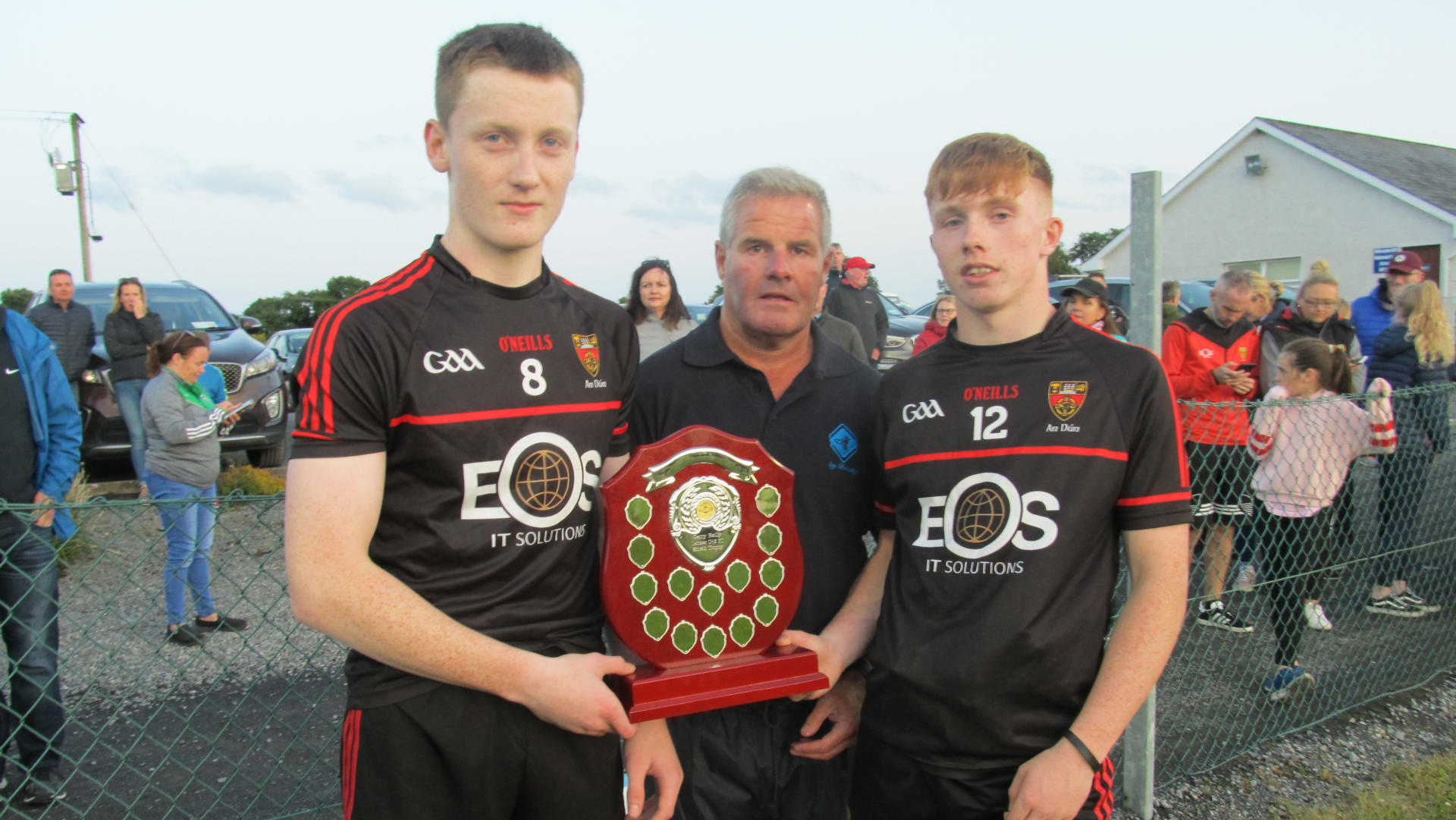 Down 3-11 Cill Dara 1-14 (AET)

What a dramatic end to the Gerry Reilly Leinster U16 Plate Final played in Millbrook, Oldcastle this evening (17 August 2019) which saw Down overcoming Cill Dara in extra time to lift the Plate Trophy. It looked like we were in for a penalty shootout to separate the sides after it looked as if Cill Dara had equalised with a fine goal. However this was disallowed as Cill Dara had replaced a black card sending off too soon.

Playing against a strong wind, Down opened the scoring with a James Duggan goal after a mix up in the Cill Dara square. Cill Dara points from Oisin O'Sullivan, Adam Fanning (f) and Cian Grimes had the sides level. Points were being traded before Cill Dara took the lead for the first time at 0-6 to 1-2. But Down regained the lead with a fantastic Jamie Cahill point and an Oisin Savage free. Again points were traded before a terrific pass from Cill Dara's Adam Fanning to Shane Farrell was finished to the Down net put them up by 3 points.
H/T: Cill Dara 1-9 Down 1-6
Down's Oisin savage converted a penalty for their second goal after what might have been a penalty at the other end to have the sides level. Again like in the first half, there was nothing between the sides with points being traded with each other and everyone on the field giving their all. A nail biting finish saw Down's Jason Morgan's point give them the lead in injury time only to be matched by Cian Grime's converted free to draw the sides level as time expired.
Extra time (with 5 minutes per half) saw down scoring the crucial score, an Oisin Savage goal, in the opening minute of extra time. Cill Dara missed an opportunity to score from a 45, but chances were few for both sides with the defences holding out.
Then in the second half, while Down had one shot wide of the target, Cill Dara thought that it was going end with a penalty shoot out only to be denied by a disallowed goal.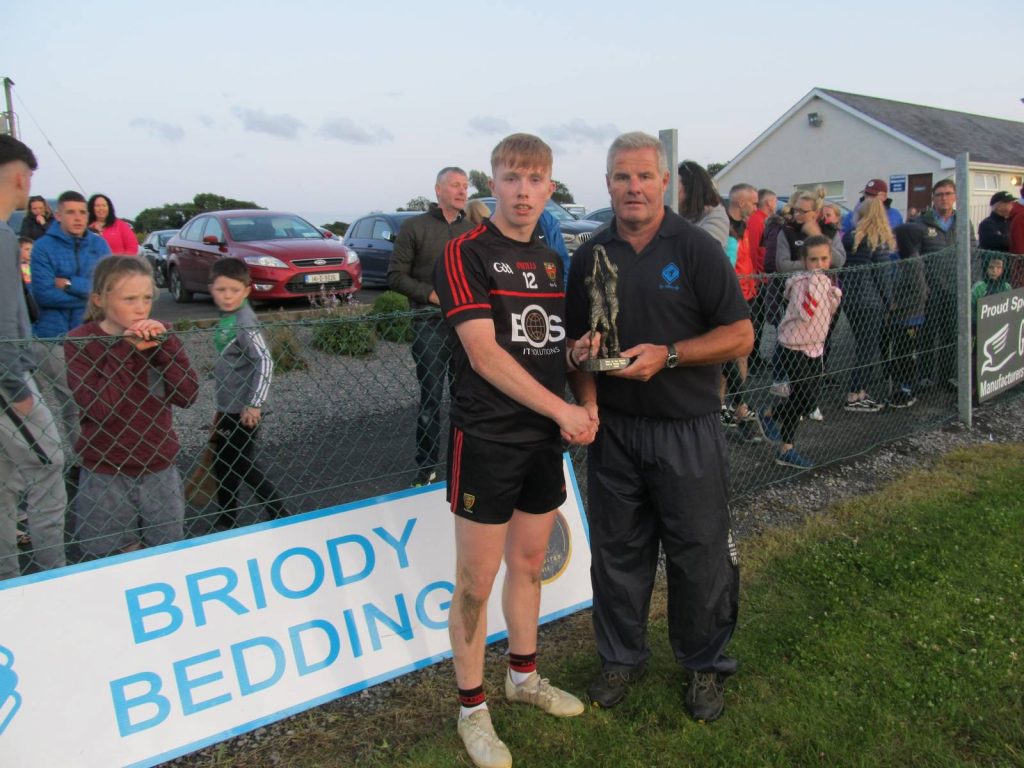 Marin Blake (representing sponsors, Briody Bedding) presented the 'Man of the match' award to Down's Oisin Savage.
It certainly augurs well for both sides of their prospects at senior level.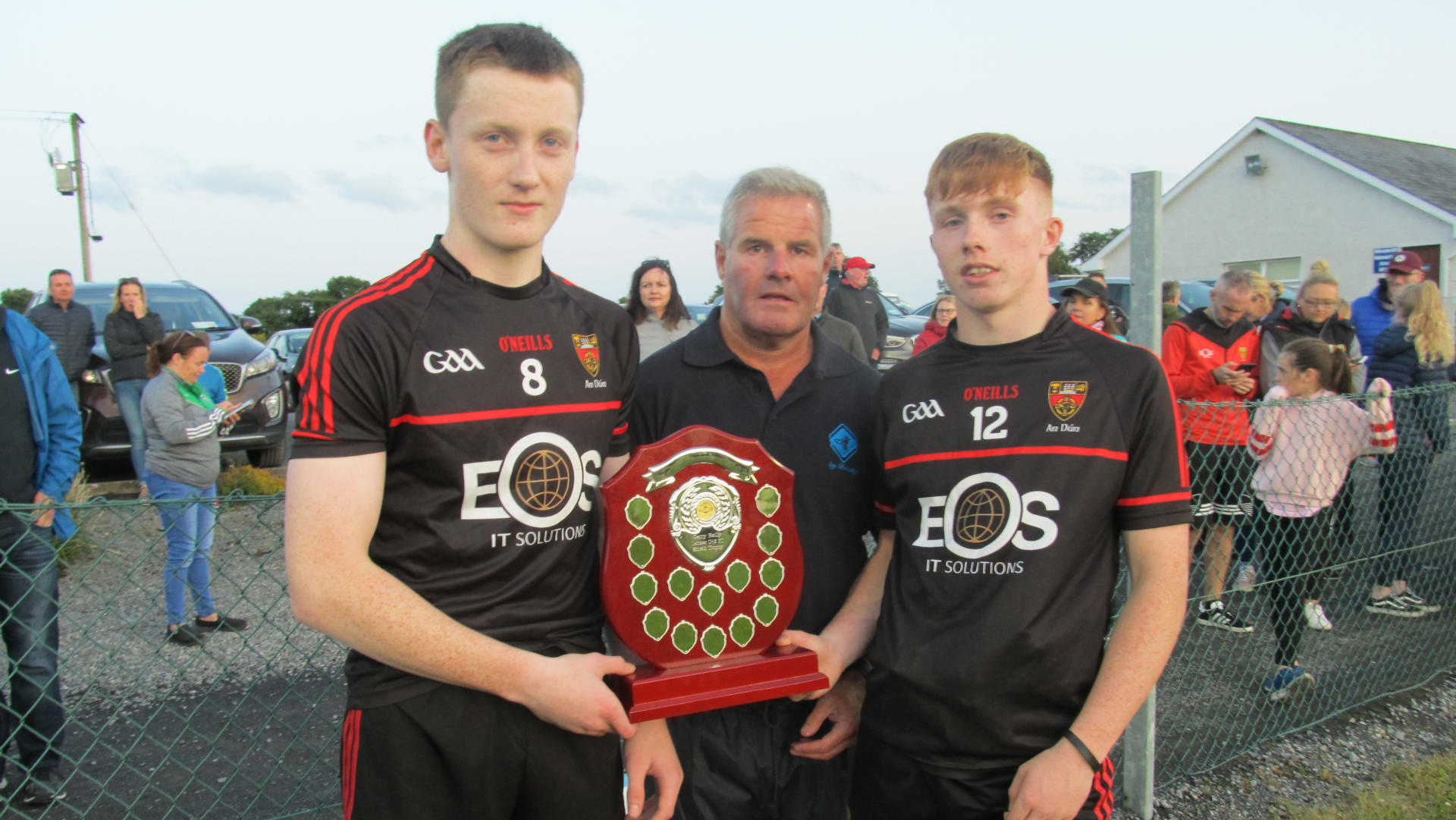 Joint Captains, Odhran Murdock & Oisin Savage were presented with the Plate Trophy by Martin Blake (representing sponsors of the tournament, Briody Bedding)
Scorers for Down: James Duggan (3-1), Oisin Savage (0-6,5f), James Cahill, Odhran Murdock, Tiarnan Ryan & Jason Morgan (0-1) each
Scorers for Cill Dara: Shane Farrell (1-1), Adam Fanning (0-4, 1f), Cian Grimes (0-3,2f), Oisin O'Sullivan (0-2), Ben Fitzsimons, Darragh Swords, Oisin Tighe & Alex O'Shea (0-1) each.
Down: Callum Grant Burren, Fiochra McEvoy Saval, Patrick McCarthy Burren, Ryan Magill Burren, Lorcan Guinness Carryduff, Jack Howlett C.Peadair Naofa, Eoin McKernan Burren, Odhran Murdock Burren, Michael McNeill Dromara, James Duggan Burren, Oran Cunningham RGU, Oisin Savage Loughinisland, Oran Magee Bredagh, Aaron Murdock Burren, Jamie Cahill Mayobridge
Subs: Oisin Treacy Bredagh, Sean Downey Burren, Aaron Norris Clonduff, Cormac Greene Ballymartin, Ryan Tumilty Drumgath, Jason Morgan Kilcoo, Ronan McLoughlin Glenn, Tiarnan Ryan Burren, Conn Murnin Teconnaught, Conor Madden C.Peadair Naofa, Lee Murphy Bright, Adam Curran Kilcoo, Oran McCrickard Laitroim, Thomas Hardy Mayobridge
Cill Dara panel: Cormac Barker Kilcullen, Callum Bolton Sarsfields, Ryan Burke Newtown Geals, Elliot Byrne Naas, Cian Casey Moorefield, Adam Fanning Clane, Daniel Farrell Balyna, Shane Farrell Kilcock, Ben Fitzsimons Eadestown, Sean Furlong Kilcullen, Cian Grimes Sallins, Luke Killian Sallin, Joe Ledwitch Leixlip, Conor Lonergan Fr Prendergast Geals, Conor Martin Suncroft, James McGrath Athy, Cathal McKenney Newtown Geals, Aaron McNally Ballyna, Alex O'Shea Moorefield, Oisin O'Sullivan Clane, Darragh Swords Newtown Geals, Oisin Tighe Clane
Ref: Peter Skelly (Meath)