Devastating Cavan book their place in the Gerry Reilly U-16 Cup Final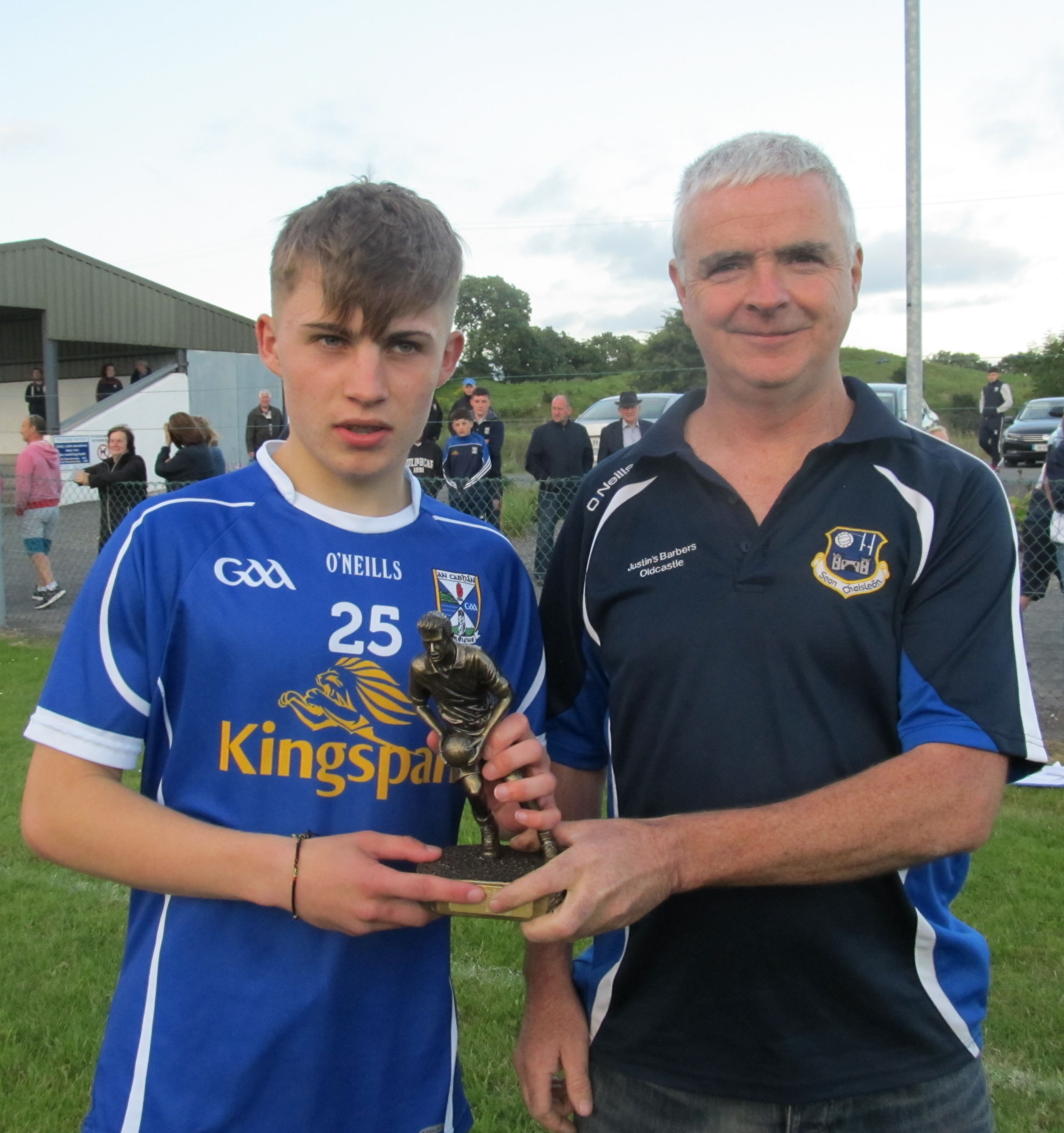 Cavan 8-19 Wicklow 0-7
A devastating start by Cavan made it very difficult for Wicklow in the last of the 'round robin' matches of the Gerry Reilly U-16 FT played in Oldcastle on Saturday evening. Cavan were making sure of booking their place in this year's Cup Final from the throw in. Their blistering start saw them score 4 goals with just over 3 minutes on the clock. A pair each from Seanie Keoghan and Cian McGovern that all involved great movement from team support. Cavan added 4 unanswered points to their tally making it very difficult to make a fight of it for Wicklow. Wicklow's James Hedderman got their first score in the 20th minute. They had a terrific goal chance straight after, but the shot was wide of the post. Gavin Brady got another point for Cavan before Wicklow scored 3 points on the trot. Wicklow did have another goal attempt that was blocked by the defence. However it was Cavan that was converting their scoring opportunities. Cian McGovern's third goal just before the break was making life even tougher for Wicklow.

H/T: Cavan 5-7 Wicklow 0-4
Despite all the changes made by Cavan, they continued with their domination in the second half with goals by Cian McGovern, Naoise McKenna and Thomas Smith. They were also able to add 11 points  to Wicklow's 3 points. In fairness to Wicklow, they never gave up, but they knew they were up against a team on fire and with the ambition to retain the Gerry Reilly Cup.
Cavan's Cian McGovern was presented with the 'Man of the match' award by Seamus Maxwell (Chairperson, Oldcastle GFC)

Cavan now play Dublin in the Gerry Reilly Cup Final on Sunday, 31 July @ 7.30 pm in Millbrook, Oldcastle.  It promises to be a terrific game. Cavan are going for 'three in a row', while Dublin will be all out to win which they last won in 2013.
Cavan: Stephen Lovett, DJ Cassidy, Fionn Reilly, Dylan O'Brien,Peter Devin, Kent Fadjo,Patrick Lynch, Gavin Donoghue, Killian Brady, Daniel Murrary (0-2), Seanie Keoghan (2-0), Eoin Brady, Cian McGovern (4-2), Sean Martin, Gavin Brady (1-6)
Subs Panel: Rhys Hudson (0-4), Cian Skelton (0-1), Tomas Smith (1-2), Naoise McKenna (0-2), Mark Sexton, Kevin Curtis, Edward Deveerann Gilsenan,  Cameron Smart, Kevin Curtis, Philip Nulty, Keelan Smyth, Killian Clarke, Aoghon Halton, Shane Hanly, Cormac Donoghue, Jessie Holland
Wicklow: William Rodgers,Darragh Doyle, Kevin Mullhall,Ethan Cotter, Pierce Lawlor, Mark Reid, Jack Manley, Oisin McGraynor, Ciaran Coffey,  Jack Healy, Jack Dunne, Henry Healy,
James Hedderman (0-3), Pauric Murray (0-3), Daniel Ging (0-1)
Subs Panel: Mark Reid St Nicholas, Patrick O'Kane, Liam Fisher, Ian Merrigan , Jack Manley, Joe McDonald, Jordan Deanes, James Synott, Ruari Phelan, Eoin Higgins, Jordan McGarr, Shane Keenan, Conal Gallagher, Tadgh O'Toole, Cormac Doyle, Dan Lawlor, Stephen Flynn
Ref: Colm McManus (Meath)