Cavan are the Gerry Reilly U16 Cup Champions of 2023
Cavan 1-11 Meath 1-8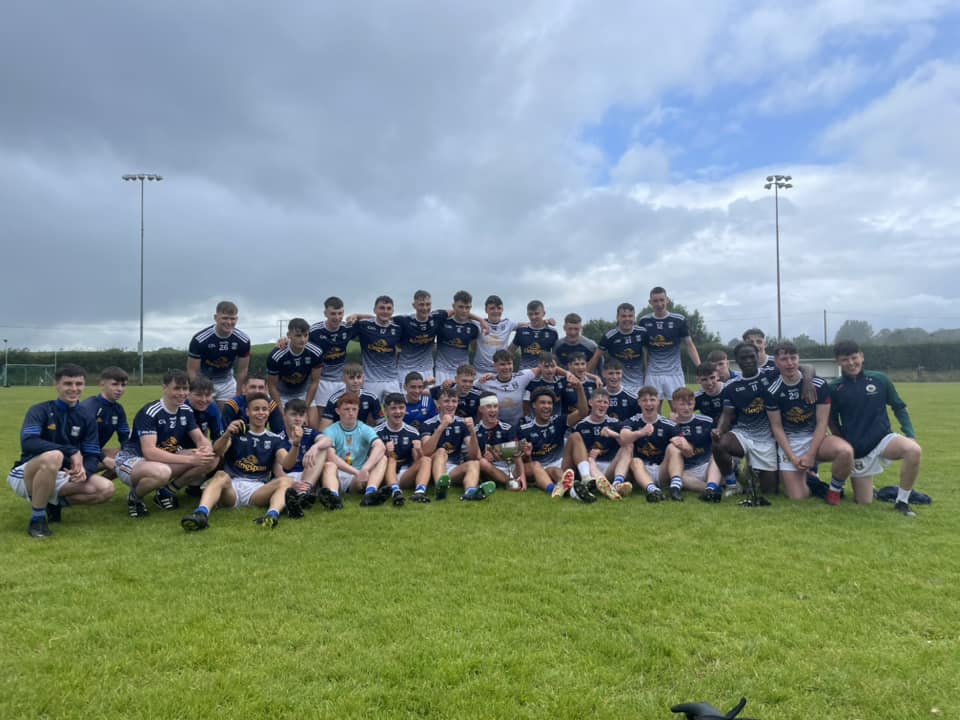 Cavan are deserved Gerry Reilly Cup winners 2023. Meath looked the stronger in the opening 10 minutes of the final played in Millbrook on Saturday afternoon (12/08/2023).
Cavan were playing with a very strong wind in their backs and Senan Macken pointed for the opening score. Meath's Cormac Nugent converted a free to level matters followed up by a Pat Crawley goal in the 11th minute. It looked good for Meath leading by 1-2 to 0-1 at this stage, but it was all Cavan from then until Meath pointed from a free just before the break.
Cavan's Adio Metlovas pointed from a 45 followed up by a Joshua Sheue pointed free. Cavan  grew in confidence as the match progressed and added 5 points from play. They had many wides and had a goal attempt cleared by the Meath defence and they could have been much further ahead at the break.
H/T: Cavan 0-8 Meath 1-3
The wind seemed to have died down on the restart. Ciaran Sheridan reduced the gap with a point for Meath. It was nip and tuck between the sides until Andrew Hill goaled for Cavan to lead 1-9 to 1-5 in the 43 minute. Jake Madden & Cillian Rafferty pointed to leave two between the sides, but Cavan responded with a Ryan Nwaneri point.
Cavan were a bigger and more imposing outfit and much stronger on the ball. They were in control and were full of confidence in the outcome. Meath had a lot of turnovers that did not help their cause. Meath never gave up, but were not able to penetrate the Cavan defence as time was running out.
A huge crowd attended today's game, and Oldcastle GFC would like to thank you all for attending. Thanks also to John Kavanagh, (Chairperson of the Meath Co Board) for bringing along the Tailteann Cup, and to the Oldcastle and Castlerahan U9 players for putting on a great half-time display.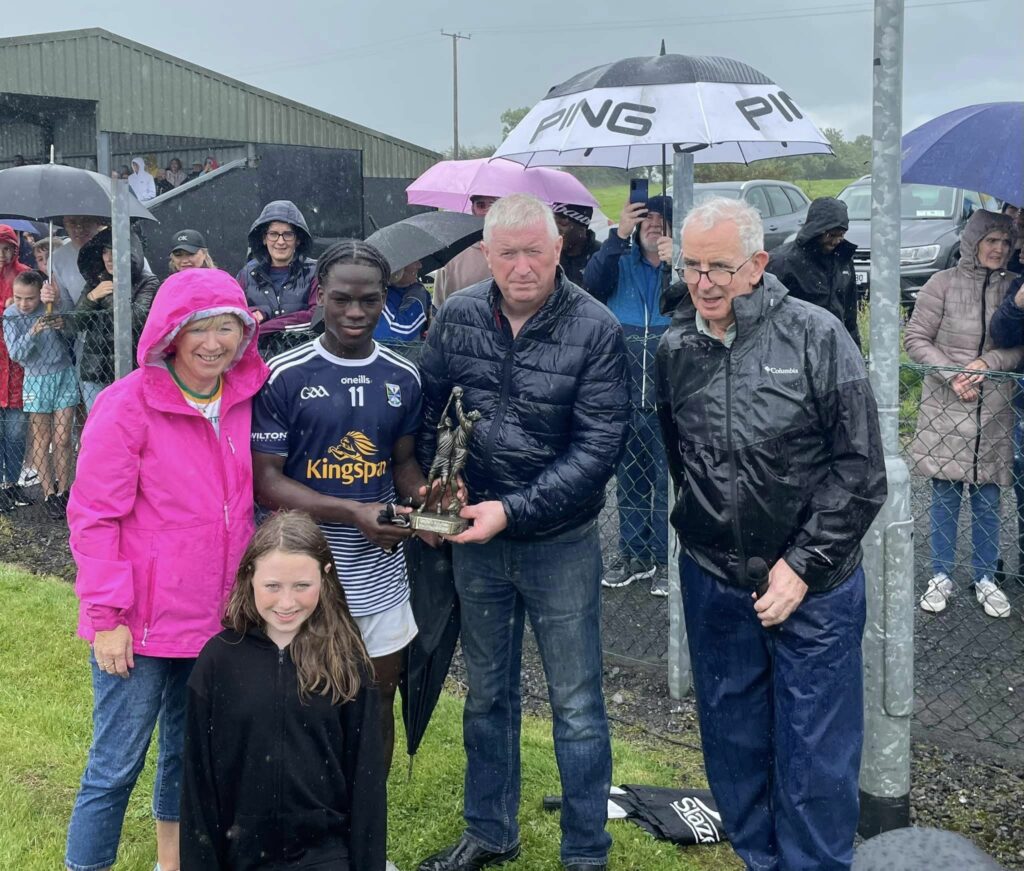 Cavan's Joshua Sheue was presented with the 'Man of the match' award by Martin & Andre Reilly with Eddie O'Reilly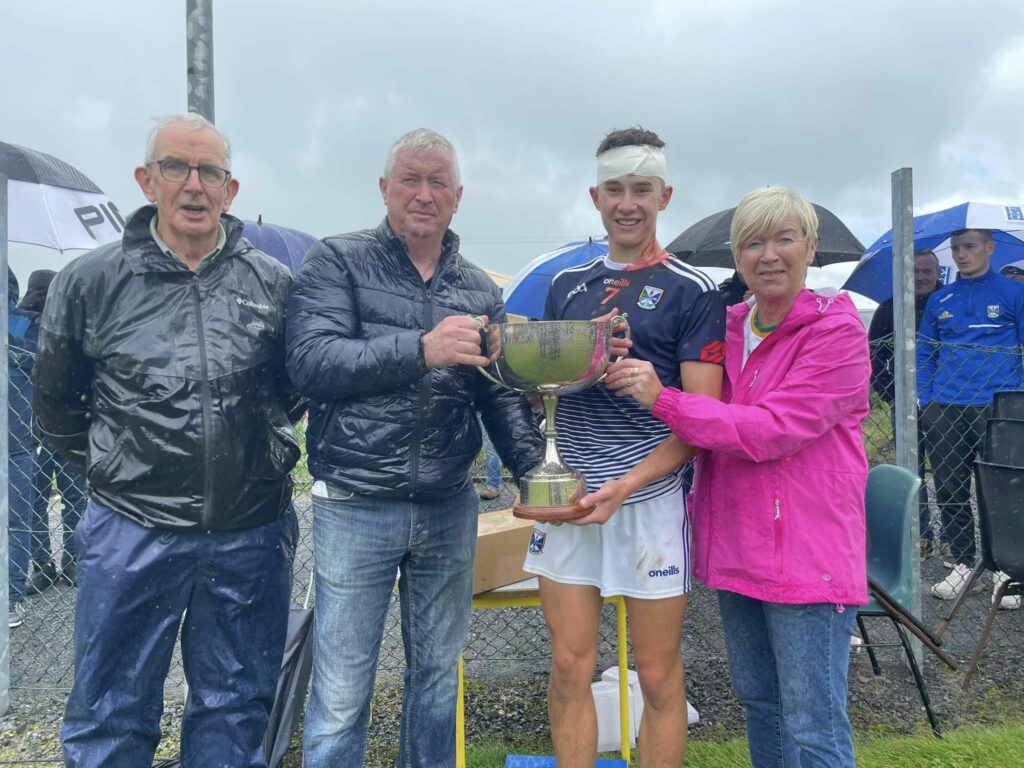 The Reilly family were in attendance to present the Cup, in memory of Gerry Reilly who tragically died in 1989. We were delighted to have Gerry's mother Claire at the match, which she really enjoyed. Martin and Andre Reilly presented the Cup to winning Captain Senan Macken, a Castlerahan man, to great applause from all the Cavan supporters.
Scorers for Cavan:  Andrew Hill (1-1),  Joshua Sheue (0-3,1f),  Freddie McGuigan,  Tyler Haynes,  Adio Metlovas(45),  Senan Macken, Ryan Nwaneri, Jamie Clarke & Odhran Madden (0-1) each
Scorers for Meath:  Pat Crawley (1-1,1f),  Cormac Nugent (0-2,2f),  Evan Kelly, Cillian Rafferty,  Ciaran Sheridan,  Mackensie Doyle and  Jake Madden (0-1) each.

Cavan: Max McKeown (Cootehill Stars); Caolan Madden (Gowna), Aaron Dowd (Ballyhaise), Oisin Maguire (Mullahoran); Tyler Haynes (Ballinagh, Adio Metlovas (Cootehill Stars), Senan Macken (Castlerahan); Thomas Gilsenan (Killygarry), Ryan Nwaneri (Blackwater Gaels); Freddie McGuigan (Killygarry), Joshua Sheue (Cavan Gaels), Tadhg Sheils (Mullahoran); Andrew Hill Shercock), Jamie Clarke (Castlerahan), Lee Brown (Shercock).
Subs: Odhran Madden (Gowna) for Sheils, Charlie Fallon (Killygarry) for Brown both half-time, Fiachra Brady (Gowna) for Clarke 45 mins, Eoin O'Reilly (Cuchulainns) for Hill 58m, Aaron Plunkett (Mullahoran for Macken 60m, Darragh Gilsenan Killygarry; Luke Madden Kingscourt Stars; Seamus O'Reilly Dernacrieve Gaels; Charlie Fallon Killygarry; Shane McCabe Cootehill Celtic;
Conor Doyle Cavan Gaels; George Cullivan Cornafean; Paul Sheridan Lavey ; Ultan O'Reilly Mullahoran; Charlie Gillick Ramor United; Ryan Corr Crosserlough
Extended panel: Paul Cooney Laragh; Cian Platt Kingscourt Stars; Finn Crowe Cavan Geals; Ciarán Galligan Cavan Gaels; Seamus O'Reilly   Dernacrieve Gaels; Ryan Owens Killygarry; Luke Reilly; Knockbride; Shane Galligan Knockbride; Jack Cooke Lavey; Tiernan Flood Mullahoran; Cian McCrystal Ramor United; Cormac McEntee Gowna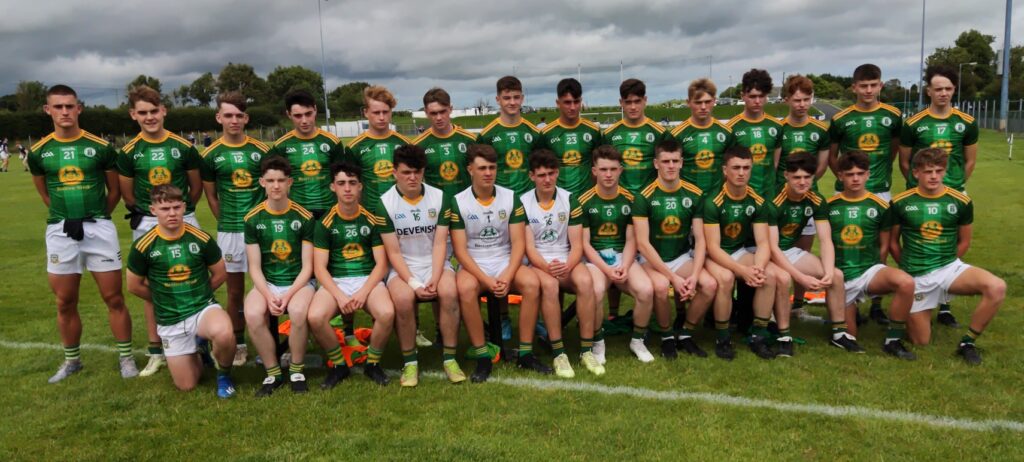 Meath: Jamie Norris (Seneschalstown); Robert Hayes (Ratoath), Conor Black (St Patrick's), Cillian Yore (St Ultan's); Oran Meade (Simonstown), Thomas Sheridan (Oldcastle), Charles McCarthy (Seneschalstown); Cillian Rafferty (Syddan), Daniel Doherty (Donaghmore/Ashbourne); Ryan Brady (Walterstown), Cormac Nugent (O'Mahonys), Ciaran Sheridan (Dunderry); Evan Kelly (Donaghmore/Ashbourne), Senan Duffy (Slane), Pat Crawley (Oldcastle).
Subs: Mackensie Doyle (Simonstown) for McCarthy half-time, Conall Diggins (Ballivor) for Brady 37 mins, Jake Madden (Drumbaragh) for Nugent, Jack Doyle (Dunboyne) for Doherty both 40m, Rory McGrath (Ratoath) for Hayes 47m.
James Donnelly (Bective), Ryan McCaffrey (Ballivor), Daniel Pierse (Dunderry), Evan Demange (Drumbarragh Emmets) Cormac Smith (Clann na nGael), Eoin Feldman (Ratoath).
Referee:  Dean Alford (Dublin)
Thanks as always to Leo Halpin and Eddie Reilly for organising the tournament, and the many hours they put in. All our Oldcastle GFC volunteers who come together to make the day a success, well done. And to all the county teams who take part, their management and players and match officials. Fair play to you all.
Finally, a word for our Meath team, who have put in superb performances throughout the tournament; you showed great heart today, and you will go on to greater things. And to our own Oldcastle players, goal-scorer Pat Crawley and tenacious Thomas Sheridan, we are all so proud of you. Thanks to all the players for the effort you put in.
That's a wrap for the Gerry Reilly Cup 2023, hopefully we will see you all again in Millbrook next year!
——————————————————
Winners of the Gerry Reilly Cup to date:
Meath 1989, 1991, 1995, 1996, 2002, 2003, 2007, 2018, 2019
Westmeath 1990, 1992, 1994, 1999, 2000, 2001, 2006, 2010, 2011
Cavan 1997, 2004, 2005, 2014, 2015, 2016, 2023
Dublin 1993, 1998, 2008 (U-17 Blitz), 2012, 2013
Louth 2022
Mayo 2021
Monaghan 2017