Another U-12 Title comes over the mountain!
Oldcastle 21 Curraha 12
Those 28 years without an Oldcastle U-12 victory are certainly being made up for now, with the 2017, 2018 and now 2019 Spring AND Summer League honours coming over the mountain! Oldcastle took on Curraha on the opposition's home ground this afternoon, and the first-half was a hard-fought and tight affair, with the score at the break Oldcastle 7, Curraha 5.
Oldcastle kicked on in the second half, with every player on the pitch giving their all, and they were soon dominating the match, with the resultant final score of Oldcastle 21, Curraha 12.
Team Captain Thomas Sheridan was presented with the Summer League plaque by Juvenile County Chairman Ciaran Benville, and gave a great acceptance speech.
Thanks to Curraha who provided lovely refreshments after the match. The team later rolled into Oldcastle with a great beeping of horns and waving of flags, and demolished a feast of chicken n'chips in Flicks, a just reward for a job well done!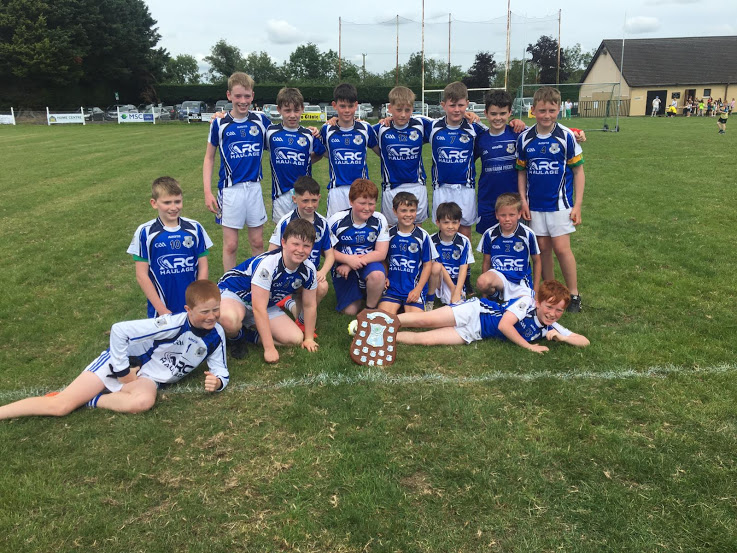 Oldcastle: Rhys Eager, Simas Abraitis, Cormac Guirke (1), Eoin Sheridan, Thomas Sheridan (4), Jack Smith, Ryan Halpin (1), Pat Crawley (5), Mikey Timmins, Shane Boylan (5), Tiarnan Halpin-Murphy, Mark Cadden (4), Lee Keatinge, Jack Nulty (1), Alex Lynch.