Powerful display by the Minors in the MFC Final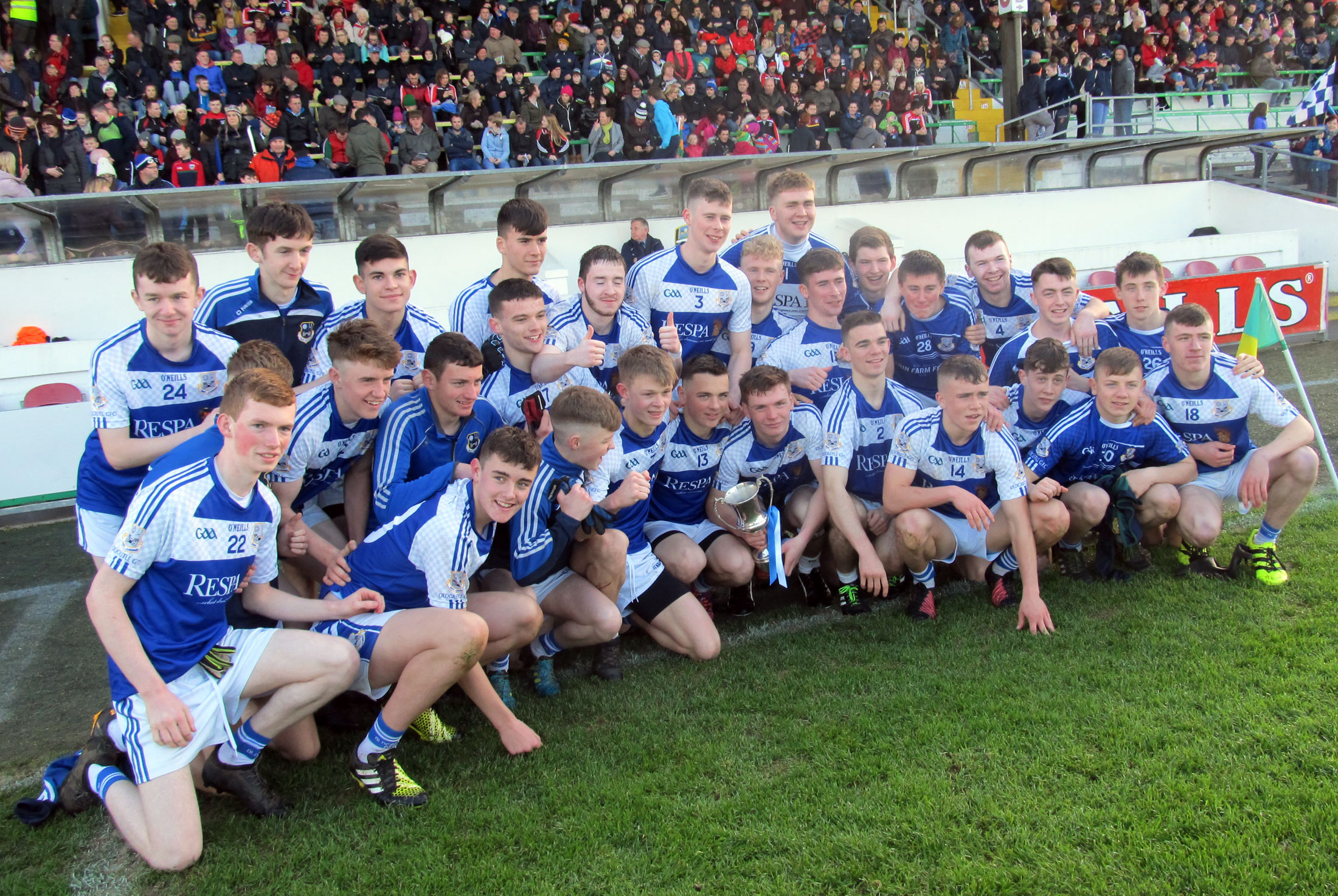 Oldcastle 5-14 Kilbride 3-13
After the game Frank Gallogly and Brendan Cummins presented the Minor Football Championship Division 3 Cup to Oldcastle captain, Keith Connell
Oldcastle secured the Div 3 Minor Football Championship Crown with a well-earned victory over Kilbride in the final played in Pairc Tailteann on Sunday, 22nd October.
Playing against a strong breeze it was Lee Healy who got Oldcastle on the scoreboard in the second minute of the game. This was followed by scores from Pearse Sheridan and Colin Hawdon. Kilbride replied with a goal after 10 minutes to level the game. Oldcastle replied instantly with a Kyle Kavanagh free before Oran Mulvanny and then James McCluskey finished to the net within 2 minutes to extend Oldcastle's lead. Following great work by the very busy Colin Hawdon, Oran Mulvanny added another point and from the resulting kick out he won the ball and laid it off to Lee Healy who finished to the net. Oldcastle went 8 minutes without scoring in which time Kilbride added 4 points to close the gap. Kilbride added an another point on the 29th minute which everyone thought would be the last score of the game but as ref Eamonn Barry let the game flow Robbie Smith torn through the Kilbride defence and following a 50 yard solo run he burst the ball past the helpless goalie. Kilbride added a point but yet again the Oldcastle lads attacked and Oran Mulvanny finished to the net again in the 3rd minute of injury time to leave the half time score Oldcastle 5-5 Kilbride 1-7.
The Kilbride coaches's half time talk worked wonders and they came out of the traps at 100 mph. As the tried to cut the gap and go for goal, Karl Gibney was called into action and made a great save. Robbie Smith and Kyle Kavanagh added points for Oldcastle. Colin Hawdon who was operating around the half forwards but covering every inch of the Pairc Tailteann pitch was winning a lot of possession and was involved in most of the Oldcastle play and chipped in with a point on the 9th minute. Kilbride were pushing hard and grabbed 2 second half goals but Oldcastle kept the score board ticking with further points from Kyle Kavanagh, Colin Hawdon and a bizarre own point. Sub James Caffrey converted brilliantly as Oldcastle upped the extra gear to close out the game. The final 2 scores game from man of the match Hawdon and Oran Mulvanny to the leaving the final score Oldcastle 5-14 Kilbride 3-13.
When ref Eamon Barry blew the full time whistle the huge Oldcastle support went mad as the club secured a minor trophy for the 4th time in 3 years. It was a great team performance with Colin Hawdon, Robbie Smith and Mossy Flood leading by the way.
In a nice gesture captain Keith Connell wished Kilbride's Mark Dempsey who was stretchered off in the closing stage a quick recovery.
Oldcastle: Karl Gibney, Dylan Garrigan, Eoin McCluskey, Stephen Milmoe, Tomas Flood, Keith Connell, Conor Hetherton, Roanan Taggart, Robbie Smith (1-1), Oran Mulvanny (2-1), Pearse Sheridan (0-1), Kyle Kavanagh (0-3), Lee Healy (1-1), Colin Hawdon (0-4), James McCluskey (1-0)
Own Point (0-1)
Subs: James Caffrey (0-1) for James McCluskey, Cillian Connell for Lee Healy
Subs not used: Jack McDonnell Fox, Josh Halpin, Darren Connell, Louis Connell, Ciaran Smith, Charlie Lynch, Cillian Hanlon, Darragh Reilly, Jos Lynch, Ciaran Healy, DJ Monaghan, Aaron Getty
Report in the www.hoganstand.com