WE DON'T NEED NO RELEGATION
Oldcastle 1-14 Ballinlough 1-10
It was a beautiful sunny morning (6 Sept.2020) in Moylagh as the Oldcastle and Ballinlough teams lined out for the Intermediate relegation play-off. At stake obviously was a guaranteed spot in Intermediate again next year, but more than that: pride in not going down to the neighbours.
Oldcastle had a super start with points from Colin Hawdon, Pearse Sheridan and Jason Scully on the scoreboard within five minutes. The hardworking Ger Reidy got the next ball onwards by way of Dylan Garrigan, to Steven Lawless, Oran O'Reilly, back to Dylan, to Ross Cadden, Darren Hawdon, in to Barry Curran making a good run, he tipped it nicely to the waiting CJ Healy who smashed it to the back of the next for a goal.
The next point was also CJ's, Pearse Sheridan then adding another before Ballinlough got on the scoreboard, thanks to a Harry Ryan free. Jason Scully was making lots of room for himself up front and taking some great points, while Colin Hawdon was denied an almost certain goal by the Ballinlough keeper, the momentum of the shot saw it keep going over for a point. Ballinlough took a point from play at one stage, with the rest of their scores all from frees: at the end of the first half the score was Oldcastle 1-09, Ballinlough 0-05. Oldcastle got the second-half off to a great start with a beautiful point from Paddy Rahill. Ballinlough came back with a well worked attack, and were unlucky not to get a goal, with the resultant 45 away and to the side. Jason Scully added another to his tally,
Ballinlough attacked again but were thwarted by Cian McPartland. Harry Ryan added two more frees for the opposition, and they upped the tempo, wave after wave of attacks but not capitalising on them. Oldcastle were reduced as both Paddy Rahill and Dylan Garrigan got shown black cards, but the other lads took the strain and kept the show on the road. Oldcastle were seven ahead at one stage but Ballinlough finally got a gaol, reducing it to a four point match.
An injury to Oldcastle keeper Packie Kevin saw him replaced by Stephen Tierney: with time ticking away Ballinlough kept the pressure on but the Oldcastle lads held steady. Darragh Caffrey was fouled in front of the Oldcastle goals and Harry Ryan converted the free, but Tierney's kickout found it's way upfield to Oran Mulvanny who slotted it over for the last score of the match, the referee blowing the whistle on a final score of Oldcastle 1-14, Ballinlough 1-10.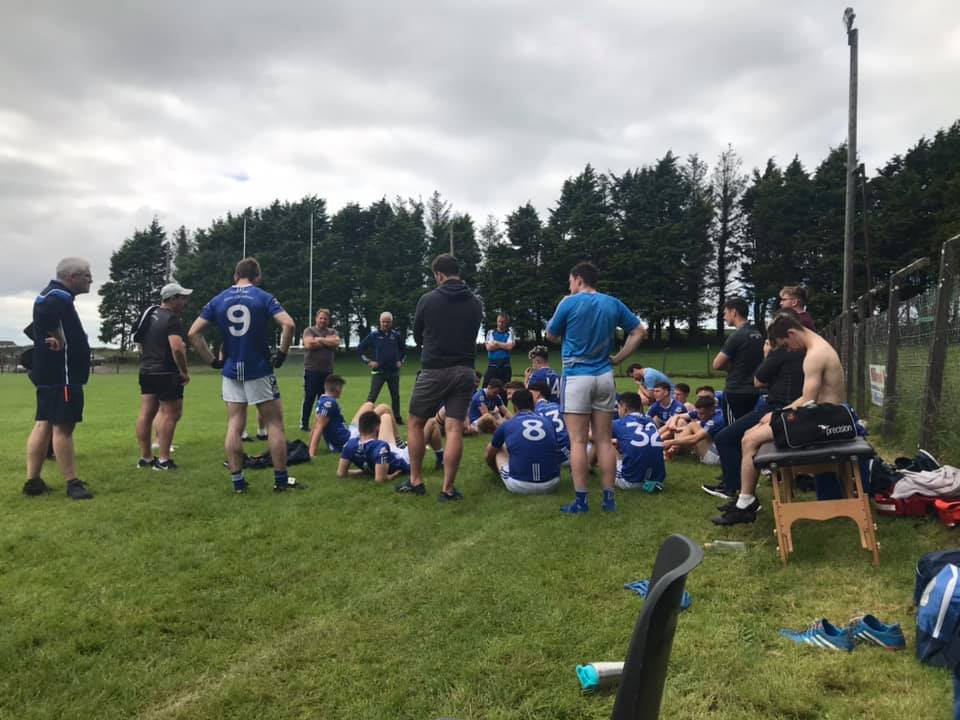 A great feeling of relief and optimism for next year prevailed, with Leo McEnroe thanking all the lads for their hard work and commitment, and always focussing on onwards and upwards.
Best of luck also to Ballinlough in their next relegation match, hopefully you'll get the win and we'll meet again next year!
Oldcastle: Packie Kevin, Barry Curran, Cian McPartland, Steven Lawless, Oran O'Reilly, Paddy Rahill (0-01), Dylan Garrigan (0-01), Ross Cadden, Ger Reidy, Darren Hawdon, Ronan Maguire (0-01), Pearse Sheridan (0-02) C.J. Healy (1-01), Jason Scully (0-04), Colin Hawdon (0-03). Subs: Paddy Gilsenan, Oran Mulvanny (0-01), Conor Hetherton, Stephen Tierney.