Teams finished level in Rd.1 of the IFC in Ballinlough
Oldcastle 1-11 Navan O'Mahonys 2-08
A draw is better than a loss, but a win is better than a draw, and the Oldcastle lads will be rueing missed opportunities to take the win in this opening match of the Championship. The first half was a torrid affair for Oldcastle, with O'Mahonys dominating the game, and the blustery wind not doing us any favours either. Conor Delaney got Oldcastle off the mark, with two from Garrett O'Reilly and a lovely CJ free seeing both sides on four points. O'Mahonys added on another, but CJ retaliated with a fine score, level again. The next NOM attack resulted in a lovely long-range point, and was followed by a converted free, followed by the hammer blow of a goal, to leave them five ahead. Oldcastle attacked again and again but each fizzled out without a score, before NOMs came again just before the first half ended, with another point, to leave it Oldcastle 0-05, Navan O'Mahonys 1-08 at the break.

It was an energised Oldcastle who came out of the dressing room, and they made their intentions clear from the start, with Jason Scully getting a great ball in to Ronan Maguire, on to Garrett who shot for goal, blasted off the crossbar and back out! A collective swear word from all the Oldcastle supporters, but the next O'Mahonys attack was halted by a super Conor Delaney intercept, the ball to Colin Hawdon and up the field, a great ball way up to Garrett who made a lovely pass to the speedy CJ coming up alongside; CJ shoots and yes! right to the back of the net for a super goal, game on! The O'Mahonys' kickout was brought down by Keith Connell, on to Garrett, to Scully, on to Pearse Sheridan and back to Scully who sent her over the bar. Cian McPartland and Oran O'Reilly were putting serious pressure on the Navan lads now. They looked rattled, and the next O'Mahonys attack resulted in a free which they sent wide, with the Packie Kevin kickout to Ronan Maguire going upfield via CJ, in to the waiting Garrett O'Reilly and over the bar.
O'Mahony's kept possession of the next ball until the Oldcastle 30 yard line, where a bit of a melee ensued, and out of it emerged Jason Scully, ball in hand and heading in the right direction, great run upfield and a lovely ball in to CJ for a mark on the 20 yard line, he tipped her over to level the match once more! With that, the kickout was fisted down by Colin Hawdon to Garrett, who was awarded a free, CJ to take, and he coolly tipped her over the bar again, for a one point lead!

Back to reality with the next play, O'Mahony's working her all the way upfield and managing to wrangle a goal, ahead once more! Packie's kickout found Ronan Maguire, on to Keith Connell who made a great run, and finally in to James Cooke, having a super match, and over she went for the point.
O'Mahony's attacked again, but Keith Connell cleared it, back to Packie Kevin, onwards to Colin Hawdon, to Lee Healy with a good run, back to Colin, to Dylan Garrigan and finally to Pearse Sheridan who sent her between the posts., level match once again! With about six or seven minutes played out after that, O'Mahony's shot two wides, but Oldcastle had some super chances to take the win, but with a few missed passes or saved shots, it just wasn't to be, and when the referee blew up the match – a bit early you would think – it was on a final score of Oldcastle 1-11, O'Mahony's 2-08.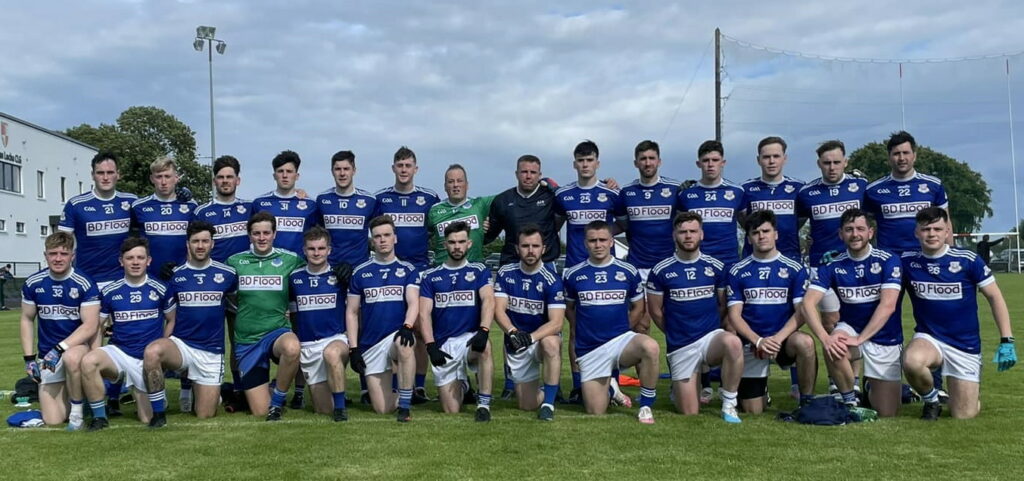 Oldcastle: Packie Kevin, Dylan Garrigan, Cian McPartland, Oran O'Reilly, Lee Healy, Darren Hawdon, Ronan Maguire, Jason Scully (0-01), James Cooke (0-01), Conor Delaney (0-01), Pearse Sheridan (0-01), Keith Connell, Colin Hawdon, CJ Healy (1-04), Garrett O'Reilly (0-03). Subs: Paddy Gilsenan, Paddy Rahill, Louis Colleran, Eoin Smith.
O'Mahony's Report in the hoganstand.com/meath