Oldcastle Minors overpower Na Fianna in Millbrook
Oldcastle 3-21 Na Fianna 0-08
The Oldcastle minors put on a dazzling display of firepower in the second round of the LM/FM Championship (Div 2) in Millbrook this evening (28/8/2023). Na Fianna were a big, strong looking team, and it was they who started the better, with three points to Oldcastle's one after five minutes. Ryan Halpin had gotten Oldcastle off the mark with a free, and added another when Rory Crawley was pulled down. Paul Hennessey was in possession of the next ball, on to Tom Lynch, Pat Crawley, to Nathan Gibney, on via Jamie Pakenham, to Ivan Smyth and finally back to Paul who sailed her over to level it. Ryan Halpin added on a fine point from play; Na Fianna came back with one of their own, but that was to be the last time they were in contention.
A Thomas Sheridan ball was moved on to Ryan Halpin at speed, back to Thomas and then to the flying Pat Crawley who fisted it to the back of the net. Nathan Gibney extended the lead, and Pat added another point, Na Fianna then added one of their own. An Oldcastle sideline ball found Pat Crawley, on to Nathan, back to Pat and in to Ivan Smyth who fisted it over the net – unlucky not to get a goal indeed, but taking the point. Oldcastle were really getting into their stride now, and could do no wrong, the next score a superbly kicked point from Ryan Halpin at speed. Good work from Fergal Flynn got the next ball to Pat Crawley for a point, with Ryan adding on another free before the half-time whistle blew, with the teams at Oldcastle 1-10, Na Fianna 0-06.
The second half was totally one-sided, Oldcastle dominating all over the pitch. A beautiful point from Rory Collins got things underway, Ivan Smyth and Paul Hennessey adding points of their own. Na Fianna attacked but the Rory Collins intercept was fed on to Rory Crawley, to Paul Hennessey, on to Pat Crawley, to Ivan, on to Nathan, back to Pat Crawley who was travelling downfield all the while, on to Ryan Halpin and back to the same Pat Crawley who fired her over the bar. A Fergal Flynn intercept on the next attack found Jamie Pakenham, to Thomas Sheridan, to Ivan and finally to Paul Hennessey for yet another score. Cillian Fanning's kickouts were long and accurate, with James Gibney, Padraig Lynch and Tommy Russell rock solid in defence, while Thomas Sheridan was defence, midfield and forward all in one! Another point from Rory Collins; the resultant kickout was brought down by Ivan Smyth, he caught, turned and fired her straight back over the bar. That was followed by a fantastic point from Paul Hennessey, impossibly high and accurate, sailed over the town-end bar. Na Fianna finally got a scoring chance and went for goal, but Cillian Fanning was ready and saved. The resultant '45 went over for their first score of the half. They added another soon after, but Oldcastle got back to business, Paul firing over another point, followed by a goal from the speedy Shane Boylan. Good work from Matt Lynch and Conor Russell secured the ball, upfield by way of Tadgh Coyle, to Riain Burke, back to Tadgh, to Fergal Flynn to Paul Hennessey and finally to Rory Collins, a super point, followed by another, to leave the final score Oldcastle 3-21, Na Fianna 0-08. An absolute masterclass in football from the lads tonight, super scoring and play, and a great display from every lad on the pitch.
The third-round match sees the lads play Walterstown on Saturday 16th at Millbrook.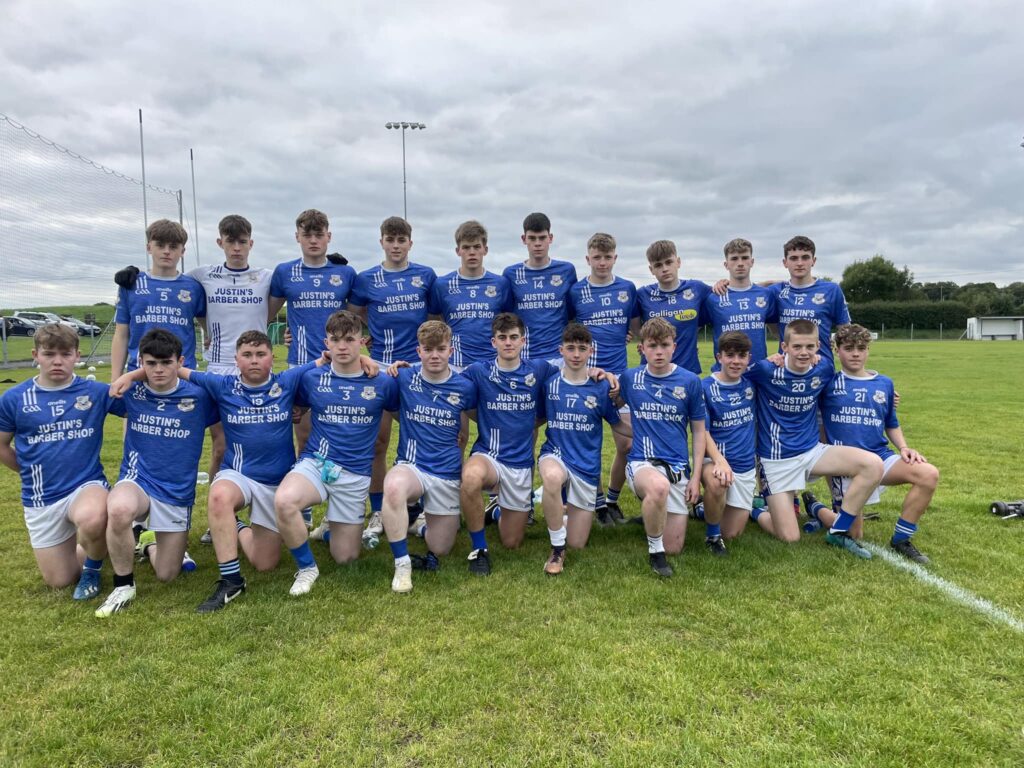 Oldcastle: Cillian Fanning, Padraig Lynch, Thomas Sheridan, Tommy Russell, Rory Collins (0-04), Fergal Flynn, Rory Crawley, Tom Lynch, James Gibney, Ivan Smyth (0-03), Paul Hennessey (1-05), Jamie Pakenham, Nathan Gibney (0-01), Ryan Halpin (0-05), Pat Crawley (1-03). Subs: Shane Boylan (1-00), Tadgh Coyle, Riain Burke, Matt Lynch, Conor Russell.