Oldcastle into the Quarter Finals by topping their Group on score difference
Oldcastle 3-08 St. Michael's 0-13
With all sorts of permutations and score difference being talked about before today's (04/09/2022) concurrent matches (St. Vincents and Walterstown also playing at 2pm), one thing was clear; only a win would do Oldcastle. A draw would have seen St. Michaels qualify, or even enough scores depending on what Walterstown scored. So everyone had motivation in Kells, and it was St. Michaels who started the better, two beautiful points from play on the board before even a minute was played. The sun was shining and the sky was blue, perfect weather for football, and with three minutes on the clock St. Michaels struck again, another lovely point sailed over to give them a three point lead.
Conor McHugh's kickout found Steven Lawless, on to Robbie Farrelly, to Pearse Sheridan and in to Colin Hawdon who sent her back to Pearse again: he was now in a great position just out from goal and made no mistake, planting her in the back of the net to level up. The kickout was intercepted by Dylan Garrigan, back to full strength again and absolutely flying, he sent her on to Paddy Rahill, to Ronan Maguire, back to Paddy and upfield via Oran Mulvanny and Jason Scully, to Colin Hawdon and back to Jason, on to Darren Hawdon and finally to Robbie Farrelly who was fouled with an arm around the neck, he curled her over to give Oldcastle the lead. A St. Michaels' 45 levelled it again, before Pearse Sheridan sent over another point, adding on a free soon after. A Steven Lawless ball on via Dylan Garrigan and Jason Scully found Ronan Maguire way outfield: he turned and scored a super point from about 50 yards out.
St Michaels kept chipping away and there was only a point between the sides with time ticking down for break, before a super clearance from Dylan Garrigan found Pearse Sheridan, he made a great run right through the middle of the field, before passing to Jason Scully, he tipped her in to Stephen Tierney; Tierney was blocked but found Colin Hawdon who had clear sight of the back of the net and sent the ball straight there. A great goal to end the half and buoy the team, with the half time score Oldcastle 2-04, St. Michaels 0-06.
A Colin Hawdon point started the second half, but with that, Oldcastle went to sleep. A five point advantage dwindled away as point by point the Michaels kept tipping them over. It was only when St. Michaels were in the lead again, at 2-05 to 0-12, that the Oldcastle lads woke up. Here we were again, heart-attack time, championship exit looming, end of the summer doom and gloom. But to save the day, and only just on the pitch, in comes supersub Conor Delaney to catch a great ball from Colin Hawdon and plant her in the back of the net for Oldcastle's third goal, and giving the lads a two point lead in the process. Oldcastle shot a few wides but St. Michaels did likewise, everything hell for leather now, no prisoners taken, Oldcastle manager Jude even a hit and run victim at one stage as play on the far side went over the line and took him down too. Up on his feet again in seconds, he never stopped giving instructions. Good defensive work from Cian McPartland denied St. Michaels a point, with Conor's kickout finding Robbie Farrelly, on to Paddy Rahill, to Jason, Darren and Robbie again before Paddy Gilsenan grabbed her and ran, fisting her over for a lovely point, followed straight after by another from Jason Scully. Ronan Maguire was busting himself at midfield, winning great balls. Time was ticking away and with it St. Michael's chances:
We Are Meath's Davy Rispin was commentating on the sideline and passing on the scoreline from the other match to the St. Michael's management, with five minutes remaining they went from shouting at their lads that they needed another point, to shouting that a goal was needed with just seconds left: Walterstown's score in the other match mounting up and destroying the Michael's dreams. They did get one more free near the end, could they get another two and keep the dream alive? A Robbie Farrelly ball lobbed in was just short and caught by the keeper, they attacked again, but a superb Dylan Garrigan intercept and clearance kept them out, and just to rubberstamp the victory, Colin Hawdon sent over a final point for Oldcastle. With time and a bit up that was it, ref Keith Sheerin blew the final whistle on a scoreline of Oldcastle 3-08, St. Michaels 0-13.
An Intermediate quarter final place awaits! An open draw tomorrow night (05/09/2022) will decide the pairings.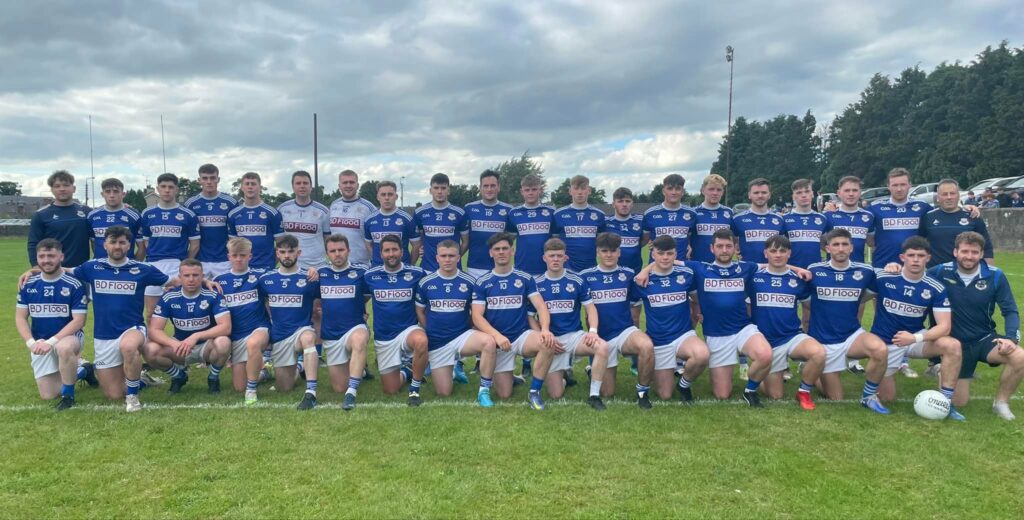 Oldcastle: Conor McHugh, Oran O'Reilly, Cian McPartland, Dylan Garrigan, Darren Hawdon, Steven Lawless, Paddy Rahill, Stephen Tierney, Oran Mulvanny, Ronan Maguire (0-01), Pearse Sheridan (1-02), Robbie Farrelly (0-01), CJ Healy, Jason Scully (0-01), Colin Hawdon (1-02). Subs: Paddy Gilsenan (0-01), Conor Delaney (1-00), James Cooke.