Meath defeat neighbour's in the Gerry Reilly Plate Final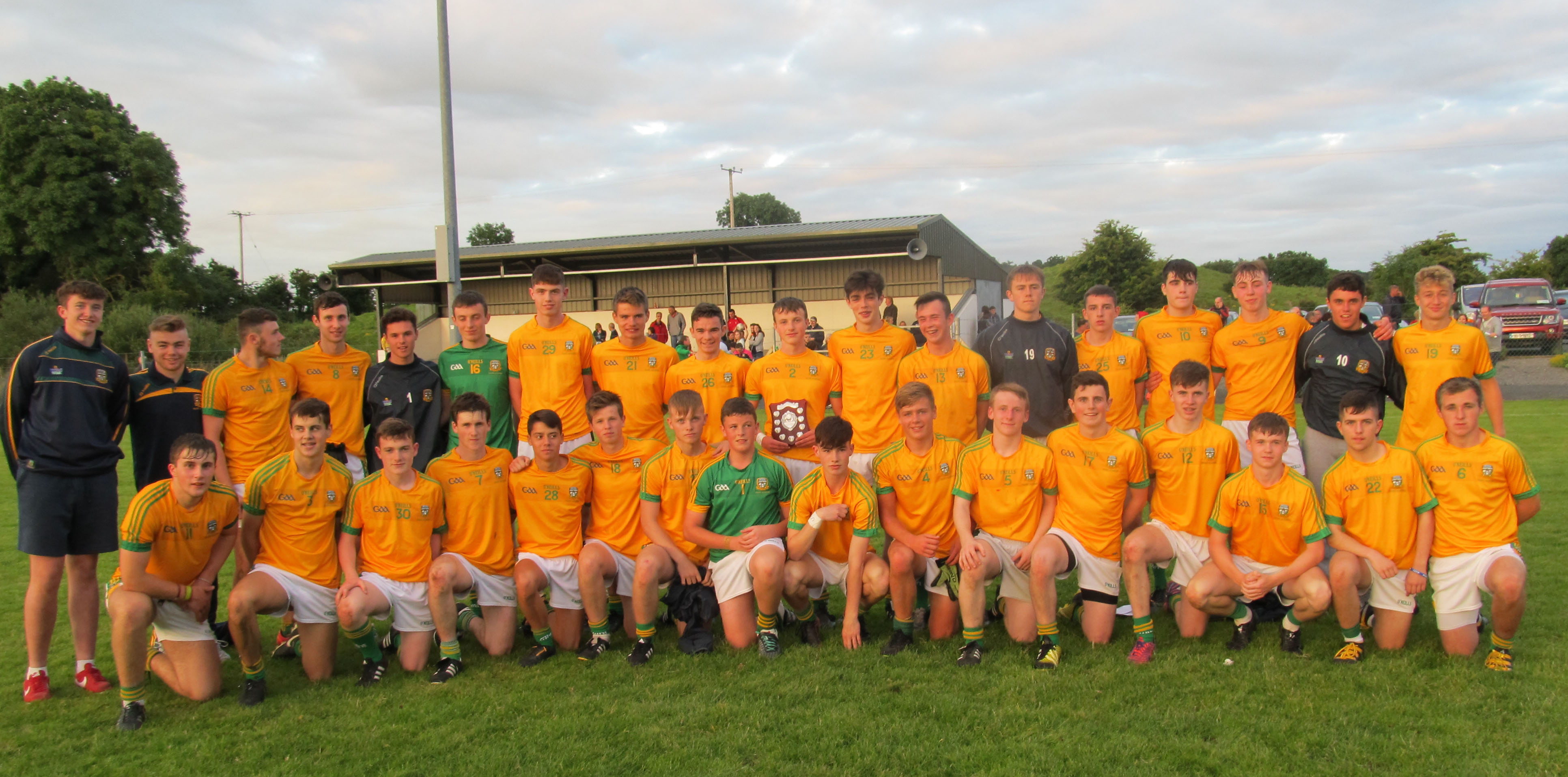 Meath 1-14 Westmeath 1-10
Westmeath made a terrific start in the Gerry Reiily U-16 FT Plate Final (for the Group runner-ups) played in Oldcastle on Friday evening and played in lovely conditions. They were quick on the board with an Adam Gilbride point and followed up with a Sam Maxwell goal. Indeed they could have been up by more, but Shane Allen's goal attempt was off target and wide of the post. Meath did have 2 attempts for points, but they too were off target. Colin Murphy pointed for Westmeath and they seemed to be in complete control and leading by 5 points that could have been more.
A terrific Meath move right down the field was finished to the Westmeath net by Craig Munnelly. This settled Meath more into the game. A Shane Walsh pointed free in the 12th minute had just one between the sides. John Tumelty pointed for Westmeath before Meath registered 3 unanswered points (Patrick Matthews, Jack O'Connor & Jordan Morris) to take the lead for the first time.
It was great football with the sides drawn level on another 2 occasions with some fantastic points from both sides leaving the sides at 1-6 each. Craig Munnelly regained the lead with a fine point after a terrific move.
Play was held up in the last minute of the half as Westmeath's, Sam Maxwell had to retire injured. Meath did have 3 chances to score, but it was Jack O'Connor that converted one of them for a point.
H/T: Meath 1-8 Westmeath 1-6
John Tumelty got the opening score of the second half when he pointed to leave the minimum between the sides.It was Meath that were creating more scoring opportunities and points from Jordan Morris, Jack O'Connor and Patrick Mathews stretched rtheir lead to 4 points. Another terrific move by Westmeath downthe field wasrewarded with a fine point. A quickly taken 45 pass was pointed by Meath's Eoin Martin.
Westmeath's, John Tumelty reduced the gap to 3 points in the 47th minute. Indeed Westmeath should have narrowed the gap further, but failed to make use of the scoring chances. Meath's, Sean Ryan's point helped to restore Meath's advantage at this stage.
Westmeath were down to 14 men, but despite this they fought bravely, with only points exchanged before the final whistle. It wasa terrific game of football with some fantastic displays of all that is good in gaelic football from both sides. It was a treat for all present to watch it.
Meath's, Patrick Matthews got the 'Man of the match' award in a game with so many in contention for it from both sides.
After the game Meath's Captain, Patrick Matthews was presented with the Gerry Reilly Plate Trophy by Eddie O'Reilly (Oldcastle GFC)
Scorers for Meath: Craig Munnelly (1-1), Jordan Morris (0-3,1f), Patrick Matthews, Colm Doherty, Jack O'Connor and Eoin Martin (0-2) each, Shane Walsh and Sean Ryan (0-1) each
Scorers for Westmeath: Sam Maxwell (1-2), John Tumelty (0-4), Adam Gilbride, Colin Murphy, Conan O'Hara and Tadhg Moody (0-1) each
Meath: Keith Hennessy, Adam Muldoon, Liam Byrne, Sean Ryan, Sean Bannon, Eimhin Power, Conal Courtney, Patrick Matthews, Fergal Waters, Colm Doherty, Shane Walsh, Jack O'Connor, Eoin Martin, Jordan Morris, Craig Munnelly
Subs: Nathan Dunne for O'Connor, Dylan Garrigan for Power and Patrick McDermott for Doherty
Westmeath: Trevor Martin, Jensen Nagle, Daniel Ennis, Matthew Gunning, Jason Coughlan, Conal McKiernan, Eoin Mulvihill, Tadhg Moody, Colin Murphy, Adam Gilbride, Conan O'Hara, Shane Allen, Sam Maxwell, John Tumelty, Shane Coughlan
Subs: Josh Beaumont for Ennis, Donagh Prendergast for Allen, Sean Fox for Maxwell (inj.), Kevin Rowan for Moody
Ref: Aidan Dowlwer (Longford)