Good win in the Premier
Oldcastle 2-10 Dunderry 0-08
Our Senior lads travelled to take on Dunderry in the Reserve Championship on this beautiful summers' evening (20/5/2023). They looked the stronger from the start, with points from Louis Colleran, Eoin Smith, Conor McHugh and CJ Healy to start the match. An injury to Mossy Flood saw the introduction of Ciaran "The Punisher" Healy, Ireland Kickboxing Champion, after a two year absence. You wouldn't know he'd ever been away, with a great performance, his first touch of the game a great catch of a Ross Cadden pass, and on to brother CJ for the next point. Darren Hawdon was busting himself in defence, and a fine clearance from him on to Conor McHugh was returned, he made a great run upfield, getting the ball in to Stephen Tierney who kicked her over, although he was unlucky enough not to get a goal with the ball whacking the bar on her way. It was Stephen who took the next point also: the final one of the first half, leaving it Oldcastle 0-07, Dunderry 0-04 at the break.
Dunderry took the first point of the second half, and put Oldcastle under sustained pressure for the first ten minutes, some great play but their shooting letting them down with three wides in a row. It was Oldcastle who then powered ahead then: the Dunderry kickout intercepted by Cillian Connell, on to Ross Cadden, to Lee Healy, to Louis Colleran and finally in to Tierney again for another point. Eoin Smith took the next, with Tierney converting soon after.
Dunderry regrouped and took three in a row to reduce the gap to two points, but with that, Oldcastle kicked on again, a Joe Lynch goal putting space between the teams. With time ticking away, Rian Mulvanny's kickout found Ciaran Healy, on to Ross and to CJ who made a great run upfield, finally chipping her in to Stephen Tierney who eventually got his goal! The final whistle blew on a great win for the lads on a score of Oldcastle 2-10, Dunderry 0-08.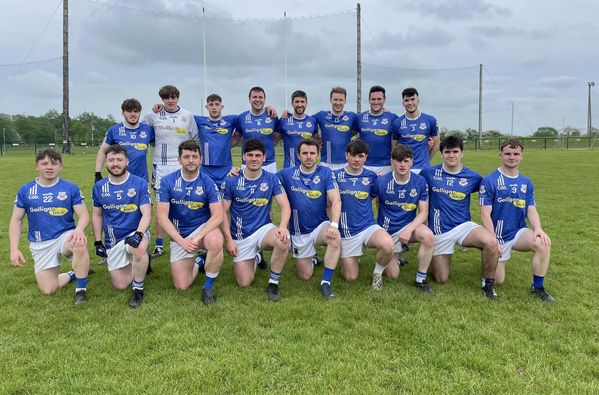 Oldcastle: Rian Mulvanny, Darren Hawdon, Louis Colleran (0-01), Mattie Cadden, Mossy Flood, James Cooke, Lee Healy, Conor McHugh (0-01), Ross Cadden, Cillian Connell, CJ Healy (0-02), Lloyd Colleran, Stephen Tierney (1-04), Eoin Smith (0-02), Paul Wade. Subs: Ciaran Healy, Joe Lynch (1-00).