Gerry Reilly U-16 FT Finals 2014 Reports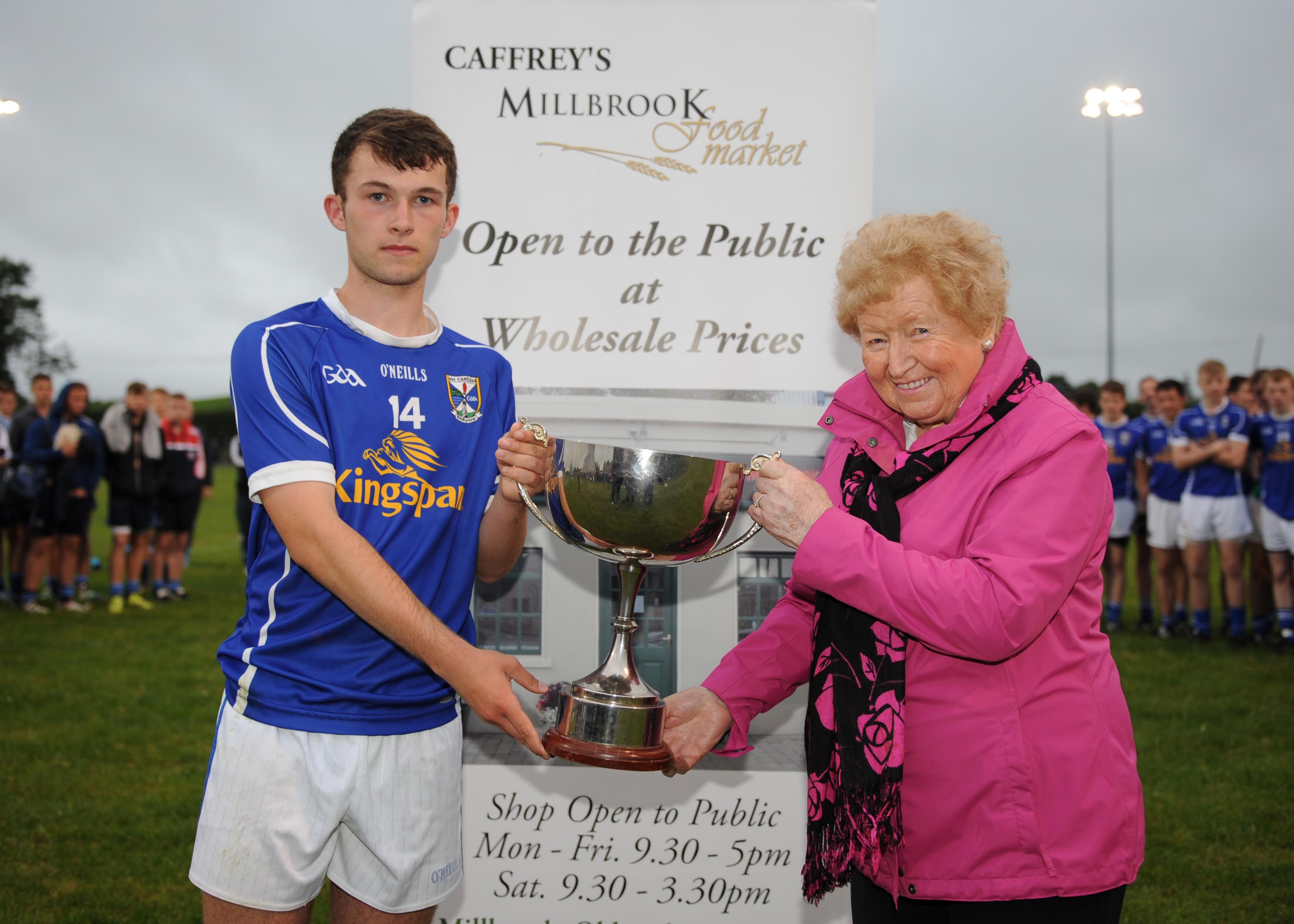 Gerry Reilly U-16 FT Cup Final 2014 Report
Cavan 1-16 Dublin 1-8
Cavan powered to victory over Dublin in the 25th Anniversary Gerry Reilly U-16 FT Cup Final played in Oldcastle this evening. A great game was expected by the two teams that were unbeaten in their respective groups in the 'round robin' games. That's what the large attendance got with a game played at a hectic pace and spirit from both sides.
Dublin's, Ciaran Dowling got the opening score with a pointed free. Cavan responded with two points from Conor Smith and Thomas Edward Donohue. Jeff Rafter got Dublin's second point to have the sides level.
A pointed free by Cavan's Stephen Smith put them ahead again. Cavan's 'Keeper, Daniel Cullivan brought off a great save to deny Dublin a goal.
Cavan then got very much on top scoring 5 unanswered points (Thomas Edward Donohue (0-4 (2f)) and Stephen Smith (0-1 (f)). A great run by Aaron Carey resulted in Dublin's 3rd point. In the 16th minute Cavan's Conor Smith registered his second point. Cavan added two more points to their tally before Cavan's ' keeper brought on another great save to deprive Dublin in the 29th minute.
H/T: Cavan 0-11 Dublin 0-3
When Stephen Smith finished to the Dublin net minutes into the restart, they were well on the road to securing victory. However the Dublin lads had other ideas and by the 40th minute had recorded 4 unanswered points Conor Lennon, Ciaran Dowling (2f) and Jack Rowe.
Cavan hit back with points from Owen Cooney and Conor Smith.
When Jeff Rafter finished to the Cavan net after a mistake by the 'keeper, Dublin were right back in it. They were putting a lot of pressure on Cavan but the Cavan defence were playing their hearts out.
Cavan went on to add 3 points to their score, while Dublin failed to covert their scoring chances. Cavan began to play possession football to run out the clock.
It was Dublin's Cormac Howley who pointed for the last score of the game.
It was a tremendous game of football with great skills and determination displayed by both sides which augurs well for their futures at both club and county level.
Cavan's Captain, Thomas Edward Donohoe was presented with the Gerry Reilly Cup by Claire Reilly (mother of Gerry Reilly).
Caffrey's Millbrook Food Market 'Man of the match' award winner was Thomas Edward Donohoe.
Cavan: Daniel Cullivan – Cornafean; Finbar McAvenie – Arva; Patrick O Reilly – Crosserlough; Matthew McGee – Ramor United; Eoin Smith – Crosserlough; Colm OReilly – Mullahoran; Luke Fortune – Cavan Gaels; Conor Brady – Gowna ; Thomas Keaney – Crosserlough; Ryan ONeill – Killdallan; Patrick Brady – Mullahoran; Stephen Smith – Crosserlough (1-5, 5f); Owen Cooney – Laragh (0-2); Thomas Edward Donohoe – Denn (0-5, 2f)); Conor Smith – Kllygarry (0-4)
Subs: Jordan Mc Cabe – Knockbride for Keaney; Shane Hamilton – Arva for Cooney; Cavell Keogan – Denn for Conor Smith; Conor Rehill – Crosserlough for Fortune
Dublin: Evan Comerford (Ballymun Kickhams); Glen McNamara (Raheny); Rob Shaw (Castleknock); Seafra Fitzgerald (Na Fianna); Aaron Carey (St Oliver Plunkett's/Eoghan Ruadh) (0-1); Paddy Smyth (Clontarf); Conor Gibson (Nh Barróg); David Maloney (St Sylvester's); Aaron Bradshaw (Ballinteer St John's); Cormac Howley (Round Tower, Lusk) (0-1); Dan O'Brien (Kilmacud Crokes); Kevin Lillis (Clontarf); Jeff Rafter (Na Fianna) (1-1); Ciarán Dowling (Lucan Sarsfields) (0-3, 3f); Conor Lennon (St Finian's, Swords) (0-1)
Subs: Conor Ryan (St Vincent's) for Maloney; Eric Rowan (Thomas Davis) for Lillis; Nathan Doran (Clontarf) For Smyth; Jack Rowe (Trinity Gaels) (0-1) for Carey; Tiernan McGlynn (St Brigid's) For Rafter; ; Seán Bugler (St Oliver Plunkett's/Eoghan Ruadh) for Fitzgerald
Ref: Ciaran Flynn (Meath)
———————————————————————————————————————-
Gerry Reilly U-16 FT Shield Final 2014 Report
Meath 3-18 Westmeath 0-5
Meath started strongly in the Gerry Reilly U-16 FT Shield Final played in Oldcastle on Sunday evening. Westmeath had got the better of Meath in the group stages and Meath were determined to turn the tables this time.
Corner forward, James Conlon opened the scoring for Meath with a great point. Meath had two shots off target before registering their second point. Meath's Jason Reddy blasted wide when a goal looked on before Westmeath got their opening score with a Sean McGrane point.
Meath added three points before Eoin Finnegan's goal in the 18th minute. Meath added a further two points before Sean Reilly's first goal.
It was all Meath and they had registered 2-11 before Westmeath's second point.
H/T: Meath 2-12 Westmeath 0-2
On the restart whatever chance Westmeath had of making a comeback was diminished by Sean Reilly's great second goal. A Dylan Carroll point for Westmeath was responded with four unanswered points from Meath by the 40th minute.
There was simply no way back for Westmeath though they never gave up.
It was a powerful display by Meath who fought for every ball all over the field.
Caffrey's Millbrook Foods 'Man of the match' Award went to Meath's Sean Reilly.
Afterwards Meath Captain, Sean Reilly was presented with the Shield Trophy by Leo Halpin (Oldcastle GFC)
Meath: Adam McDermott Dunshaughlin; Ryan Hand Curraha; Mark Foy Walterstown, Aidan Lynch Carnaross; Aaron KennaSt Patrick's (0-1); Daragh Brodigan St Colmcille's; Sean Reilly Moylagh (2-0); Brian Joyce Moynalvey (0-1); Eanna Kelly Lynch Wolfe Tones (0-4); Eoin Finnegan Seneschalstown (1-1); Cian O'Reilly Carnaross (0-1); Kevin Gilsenan St Brigid's (0-2); James Conlon St Colmcille's (0-4); James McElerney St Colmcille's (0-2); Jason Reddy Skryne (0-1)
Subs: Mark Donohue Summerhill (0-1) for Reddy; Cathal Murphy Dunsany for Cian O'Reilly;; Jason Scully Oldcastle for Conlon; Conor O'Byrne St Colmcille's for Lynch; Lorcan Conway St Peter's, Dunboyne for Kenna; Morgan Callaghan Ballivor for Conway
Westmeath: Matthew Rowden (St.Marys Rochf'bridge); Ruairí Aspell (Shannon Gaels); Eoin Nally (Ballynacargy); James Murphy (St.Malachys/Ballinagore); Robert Cleary (Milltownpass); Jamie Rooney (St.Marys Rochfortbridge); Maitiu Scully (Shandonagh); Sean Lyster (St.Marys Rochfortbridge); Daniel Reid (Athlone); Sean McGrane (Shannon Gaels) (0-1); Dáire Hynes (Millmore Gaels); Ryan Norris (Shandonagh) (0-1); Cathal Mannion (Garrycastle); Evan Gorman (Milltownpass); Dylan Carroll (The Downs) (0-3)
Subs: Conor McCrosson (Shandonagh) for McGrane; Ben Traynor for Norris
Ref: Tony Gaffney (Longford)
——————————————————————————————————-
Gerry Reilly U-16 FT Plate Final 2014 Report
Wicklow 5-10 Louth 2-13
Wicklow captured the plate of this year's Gerry Reilly FT by defeating Louth today in Oldcastle. They were coasting to victory against 14 man Louth, but having led by nine points at the break, they had to withstand a great Louth fight back in the last ten minutes.
Wicklow's Cormac O'Shea opened the scoring with a fine point but Louth responded with two quick points from Liam Scales and Adam McHugh.
Conor Byrne finished off a fantastic move to the net for Wicklow from a ball broken down by Liam Scales from a pass from Luke Daly.
A second goal by Wicklow's Cathal Kelleher was made by Liam Scales and Conor Byrne really set them up in the fifteenth minute.
In the 18th minute Louth Cian Commins got Louth's first goal, which put them right back in it.
Crucially in the 22nd minute Louth were down to 14 men when Stephen McCooey was sent off.
Immediately Wicklow were able to build on the extra man and went in a half time leading by nine points.
H/T: Wicklow 4-5 Louth 1-5
There was little between the sides trading scores in the second half until Louth had four unanswered scores, including a goal by Cian Commins in the 55th minute to reduce the gap to just 3 points between the sides. Louth were pressing for the equaliser when Wicklow broke away for a crucial goal by Conor Byrne to relieve the pressure. Conor Byrne also pointed for the last score of the game.
Overall a terrific game of football played at a very fast pace.
Caffrey's Millbrook Food Market – Man of the Match Award went to Wicklow's Cathal Kelleher
After the game Wicklow's Captain Jack Cotter accepted the Plate Trophy from Leo Halpin (Oldcastle GFC)
Wicklow: Mark Jackson Baltinglass; Aaron Curren Kilbride; Saoirse Kearon Avondale; Tom Maher AGB; Jack Cotter Blessington; Jack McCall Barndarrig; Adam Boland Blessington (0-1); Cal Kelly AGB (1-0); Robert Kelly Hollywood; Luke Daly Baltinglass (0-2 2f); Cathal Kelleher AGB (1-2); Liam Scales Barndarrig; Conor Byrne Avondale (2-2); Cormac O Shea AGB (0-2); Adam McHugh Baltinglass (1-0)
Subs/Panel: Kyle O Connor AGB, Jack Bellamy Kilcoole, Jack Darcy AGB (0-1); Eoin McTague Eire Og; David Cushe Stratford/Grangecon; Thomas Kearns Ashford; Ross McBride AGB; Eoin Forsyth Derry Gaels; Tom Hurley AGB; Alfie Breslin Ballinacor; Jack Timmons Baltinglass; Jack Mockler An Tochar; Darragh Fitzgearld AGB; Andrew Reynolds Bray
Louth: Sean Hayes Cooley Kickhams; David Cluskey Stabannon Parnells; Conor Morgan Dundalk Gaels;Jonathon Culleton St Brides; Aaron Khan St Kevins; Brendan Matthews St Marys; Danny O'Brien St Josephs; Dion Conlon Glyde Rangers (0-1); Evan Keenan St Marys; Michael CarronCooley Kickhams; Emmet Hughes Roche Emmets; Sean Marry St Brides (0-4); Killian Kampes Kilkerley Emmets; Steven McCooey St Mochtas; Cian Commins St Marys (2-3)
Subs: Ronan Levins Newtown Blues for Cluskey; Cathal Grogan St Patricks for O'Brien; Ciaran Carter Dundalk Gaels (0-2) for Conlon; Thomas Mc Guinness Cooley Kickhams Carron; Enda McKenna Naomh Martin for Khan; Cian Callan St Kevins (0-3) for Kampes; Jack McGailey Dowdallshill for Cullerton
Ref: Gerry Skelly (Meath)