Another final for the Minors!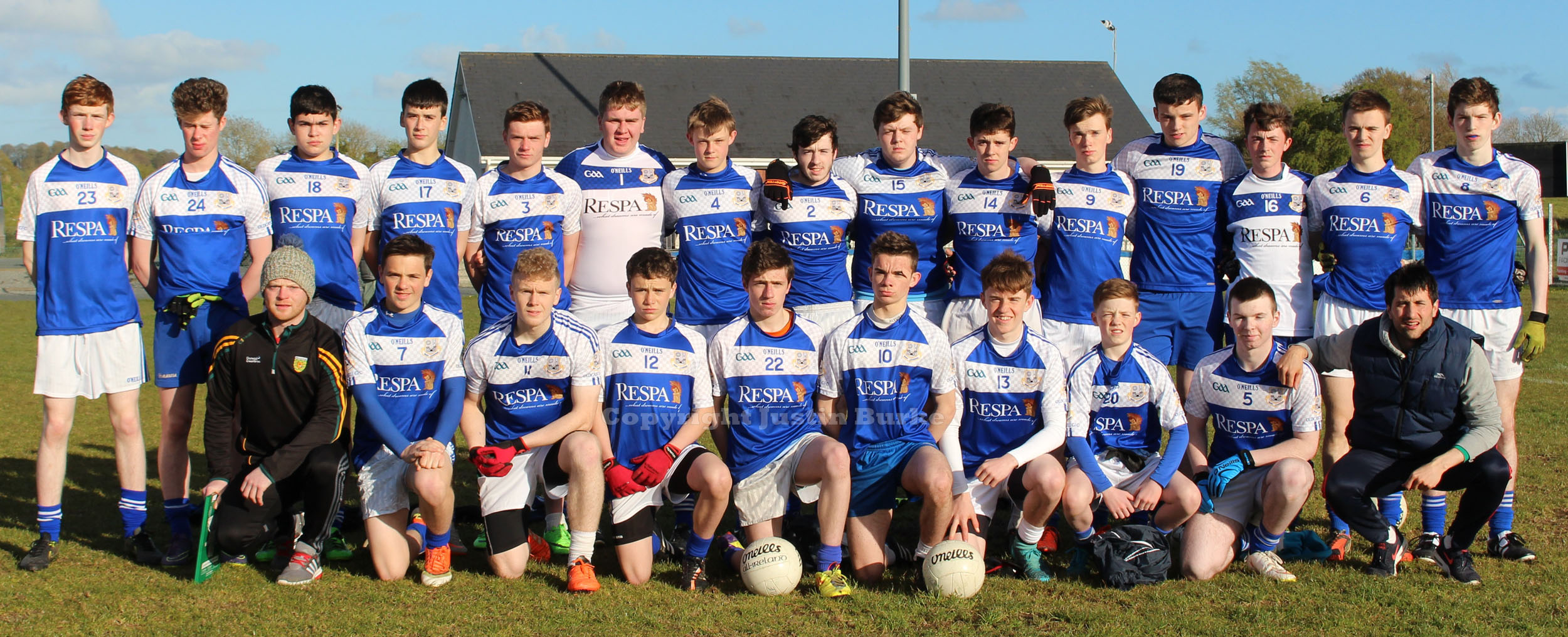 Oldcastle 1-15 Longwood/Clonard 0-9
A hard fought win for the minors this evening in Millbrook as they over came Longwood \ Clonard to secure a final spot. Kyle Kavanagh opened the scoring and this was followed by another score from Oran O'Reilly. It took the visitors a while to adjust to the wind but when they did then converted 3 free to level the game. Jason Scully added a brace to put the home side back in front but Longwood\Clonard grabbed their first score from play to stay in touch. Robbie Smith was working hard and won a free on his own 20 metre line. The ball was quickly moved up the field to Oran O'Reilly who calmly converted. Steven Lawless made a break forward for a quick 45′ and stuck a fine point. The visitors then won the ball in the left half forward position and the attacker tore through the defence. As he closed in on Karl Gibney in the Oldcastle goal he let a shot fly towards the goal. The crossbar came to the rescue as the ball skimmed the black spot and went over instead of under the bar. Kyle Kavanagh added 2 points (1 Free) before Steven Lawless and Jason Scully finished the scoring to leave the half time score Oldcastle 0-11 Longwood \ Clonard 0-5.
Despite Oldcastle now having the wind at their backs it was Longwood who would started the brightest adding 3 points without reply. Scully grabbed a point before Kyle Kavanagh converted a free. The home side needed to get a grip on the game and the management of Lorcan Fox, John Caffrey and Paddy Gilsenan starting introducing the subs one of which was James P Caffrey at full forward. A long ball in was well caught by Caffrey who as he turned to find space was pulled to the ground. Ref Gerry Skelly awarded the penalty and up stepped Jason Scully. He stuck the ball to the keepers right hand side but the keeper got his hand to the ball. Scully followed up but again the keeper blocked the shot. As the ball ricochet up into the air, Scully jumped highest to fist it to the net. This put breathing space between the sides and further points from Cillian Connell and Scully secured the win.
Oldcastle: Karl Gibney, Mossy Flood, Keith Connell, Conor Hetherton, Stephen Milmoe, Steven Lawless (0-2), Ronan Taggart, Oran O'Reilly (0-2) Dylan Garrigan, Robbie Smith, Colin Hawdon, Kyle Kavanagh (0-4), Jason Scully (1-6), James R Caffrey.
Subs: James P Caffrey, Josh Halpin, Cillian Connell (0-1), Jack Fox, Eoin McCluskey, Louis Colleran, Charlie Lynch, Ciaran Smith
They now play Seneschalstown in the final (Date, Time & Venue TBC)